Review of British Transport Treasures

Latest releases:
PER RAIL (Great Central presentation to customers)
Further information

The Construction of the Modern Locomotive, by George Hughes. Assistant in the Chief Mechanical Engineers Dept., Lancashire and Yorkshire Railway. E. & F. N. Spon, 1894 Further information

Our Home Railways Part 6 The GREAT EASTERN, by W. J. Gordon,1911. Price: £1.95
Further information

British Railways and The Great War, by Edwin A. Pratt, Selwyn and Blount, 1921. The Great Eastern Railway – a British Transport Treasures off-print [ebook] £2.55
Further information


DELTIC The end of an era, British Rail (E), December , 1981. [ebook] Price: £2.95
Further information

The Dick Kerr Album, a Souvenir of Preston Guild, 1972. Designed and produced by W.G.S. Hyde and F. K. Pearson, [ebook]. Price: £3.15
Further information

History of the North British Locomotive Co. Ltd., 1903-1953. Price £3.50
Further information

THE GREAT EXHIBITION [ebook]  Price £3.55
Further information

RAILWAYS ARCHIVE
Very useful site for source documents especially official accident reports


Magazine back issues
online service for single issues

Robert Humm of Stamford:
excellent secondhand specialist

Titfield Thunderbolt Railway Bookshop
excellent railway specialist in Bathj
Mike Field's index to Southern Railway articles

Chronology of locomotive history
Reed's 150 years
John Wilson
ARLE designs
Irish locomotives
British locomotive builders

BIOGRAPHICAL STUDIES

John Marshall Biographical Dictionary

Oxford Dictionary of National Biography
MISSING PERSONS:
Samuel Waite Johnson;
Robin Riddles
Cuthbert Hamilton Ellis

John Knowles: Steam locomotive resistance


Steam World Issue 351

Crossing the Andes
Corbin's Romance of railways?: sitting on floor
George Bradshaw

University Diploma at York British Railways Journal

Probably the best railway enthusiast magazine in terms of reproduction standards & content

LMS Journal

Journals (magazines) indexed


>
Last Railway Archive (No. 50)


Three cylinder Hick locomotive
Railways in coal mines and quarries

Latest Great Western Railway J.


Journal to cease publication: Castle class

Locomotive Magazine alias Locomotive Railway Carriage & Wagon Review began as Moore's Magazine in 1896
Plea: Require access to late (post-1949) Issues preferably in Norfolk

Steam World
Many issues indexed, but...

Institution of Locomotive Engineers papers

?

North British Railway Study Group Journal
Latest Newsletter Waverley reconstruction in 1890s & Wheatley 4-4-0s

Train times (UK)

Cheap train tickets

Alternative service at Seat 61




Locomotive class index
A1X to Z1, also 0F to 9F and 68XX
Individual locomotives
Shannon and St Martin, so far
Corporate name index
Includes names like Sharp Stewart

Locomotive design

Riley & Son
Stanier locomotives

Still puzzled??"
Not found? Improvements?:
steamindex@steamindex.com
Bookshops
publishers?


Frank Jones's diaries (born 12 May 1901)

Greaves index of private owner wagons
Smith 4cc compound: fresh insight from Jim Armstrong

KEY LOCOMOTIVE LITERATI

Ahrons
Knocking Nock
Michael Rutherford
Joy Diaries
Joynt's Inchicore
James Boyd
Glancey's Giants of steam & transit of Shap
Peter Townend




Transport "connexions" in and to Norfolk: probably not enough time left due to Trump climatic actions

Links to other websites
Preservation organizations
National Railway Museum
Railway Preservation Society of Ireland
Heritage railways

Transport Ticket Society


Sean O'Brien's Train Songs and other anthologies

Sean O'Brien's view from the train:
we travel through time as well as space on a train


Locomotive engineers' lives
Trevithick
Stephensons
Centenary event in 1881
Ramsbottom
   locomotives
Webb
   locomotves
Beyer
Worsdell
   NER locomotives
Matthew Kirtley
   Kirtley locomotives
Samuel Waite Johnson
   Johnson locomotives
George Jackson Churchward
   GWR locomotives
Holden
   —GER locomotives
McIntosh
   — Caledonian locomotives
Aspinall
   L&YR locomotives
Henry Ivatt
   Ivatt locomotives
Sir Nigel Gresley
— P2, V2 etc Pacifics
Phil Atkins Flying Scotsman workshop manual
Sir Williiam Stanier FRS
— Duchess, Class 5, 8F...
Richard Maunsell
—James Clayton
—locos.: Lord Nelson, Schools, etc
Urie Locomotive Society
Oliver Bulleid
—Merchant Navy, Leader, etcs
Robin Riddles
—Britannia etc


---

American engineers
Goss
Continentsl engineers
Andre Chapelon


Reference books

---

Verena Holmes
Publishers
Railway enthusiasts: are they an endangered species?

Joy Diaries
Brian Reed
P.C. Dewhurst (PCD)
Trevithick: update
Beeching, Marples and Serpell
and Harold Wilson (the real villain?)

Locomotive Performance & Efficiency Bulletins (BTC)

Tuplin: eccentric index entries



Problems with website please contact:
Webmaster: kevinjones35 at btconnect dot com who unlike Amazon, British Telecom, etc he responds to his e-mails
>




Donations & comments very gratefully received


Biographies: British locomotive designers
Sir Nigel Gresley
George & Robert Stephenson
David Wardale
Inspecting Officers
Engine drivers

More information please!
Sir David Salomon: electrical genius


SAGE: the poisonous Pergamon of the online age

See Cornwall Railway Society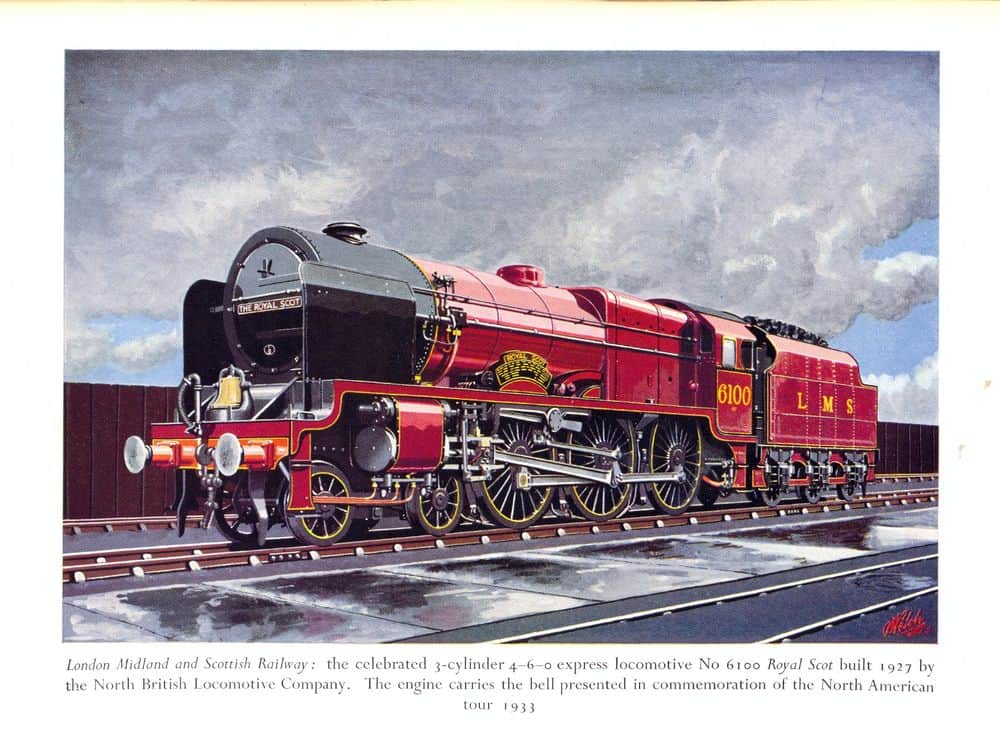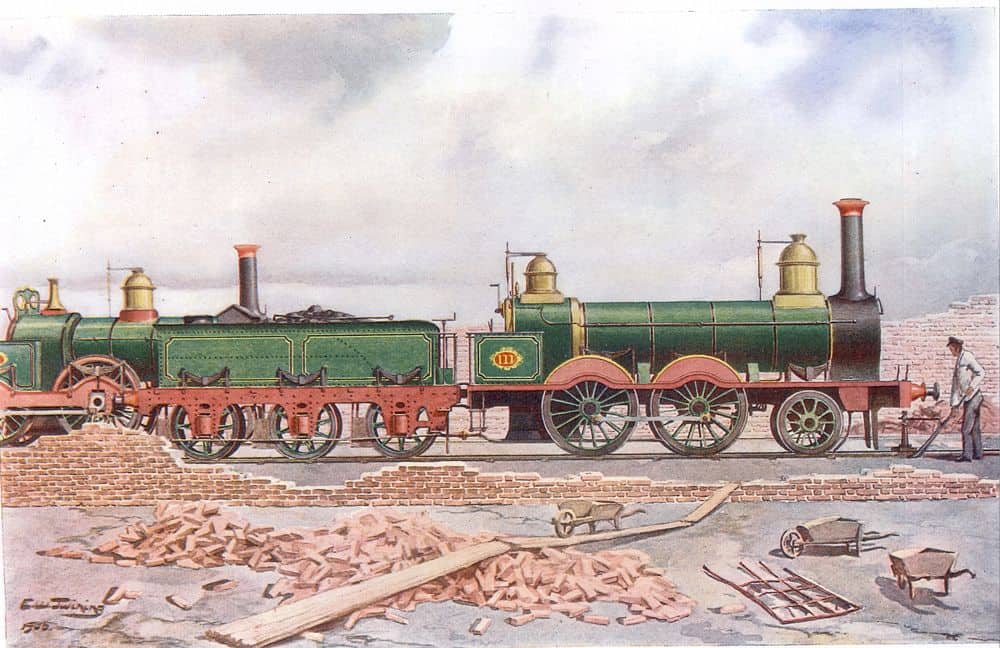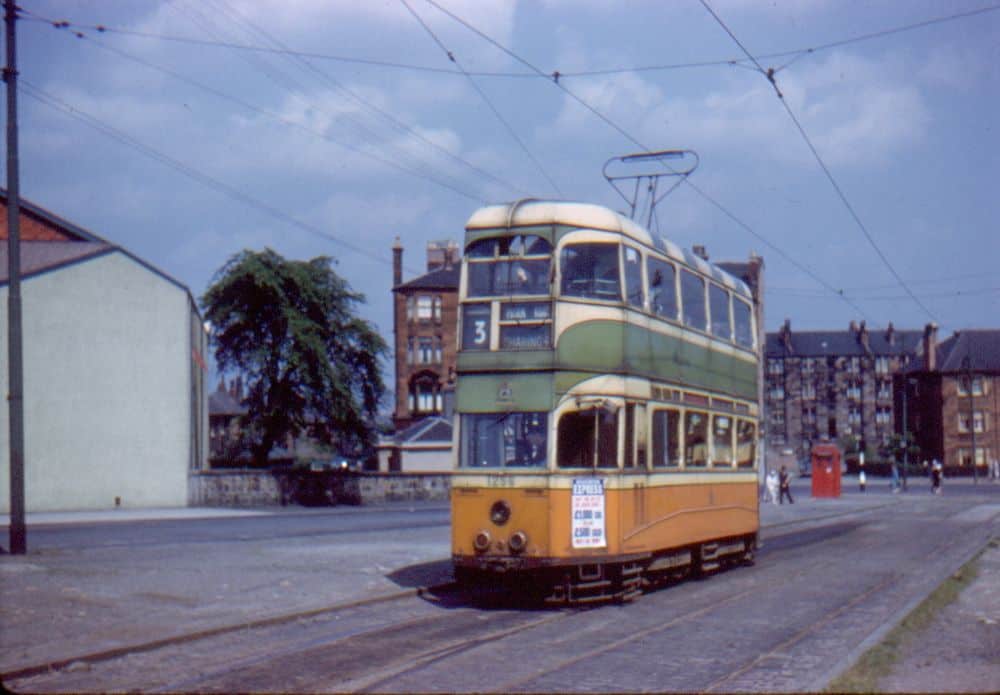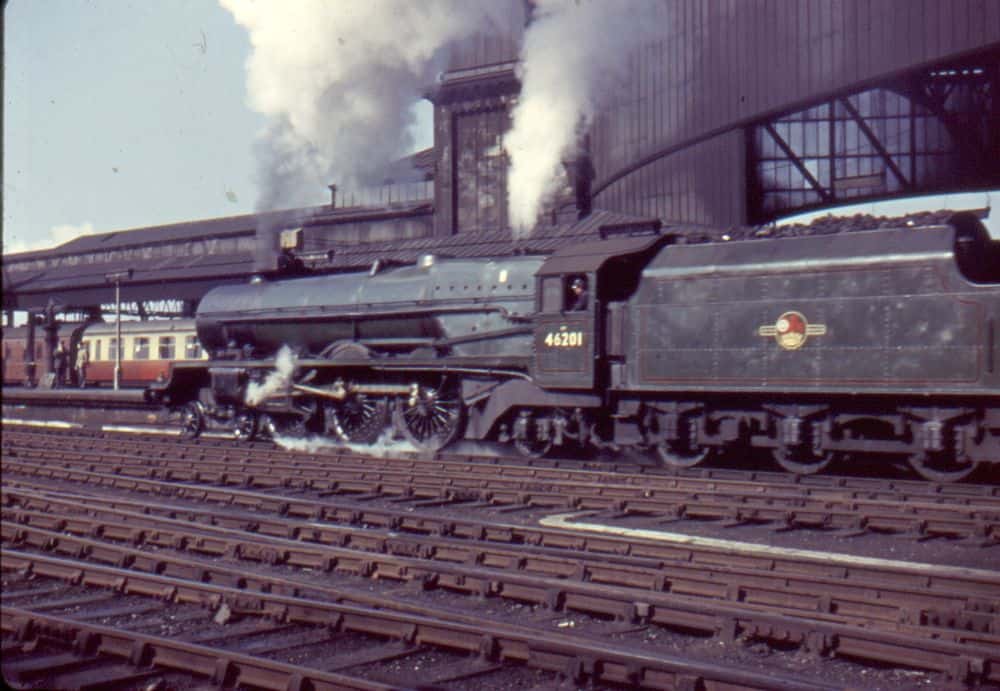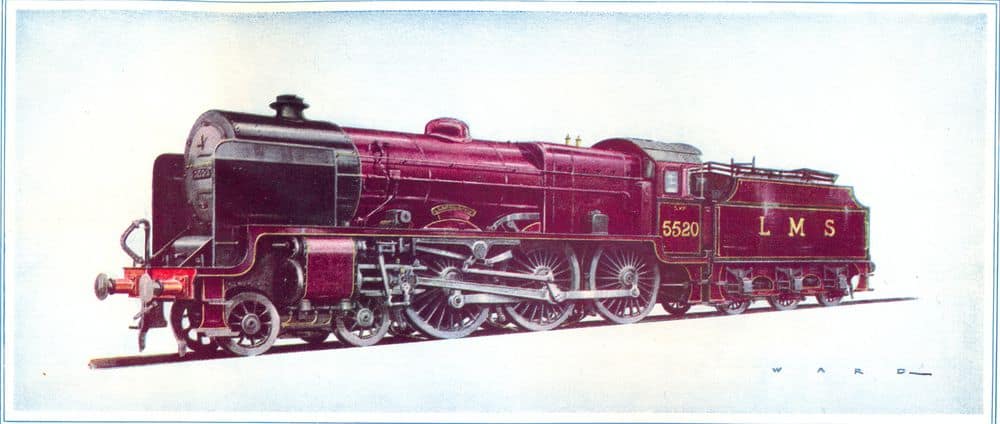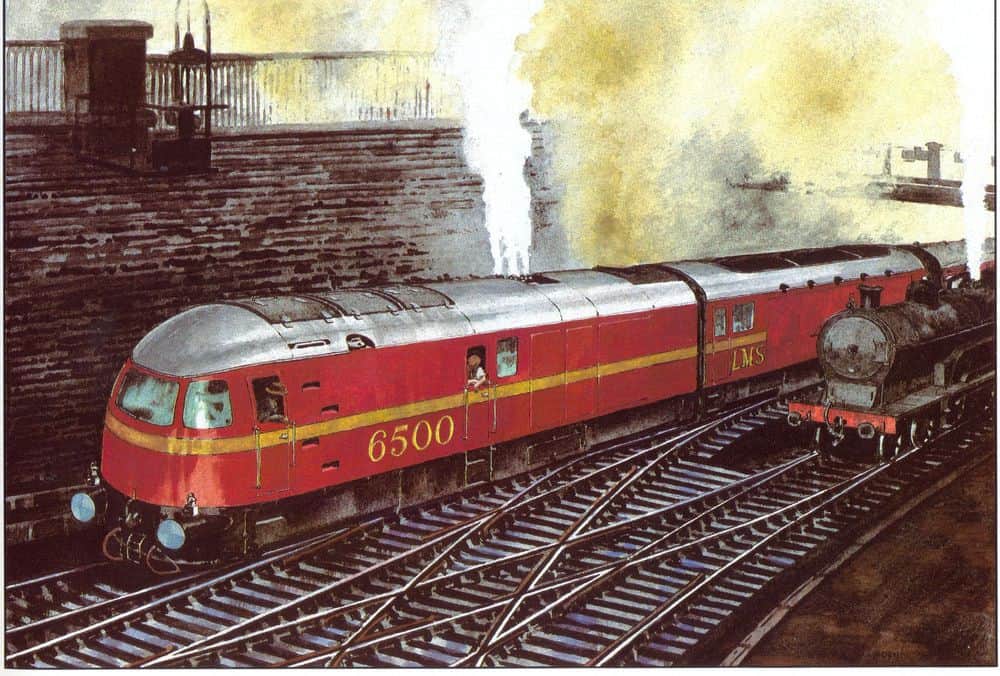 ---
NEWS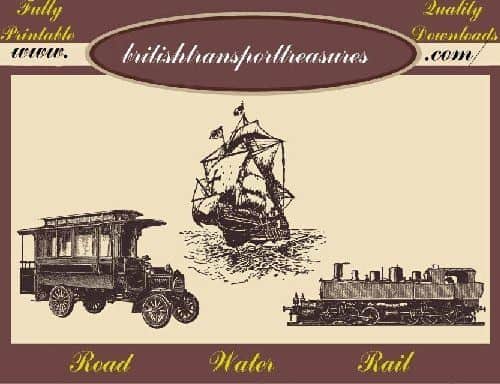 AVAILABLE LAST MONTH FROM BRITISH TRANSPORT TREASURES

Per Rail (Great Central Railway)

This very scarce publication describes, and illustrates in detail, how an Edwardian railway handled all classes of freight traffic, from coal to fresh fish – locomotives, rolling stock, depots, warehouses, docks, cranes, shunting, manually and by capstan, staff and uniforms, also road collection and delivery services. 
Even the cautious Ottley (5771) was forced into noting its luxurious format.
A "must read" for anyone interested in the history of the Great Central, or for railway modellers seeking to accurately represent the working of a pre Great War railway. It was in part a celebration. Just over a decade earlier, financially exhausted by the cost of extending the line to London, few would have predicted that the Great Central would provide fast express sevices, using carriages amongst the most comfortable in the Kingdom, through trains between the NE and SW parts of the country, run 60 mph fish trains with automatic brakes, build a vast marshalling yard at Wath-upon-Dearne, and a new port on the Humber.
"Per Rail" is probably the most sumptuous publication ever issued by as British railway to promote its services. Every aspect is of the highest quality – paper, type setting, presentation of illustrations, layout design and binding. It was in part a celebration. Just over a decade earlier, financially exhausted by the cost of extending the line to London, few would have predicted that the Great Central would provide comfortable passenger services, including, through trains between the NE and SW parts of the country, would run 60 mph fish trains with automatic brakes, build Wath-upon-Dearne marshalling yard for the efficient handling handling of millions of tons of coal traffic to London, or for export; the exports went through a large modern port, which the GCR had built at Immingham, complete with coal bunkering equipment, graving docks and a passenger station for steamer services to the Continent. The GCR was also in the fore front of other technical developments, including power operated and colour light signalling. Although the GCR was still unable to pay a dividend on its ordinary shares, it was a remarkable achievement, by a first class team of officers and managers, led by Chairman Sir Alexander Henderson and newly knighted (at the opening of Immingham Docks) General Manager, Sir Sam Fay. Henderson, a brilliant financier and businessman, with extensive interests in South America, steered the GCR through some very shallow financial waters, while Fay, one of the outstanding railway managers of the age, provided the ideas and the flair. One imagines being a fly on the wall at a GCR board meeting. Fay has just announced his latest scheme, and a quiet plaintive voice from an elderly Director is heard "But where is the money to come from?"
There is a murmur from the others, studiously avoiding the Chairman's eye. Sir Alexander has worked miracles before… hopefully he will do so again!

The Construction of the Modern Locomotive, by George Hughes. Assistant in the Chief Mechanical Engineers Dept., Lancashire and Yorkshire Railway. E. & F. N. Spon, 1894 Price: £4.55
Hard back book, maroon cloth, gilt embossed title, 9in. x 5.75in., 261pp., plus adverts, Large folding steel engraving of Aspinall 0-6-0 No. 1026. Large cross section engraving of same. There are 310 figures of tools, components and partly completed locos in the text. Tipped in frontispiece portrait of author.

Our Home Railways Part 6 The GREAT EASTERN, by W. J. Gordon,1911. Price: £1.95
Paperback book, 8.75in. x  6in. 40pp, 3 colour plates, (including composite carriage), 4 whole page black and white plates, numerous black and white half tone photographs, 4pp. adverts of interest to contemporary rail enthusiasts. Note:- in the interests of economy, a number of pages at the back of this issue which were intended to be the prelims, contents and index of the bound Volume 1 have been omitted

British Railways and The Great War, by Edwin A. Pratt, Selwyn and Blount, 1921. The Great Eastern Railway – a British Transport Treasures off-print [ebook] £2.55
The original two-volume work comprises 1194 pages and 76 pp. Half tone illustrations.
This off-print of pp. 38 plus a system map, and some additional illustrations decribes the Company's general activites during the Great War. Its role in the Air Defence of the UK in conjunction with the South Eastern & Chatham, and the Railway Executive Committee will be the subject of a separate off-print.

DELTIC The end of an era, British Rail (E), December , 1981. [ebook] Price: £2.95
Booklet, A4 portrait format,glossy coloured card covers, 16pp, including covers. A fitting souvenir, this publiction includes cut away isometric views of the DELTIC diesel engine and of the complex gear phasing arrangement. Cut away elevation and plan identifying all the machinery and its location. Complete class list giving delivery dates, dates air brakes fitted, date converted to ETH. Notes on names. Large photograph of control desk with all controls, lights, gauges, buttons and switches identified.

The Dick Kerr Album, a Souvenir of Preston Guild, 1972. Designed and produced by W.G.S. Hyde and F. K. Pearson, A.M.I.R.T.E., A.M.I.M.I. [ebook]. Price: £3.15
Booklet, stiff card covers with spot colour, 12in.  x 9.5in.;. 52pp.  including covers. Profusely illustrated with views in and around the works, tramcars and associated tramway equipment

History of the North British Locomotive Co. Ltd., 1903-1953. Price £3.50
A History of the North British Locomotive Co. Ltd., 1903-1953. Soft cover book, 10.5in. x  8.5in. 118pp., semi art paper, twelve colour photographic plates, 114 black & white photographs, many of superb quality. File size: 127 mb;

THE GREAT EXHIBITION [ebook] Price £3.55
The Great Exhibition 1851,Official Catalogue, Section II, Class 5. Machines for Direct Use, Including Carriages, Railways and Marine Mechanism.  Assembled from disbound sheets found scattered through the cheap trays in an antiquarian print shop, 10in. x 7in, 52pp.,  frontispiece, tipped in black & white photograph by Fox Talbot of exhibit No. 508 South Eastern Railway locomotive Folkstone [sic] by Thomas Crampton, 4 whole page steel engraved plates, including machinery used in raising Britannia Bridge tubes, numerous smaller steel engravings of marine steam engines, paddle wheels and propellors, of five more railway locomotives, rolling stock and machinery, horse-drawn carriages
Review of British Transport Treasures
Dad's briefcase formed my introduction to railway literature. The two most regular items were the orange-covered and rather dull Railway Gazette and the slightly less dull Modern Transport. Both contained occasional items of interest. Hidden in odd cases of the case there might be more exciting items like the publicity material prepared for the LNER streamlined trains and one especially memorable item from the LMS a frontal view of a streamlined Pacific with doors which opened to reveal the smokebox, or was it text? It was the opening doors which impressed.
Remarkably some of these items still form part of a chaotic personal collection: these include all of George Dow's histories, On Either Side and the Nock booklets to "celebrate" Thompson's standard classes. On Either Side contains a remarkable map of the LNER's main lines to Scotland, Manchester and East Anglia: the last terminating in Yarmouth with Norwich being served by a network of branch lines.
On Either Side has recently been reprinted, but many of these items are now available to download from the British Transport Treasures website for modest cost. They range from single page publicity items to quite substantial books: and prices range from about 50 pence to £5. The latter include most of Dow's histories published by the LNER: these must have been a difficult task to scan as extensive use was made of flimsy folded pages for diagrams and tabulations. A few quite substantial books with hard covers are also available notably Bird's Locomotives of the Great Northern Railway, Chapman's Twixt rail and sea (a Great Western publication) and Burtt's classic The Locomotives of the London Brighton and South Coast Railway of 1903.
Limited sampling is provided; and there are the usual basket and check-out facilities. A percentage of the takings is given to Help for Heroes. It appears to be an excellent method of building up a collection of railway literature without the problems of physical storage. The collection is always growing; and its creator, Stuart Rankine, a retired railway officer, is a frequent contributor of e-mails, most recently about bloomers committed by Hamilton Ellis on his carriage panel painting of a Bloomer. He has now scanned Pettigrew's Manual of locomotive engineering. 3rd edition. London: Griffin. 1909. 356pp with many illustrations and it deserves to be added to many collections.
The Transport Ticket Society.
The Transport Ticket Society marks its creation 50 years ago by offering 2014 membership at a discounted rate of £12.50 (UK), £22.50 (overseas), representing a cut of about 50% on its previous rates. The Society, formed in 1964 through the amalgamation of two similar societies, has a long history of researching and studying tickets and fare collection systems. Today the development of electronic forms of ticket issue for many forms of transport presents different challenges and opportunities to operators and enthusiasts alike. The Society provides members with an extensively illustrated, monthly Journal, which includes wide-ranging news of ticket matters for all modes of transport in the UK and abroad, along with historical articles relating to tickets and issuing systems from times past. Monthly distributions of road, rail and other tickets are offered to members and twice-yearly postal auctions of historic tickets are held. Meetings take place regularly in Manchester and Brighton together with other venues from time to time. For further information and an application form, visit the Society's website www.transport-ticket.org.uk or contact the Membership Secretary at 6 Breckbank, Forest Town, Mansfield NG19 OPZ (stephenskeavington@msn.com).
---
Preserved railways/Heritage railways
---
Breakdown Crane Association
Cumbrian Railways Association
Caledonian Railway Association
Electric Railway Society
important source for other minor grouups like Scottish Transport Group
Glasgow & South Western Railway Association
Great North of Scotland Railway: managers
Just one part of a magnificent website
Highland Railway Society
North British Railway Study Group checked 30 January 2015: still excellent site
Lancashire & Yorkshire Railway Association
Great Eastern Railway Society
Gresley Trust
Historical Model Railway Society (HMRS)
Contains many further references to sources of information: checked 1 February 2015.
Industrial Railway Society
Well conceived site: in bibliographical terms this is a paradigm for what a properly organized historical organization should do as all its out-of-print journal material is available online together with sufficient details to order in-print material.
Irish Railway Preservation Society
Kidderminster Railway Museum
LMS Society: checked 30 January 2015: still excellent site
The Locomotive Club of Great Britain is self-evident in its aims
London & North Western Railway Society
London & South Western Railway
Midland Railway Association
Midland Railway Centre [Buutterley] website
Norfolk Railway Society
North Eastern Railway Association
Contains a considerable amount of bibliographical information, which may be accessed in EXCEL or HTML.
Railway & Canal Historical Society: DOES NOT RECIPROCATE LINK
Railway Correspondence & Travel Society (RCTS) is one of the main enthusiast bodies in Great Britain
Signalling Record Society
Southern Railway Group
Stephenson Locomotive Society is the oldest (established 1909) enthusiast society
Vintage Carriages Trust & Museum
Warwickshire railways
---
Specific locomotives
Somerset & Dorset 2-8-0 No. 53809

---
Steam railways/locomotive projects
Societies
A1 Steam Locomotive Society
Advanced Steam Traction Group
Clan Line preservation group
Cock o' the North recreation group
Railmotor No. 93
Cornwall Railway Society
George V Prince Henry
Old permanent way group
More links
Colne Valley Railway, Essex
Dean Forest Railway, Gloucestershire