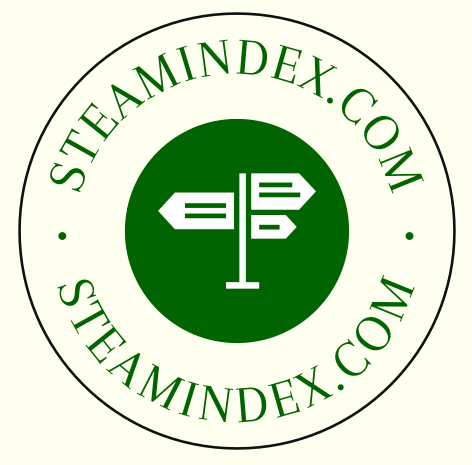 BackTrack Volume 19 (2005)
Published by Pendragon, Easingwold, YO61 3YS
GWR 'Manor' 4-6-0 No.7822 Foxcote storms away from Aberystwyth near Llanbadarn with the morning train to Shrewsbury in December 1958. T.B. Owen. Colour-Rail. front cover
The curious incident of the dog in the night-time — and a chance to board the gravy train. Michael Blakemore. 3.
Competition (quiz) for Steam Dreams tickets: mainline steam wine & dine train hauled by West Country Pacific Bodmin: winners of such tickets who use steamindex.com to accomplish this wonderful prize are expected to purchase a dog ticket for KPJ who will supply [un]suitable pooch to enhance their trip. [Actually a sort of Editorial]
Around Tebay and Oxenholme, Brian Magilton (phot.) 4-5.
Colour photo-feature: 44674 stopping? at Tebay for a banker with Manchester to Glasgow express in July 1967; former Crosti-boiler 9F 92029 in unkempt condition on up freight in August 1967; class 47 D1806 on up express freight at Oxenholme in May 1967; class 4 4-6-0 75026 banking freight from Oxenholmme to Grayrigg in June 1967; Britannia 70016 on Dillicar troughs with up freight in August 1966; 70045 passing Oxenholme on down parcels train in May 1967.
The Harwich Branch before electrification. Alistair Nisbet, 6-7.
One has to say that this is a somewhat odd feature which includes both the Eastern Union Railway and the quaint "One" coupled with some colour photographs taken on typical summer's days: class 37 on down Harwich boat train passing EMU at Colchester on 30 August 1979 (when sun was shining); class 100 DMU calling at misty Mistley in August 1977; wagons boarding Sealink Vanguard on 27 December 1986 and 37 060 pasiing Wrabness on 5 August 1982.
Somerset in the 1960s. John Crosse. 8-16.
Lineside observations during the transition from steam to diesel. Observations were made from a bridge where Summer Lane crossed the Bristol to Taunton mainline just north of the Weston-super-Mare loop,. Observations were made at all times of year, not only in summer. A great variety of motive power was seen: both steam and diesel. The black & white illustrations are not directly related to the observations reported but merely show what might have passed by at other points on their jouneys. Feeling idle these can await the attention of Bob Farmer at the end of 2005. See also letter from J.F. Ward (page 188) whose journey on 21 July 1962 was influenced by a Hymek failure not far from the observation point, a subsequent rescue by 6841 and a fine run from Bristol to Pontypool Road behind 4937..
Southern Railway electric locomotives. D.W. Winkworth. 17-22.
Mainly concerns the three Raworth/Bulleid booster electric locomotives Nos. CC1, CC2 and 20003. Include durties performed, failures in traffic. There is also some information on proposals which failed to reach fruition, including an 0-8-0 electric shunting locomotive: one's thoughts turn towards Webb's blackly humouroud comments on such locomotives, although one must presume that such machines would have been restriced to yards with overhead wiring, and for a slightly smaller 1-C-1 booster-type locomotive, and for a 2-C-2 type due to the Civil Engineer's distrust of pony trucks. Even more interesting was a proposal to convert the LBSCR motor luggage vans into electro-diesel locomotives and Raworth made contact with several potential suppliers of diesel engine, including Beardmore, Armstrong Whitworth and Metropolitan-Vickers, but without success and the machines were demoted to being rather grand freight brake vans. The LSWR shunters at Waterloo (for the Drain) and Durnsford Road power station are briefly considered.. See also letters from T.H.J. Dethridge on page 188 which mentions the gas detector on CC1 visible in illus. on pages 18 and 19; the boards fitted on the cab ends to show SOUTHERN twice with an electric flash in between; workings from Brighton to Fratton with the through train to Plymouth from 6 January 1964 and Royal Train workings. Peter J. Townsend notes that the 'Hornbys' were not withdrawn until 1973/4.
"Dreadful disaster on the Buckinghamshire Railway at Bicester. Alistair F. Nisbet. 23-7.
Derailment on 6 September 1851 of excursion train hauled by "six-wheeler" No. 149 (which may have been a Jones & Potts 4-2-0 if interpretation of Jack has been correct). Jury at the inquest did not find driver guilty of any misdemenour and true cause of derailment at ponts enetering crossing loop was not established. Author does not spare reader all sorts of gore. Illus are of far more recent scenes at Bicester.
At York again. 28-30.
Colour photo-feature: A3 60081 Shotover (double chimney, no smoke deflectors) having arrived from North at south end of Platform 8 in June 1961 (Malcolm Thompson); A1 60152 Holyrood on York mpd on 3 April 1965 (Gavin Morrison); A3 60112 St Simon (double chimney, small smoke deflectors) departing on up express on 16 June 1962; A4 60020 Guillemot (single chimney) on up express in March 1957 (caught in setting sun thus atmospheric)(W. Oliver); A3 60078 Night Hawk (double chimney no smoke deflectors and filthy) on up parcels in June 1961 (Malcolm Thompson); A1 60126 Sir Vincent Raven crossing Waterworks Crossing in August 1957 with sanders on and hauling train first vehicle of which is in carmine & cream (also note old teak liveried vehicle behind); B16/2 61435 on freight on avoiding line on 16 June 1962 (Gavin Morrison).
Gloucester sunshine. Bruce Oliver (phot.). 31.
Colour photo-feature: all date from 22 June 1964 and were taken at Gloucester Central Station: 51XX No. 4100 and Hymek diesel-hydraulic No. D7000; 43XX No. 6349 on up freight and 1472 on Chalford auto train.
Impeccable 'Manors'. 32-5.
Colour photo-feature: Lydham Manor at Ruabon waiting to work special towards Barmouth Junction in September 1963 (David Penney); 7810 Draycott Manor at Aberystwyth having arrived on Cambrian Coast Express in August 1963 (DP); 7820 Dinmore Manor passing Great Hanwood on up stopping train in September 1964 (DP); 7819 Hinton Manor and 7822 Foxcote Manor on empty carriages of Royal Train at Towyn on 10 August 1963 (DP); 7823 Hook Norton Manor (plain black - remainder all lined green) at Plymouth Laira on 15 July 1956 (R.C. Riley); 7813 Freshford Manor near Betchworth on Redhill to Reading train on 18 March 1964 (David Idle); 7809 Childrey Manor at Aller Junction on 18 July 1958 (RCR); 7822 Lydham Manor outside Swindon Works on 16 April 1959 (RCR).
Horwich and the Labour Dispute of 1911. Jeffrey Wells. 36-41.
A national strike of railwaymen lasted for three days in August 1911, but the dispute at Horwich lasted for nine weeks and led to great hardship for the workforce and great bitterness, especially towards the foremen - the management, people like George Hughes and O'Brien appear to have adopted profile and avoided confrontation with the strikers. Wells gives indications of the financial consequences; the cost to the trades unions, the size of the local Distress Funds, and the savings which the LYR made in wages.
Life on the length 1948-1952: Part Three". Reg Robertson. 42-5.
Part 1 See Vol. 18 page 399; Part 2 page 588: First published in the Great Eastern Railway Society Journal: this final part included lineside maintenance, such as keeping the grass cut using scythes and sickles. Sunday work usually involved track relaying using the traditional methods with crowbars and muscle power.
The Drummond age - Part Three. Michael Rutherford (Railway reflections No.108). 46-53.
Some of this part is given over to the development of Glasgow as an industrial centre (the Author claims that he was not able to trace a major study on this topic). This precedes an account of Drummond's contribution to locomotive development on the Caledonian Railway and his very considerable financial rewards for this. Rutherford rightly considers this period to have been the zenith of Drummond's career. Drummond's failed Australian venture and his unrewarding experience as an independent locomotive manufacturer in Glasgow are but lightly sketched.. This last was the subject of an informative letter (p. 317) from Darryl Grant in Australia who gives details of Drummond's abhortive Austrial adventure, his contribution to Australian locomotive design via William Thow's P class 4-6-0s and the involvement of Sir Saul Samuel, the Agent-General for the New South Wales Government in London
Focus on Banbury. Jack Hodgkinson (phot.). 54-5.
Black & white photo-feature: Modified Hall 7912 Little Linford Hall on Newcastle to Bornemouth through train on 29 August 1964; 6855 Saighton Grange on Wolverhampton to Eastbourne through train on 24 August 1964; 92312 on coal train passses Sotham Raod & Harbury on 31 October 1964; 4151 on southbouind freight nerar Southham Road & Harbury on 15 August 1964; 7012 Barry Castle on Ramsgate train in Harbury cutting on 15 August; and 45641 Sandwich on express freight on 29 August 1964.
The LBSCR armoured train. Niall Ferguson. 56.
In 1894 Captain F.G. Stone of the Royal Artillery suggetsed that the London Brighton & South Coast Railway should build an armoured train to patrol the Sussex coast using a 40lb breech-loading Armstrong gun (one had been used in this way at the sige of Alexandria in 1882 (see Backtrack 16 page 342). The idea came to fruition through the financial contribution made by the unit's Voluntary Colonel General Goldsmid and Colonel Gervaise Boxall. The unit was hauled to a location east of Newhaven by D3 class 0-4-4T No. 363 Goldsmid where shots were fired out to sea. It later appeared at miliatry manoeuvres at Sheffield Park and in October 1898 patrolled the coast when relationships with the French had reached a nadir point. The illustration shows the train hauled by Manning Wardle 0-6-0ST Bradford owned by the Newhaven Harbour Company.
Wet wet wet. [trains coping with flooded tracks prior to Notwork Rail]. 57.
Black & white photo-feature: LNER D7 4-4-0 No. 5707 arrives at flooded Barby Dun station and D20 No. 2016 on express wades through junction at Stainforth & Hatfield producing quite a wake.
Weymouth Harbour. 58.
Colour photo-feature:diesel locomotives D2397 passing Ship Inn on Custom House Quay on 22 September 1962 (J.S. Gilks) and D2398 running along Westham Road with boat train on 12 May 1966 (Derek Young)
Signalling Spotlight. Richard D. Foster and Stephen Dent (phot.). 59.
Colour photo-feature: North Eastern Railway signal boxes at Cox Green wth North Eastern Region lfting barriers and slender, tubular signal posts and at Hylton with gated level crossing and bracket signal
Readers' Forum. 60.
The 'Devon Belle'. Bryan Gibson.
See feature by Keith Hill (page 646 Vol. 18): writer had travelled to Tavistock on the luxury train in those bleak post WW2 days.
The 'Devon Belle'. Charles Long.
See feature by Keith Hill (page 646 Vol. 18): wuite a blistering critiicism for failing to comprehend what conditions were like in the immediate Post World War II were like, suggesting that "up to fourteen well-filled Pullman cars suggests to me that someone must have been doing something right at the time." Also give further information on the ancestry of the observation cars and on the Torquay Pullman.
The Caledonian mail train crash. John Macnab.
See Vol. 18 page 666: A diversion: Colliston branch was used for rolling stock storage in 1961/2.
East of Eastbourne, west of Waterloo. Mick Nicholson.
See Volume 18 page 630 for means of resetting points & signals when train has been incorrectly routed through a junction.
'Dean Goods'. John Daniels.
See Vol. 18 page 670: No. 2579 was tested against LMS class 2 2-6-0 and completely out-steamed the modern locomotive.
Backtrack Index. Bob Farmer.
Bob Farmer's index on Excel: see also letter from Mick Field on page 380.
Book Reviews. 61.
The East Kent Railway. M. Larsen Finch and S.R. Garrett. Oakwood Press. TJE *****
"excellently produced" but what does the reviewer mean by "How does Jane do it" or is Tarzan in the Oakwood?
The Furness Railway in and around Barrow. Michael Andrews. Cumbrian Railway Association. TJE *****
Highly recommended. Began as a dissertation for a London University course and a copy was stored in Barrow Reference Library for forty five years before publication.
The Wrington Vale Light Railway. Colin G. Maggs. Oakwood Press. TJE *****
Notes two errors: alternative used instead of alternate, and the probable incorrect seating capacities for the rolling stock. One might question the celestial rating.
Robert Stephenson - the eminent engineer. Ashgate. RH *****
Notes that mechanical engineering is limited to some fifty pages: for further information about this book see the Stephenson web-page: sadly the bibliographical |Brecklands (Norfolk County Library) does not have a copy of this seminal work and the price is well beyond KPJ. No wonder the local football team is heading for the fourth division. By the way, surely deserves six stars even though it has not been seen by verb sap himself.
The Clogher Valley Railway. E.M. Patterson with additional material by Norman Johnston. Colourpoint. DWM *****
"splendid book, written with authority, style and humour and updated with symapthy and feeling": what a wonderful piece of writing by the reviewer who deserves a special star for himself.
Seasonal shivering in Surrey. David Idle. rear cover.
7829 Ramsbury Manor near Wanborough on Redhill to Reading train on 28 December 1964.
SR 'King Arthur' 4-6-0 No. 30796 Sir Dodinas le Savage waits to leave Brighton with a Railway Correspondence & Travel Society special on 13th April 1958. R.C. Riley. front cover
If a picture paints a thousand words. Michael Blakemore. 67.
Editorial the value of high quality illustrations, especially when accompanied by extended captions [but see no further than page 96 to see the unmentioned LNER and GWR corridor stock painted carmine cream both of which had doors to every compartment (where the early bird Dick Riley certainly caught some interesting worms before they vanished: some captions could still be improved).
In and out of Leeds. Joe Richardson (phot.). 68-9.
Colour photo-feature: Jubilee 45647 Sturdee climbing Farnley Bank on Stephenson Locomotive Society special on 12 July 1964; 45424 passing Farnley Junction on a relief train in 1965; 73158 on return football special to Manchester in 1965; 70049 passing Holbeck Low Level on freight "from" Carlisle in July 1967 (see letter from Paul Chadwick on p. 188: to Carlisle, not from); Farnley Junction shed with just three class 5s but showing enginemen's barracks very clearly; 44853 passing Kirkstall Forge on freight in 1965.
Brighton's Belle Époque. Keith Hill. 70-9.
Pullman train services to Brighton started by the LBSCR in a small way in 1875 with a brief trial of car Jupiter, followed in 1881 with the Pullman Limited Express.: The name Southern Belle was adopted appears to have been adopted in November 1908 when the all-Pullman service was run daily (previously the Pullman only service had been limited to Sundays). The name changed to Brighton Belle after the EMU service was introduced. There are several gushing quotations from contemporary literature and a note is made of one or two especially fast journeys, notably one in July 1903 when a Billinton B2 (BA class according to Evetts see below) class 4-4-0 No. 70 Holyrood completed the journey in just under 49 minutes. The service (EMU) ran for the last time on 30 April 1972. Illus.: colour: 5-BEL set No. 3052 leaving Victoria in March 1967 with BOAC building behind (G.S. Cocks); same unit passing Clapham Junction in September 1963 (J.C. Dewing) (both units in proper umber & cream); Unit 3051 in corporate livery at Victoria and at Brighton in August 1970 (T.J. Edgington). B&w: J1 4-6-2T No. B325 passing Merstham on down Southern Belle c1925 (Bernard Whicher); LBSCR H1 No. 39 on the Quarry Line near Hooley c1922; H2 B426 St Alban's Head near Merstham in April 1926 (F.R. Hebron); E796 Sir Dodinas le Savage near Merstham in summer of 1929; L class 4-6-4T B328 under the wires near Coulsdon c1926 (Bernard Whicher); King Arthur No. 793 Sir Ontzlake at Victoria on 1 November 1929 with special to mark 21st anniversary of Southern Belle; 5-BEL 3051 in pristine glory on 1 January 1933 with L12 No. 424 alongside (C.R. Gordon Stuart); 3052 passing Wandsworth Common on 15 November 1964 (Brian Stephenson); and in corporate livery approaching Clapham Junction (BS). See very long letter by Charles Long (No. 4 page 252) which corrects many errors, notably Mars, not Jupiter, was the car used on trial, the exact nature of the service operated on Sundays, the use of non-Pullman vehicles within formations, the provision of second class Pullman cars, electric lighting (and the provision of back-up oil/gas lighting), the base for the electric train sets at Brighton; liveries, and the financial involvement of Davison Dalziel; letter from Philip Evetts which notes that Gladstone type was an 0-4-2 type not a 2-4-0, the use of the I3 class 4-4-2Ts on the service, questions the use of the River class on this service, and the six-wheel tenders on the King Arthurs was due to restricted turnatble length, not weight: this last is reinforced in letter from Roger Merry-Price who adds that tank engines were also turned for this service and did not work bunker-first.
Wartime in the West. Part Two. Colin G. Maggs. 80-4.
The Norton Fitzwarren accident on 4 November 1940 was caused indirectly by Driver Stacy's home being bombed shortly before (he failed to stop at the end of the four-track section and collided with a newspaper train); bombing of Castle Cary station which led to six fatalities and the total destruction of 0-6-0PT No. 1729 (illustrated); bomb damage to train at eastern portal of Bristol No. 2 Tunnel; damage to the Portland branch; ammunition storage near Box Tunnel (illustrated including narrow gauge tramway which ran into the mines; requisition of Dean goods for military service and their replacement by ex-NER class J25 and ex-MR 0-6-0sof comparable antiquity; introduction of Merchant Navy class; S160 2-8-0s from USA and LMS 8F class built at Swindon; use of S11 and T9 class on S&DJR; B12 on ambulance trains; F4 class No. 7077 on armoured train to patrol between Bideford and Braunton (and fatal accident due to restricted visibility); raids on Bath and Newton Abbot (where 0-6-0PT No. 2785 was destroyed); simplified liveries and use of black at Swindon;
Sturrock's steam tenders. Tony Vernon. 85-9.
Notes his patent [113 published 6 May 1863 not submitted] and also Fairlie's [1210 13 May 1864 which Dewhurst described as the master patent] which also sought to increase the adhsion available. Sturrock's innovation is described in detail (drawings from The Engineer 9 May 1919 and Railway Gazette 27 August 1920) and also quotes estimates of the financial savings which Sturrock hoped to achieve. Charles Sacré, at that time Locomotive Superintendent of the MSLR, was also involved in the assessment of the steam tenders where initial tests indicated that 50% increased loads could be hauled up Clarborough and Kirton banks. Eventually the MSLR ordered six steam tenders as part of an order for twelve locomotives from Neilson's. Some fifty steam tenders were ordered by the GNR and Vernon estimates that the value of the orders (placed with more than one builder) was equal to about two years of his salary in terms of Royalties. The article attempts to rationalize the reasons for Sturrock's premature retirement. Certainly, the failure to find a system to reward the enginemen for the increase in their productivity was a major factor in the failure of the system. Patrick Stirling's eventual attack (quoted at length) on the system is understandable: he was an engineer who demanded simplicity [and this may have influenced the GNR's Board when it selected him]. Sturrock had got on well with the GNR Chairman Dension, but his replacement Col. Packe was a different sort of executive. The article notes that the needs of Sturrock's three motherless children, his substantial income from his second wife's estate and his rural life style meant that the problems of locomotive engineering were no longer worth pursuing. The article also notes that Sturrock was retained as a consultant to the GNR for three months, thus implying an immicable separation. Some of the steam tenders remained in use until 1868. The article notes that it was Gresley who supplied the information on the steam tenders to The Engineer (Gresley at that time was considering the booster as a similar means of increasing locomotive productivity. See letter in Issue 4 on page 253 from Brian Orrell on correspondence between W. Gooch of Vulcan Foundry and Sturrock and to Patrick Stirling at a date prior to his official appointment (that is in June 1866). A return to this material will be made once the GNR page on the website is developed.
Historical aspects of the Mersey Railway.- Part One. Jeffrey Wells. 90-4.
The Mersey Tunnel is in danger of attracting a vast literature: T.B. Maund covered the history in Rly Archive No.2 page 2 et seq and Neil Parkhouse included a photographic review of the steam locomotives in Rly Archive No. 5 page 27 et seq., In Backtrack John C. Hughes (Vol. 11 page 586) covered the dismal financial aspects of the Company in considerable detail and R.L. Vickers in a two part feature covered the electrification and rolling stock (Vol. 11 page 179 and Vol. 12 page 84 These last articles by Vickery generated a considerable literature which is indicative that they were not entirely accurate. This part of Wells contribution covers alternative schemes which included a pneumatic tube, construction and the initial opening. The lifts, which were very large for the time (makes it sound like a trip up the Sears Tower in Chicago) are described in detail and illustrated. The Royal opening by the Prince and Princess of Wales on 20 January 1886 is described in sufficient detail and illustrated with a brochure cover is in colour. See letter (page 316) concerning presentation citation to her grandfather. Further letter from Joe Lloyd notes several errors in names listed onn pp. 91/2.. Part 2 page 203.
The NER B16 4-6-0s. 95.
Colour photo-feature: B16/1 No. 61411 outside York shed on 25 June 1960 (Gavin Morrison); B16/2, at Ferrybridge power station in 1962 and B16/3 61454 inside York shed in early BR days (H.M. Lane).
'King Arthurs' caught on camera. 96-7.
Colour photo-feature: 30742 Camelot still in malechite green and lettered BRITISH RAILWAYS at Eastleighh in May 1950 (T.B. Owen); 30791 Sir Uwaine at Eastleigh shed in April 1957; 30782 Sir Brian at Oxford on cross country express with Gresley coach at front on 29 September 1956 (R.C. Riley); 30798 Sir Hectimere near Weybrige on Basingstoke to Waterloo train in June 1962 (Geoff Rixon); 30768 Sir Balin at St Mary Cray Junction with up relief on 14 June 1958 (R.C. Riley); 747 Elaine (in Maunsell dark green) at Exeter Central in Agust 1936 on up express; 30747 Elaine at Eastleigh; 30451 Sir Lamorak on down Basingstoke train in April 1962 (Geoff Rixon); 30773 Sir Lavaine at Eastleigh in April 1961 (GR).
Western Moguls. 100-1.
Colour photo-feature: 6378 at Cowley Bridge Junction, Exeter on freight on 5 March 1961 (R.C. Riley); 6337 (green livery) at Exeter Central (Geoff Rixon); 7304 (lined black) at Filleigh station on stopping train (Paul Strong); 9303 (GWR green livery) on freight taking water at Reading in April 1947 (H.N. James); 7306 leaving Brnstaple for Taunton on stopping train on 20 July 1964 (RCR).
The Drummond age. Part Four. Michael Rutherford (Railway reflections No.109). 102-10.
Dugald Drummond on the LSWR and Peter Drummond's work for the HR and GSWR. Includes an extensive section on Dugald's extremely light weight steam railcars, and the influence of these on the motive power on other railways, notably the GWR (which developed far more powerful vehicles) and the TVR, and the subsequent development of the C14 2-2-0T and later 0-4-0T (S14) for push & pull working. The delay in the opening of the Locomotive Works at Eastleigh is noted and there were problems in that old machine tools were transferred from Nine Elms. There was a shortage of accommodation at Eastleigh and many of the staff employed there were Scots (Rutherford wonders if a Scottish community developed thereat: are haggis available in local butchers for Burns' Night is one possible test). Rutherford indicates that Dugald Drummond's stay of seventeen years with the LSWR was the longest of any of his periods of employment and that his salary of £1500 per annum was considerably less than that of the £2400 paid to him by the CR. Rutherford states that John Reid was responsible for the design of the T9, 700 and M7 classes, but eventaully appears to have left under a cloud. Subsequent Drummond designs are more controversial: the 4-2-2-0 design is linked to James Tolman. Whilst the D15 class 4-4-0 once superheated was one of the very best of that type the 4-6-0s (which are but lightly sketched) are considered to have been very poor and are compared with Robinson's similar lack of success with multi-cylinder 4-6-0 designs. The author does note that Drummond's designs were greatly admired by the enginemen and that some of the LSWR types lasted almost to the end of steam.
Peter Drummond's designs for the HR are given some attention: the Castle class was developed from the Jones goods but did introduce the passenger type 4-6-0 to Scotland. Furthermore, fifty of this type were supplied by NBL to the Chemin de fer de l'Ouest. Several of his designs, notably an 0-8-0 failed to materialize because of HR frugality. His period on the GSWR was marked by a large 4-4-0 and a 2-6-0, but Rutherford fails to enthuse to any extent on these designs. Rutherford claims that William Paton Reid's and John McIntosh's designs were essentially part of the Drummond philosophy and as a very large order for McIntosh types was supplied by Neilson's to the Belgian Railways this extends the Drummond concept still further.
On page 106 ponders on the LMS order for further Class 60 4-6-0s which on test were far worse than the Prince of Wales class in terms of fuel consumption. Rutherford questions why further River or Clan class 4-6-0s were not built instead, but Barr would have wished to know nothing of these English designs?
Illus: colour: D15 No. 466 on down West of England express in Clapham cutting in LSWR livery (Locomotive Publishing Co); T14 No. 443 on Bournemouth express with Farman biplane above and signed F. Moore (LPC); 0-4-0T 30586 on Southampton Town Quay on 26 June 1957 (R.C. Riley); preserved LSWR T9 No. 120 at Waterloo on 24 June 1962 ready for Sussex Coast Limited (David Idle); preserved CR 4-2-2 No. 123 and NBR No. 256 Glen Douglas at Oban in May 1962 (Eric Oldham); preserved Glen Douglas at Glasgow St Enoch on RCTS Fife Coast Railtour on 28 August 1965 (DI); 0-6-0 57276 on Ballachulish branch with balast train in May 1957 (Norman Spinks).
Late Victoriana on the Sou'West. Fergus Gibson. 111-17.
GSWR press cuttings file for 1888-1889. These both relate to the railway itself and what was going on elsewhere; notably the CR competitive line to Ardrossan. The illustrations in part reflect actvity on the Glasgow & South Western and on other Scottish railways (all those of locomotives and trains are GSWR, however): 6 class 4-4-0 No. 110 at Glasgow St Enoch; Gourock station (engraving); 153 class 4-4-0 No. 70 at Dumfries; Wm Arrol advertisement showing Tay Bridge (engraving); 75 class 2-4-0 No. 60 at Carlisle Citadel; 187 class 0-4-2 No. 194; rebuilt 187 class as 0-4-2T No. 206 at Springburn; 208 class 0-4-2 No. 2122 at Stranraer and 13 class 0-6-0 No. 12.
Locomotives of the Stratford-Upon Avon and Midland Junction Railway. Peter Treloar. 118-20.
B&w photo-feature with long captions (as most of the locomotives illustrated had long histories): 0-4-0ST (Beyer Peacock 1830/1879) formerly SMJR No. 1 (acquired new but sold in 1890 to Rother Vale Collieries Co) at Treeton Colliery as NCB No. 0; BP 2626/1885 0-6-0 as SMJR No. 4 at Stratford on passenger train c1892; BP 2466/1884 as 2-4-0T No. 5; Yorkshire Engine Co. 185/1872 as 0-6-0T (had worked as 2-4-0T No. 1 on SMJR) owned Cannock & Rugeley Collieries No. 8 Harrison on miners' train; Stratford shed with SMJR Nos. 15 and 1: BP (4633/1904) 0-6-0 No. 15 and Manning Wardle 0-6-0ST 178/1866 No. 1 which was sold to the Shropshire & Montgomeryshire Railway in 1911 to become their Morous and ending up on the Hundred of Manhood & Selsey Tramway in 1924; and ex-LBSCR C class 0-6-0 No. 428 as LMS No. 2303.
British ambassadors to America. 121
B&w photo-feature based on Keith R. Chester Collection: 1927: No. 6000 King George V with bell with Canadian National Railway No. 6100 Confederation (locomotive sent to Baltimore & Ohio Railroad's Centenary celebrations); No. 6100 Royal Scot with front nameplate, bell and headlamp probably at World's Fair in Chicago and at Providence, Rhode Island on 11 May 1933; No. 6220 Coronation sent to New York World's Fair in 1939 and shown leaving Philadelphia on 23 March on exhibition tour. David Patrick (page 252) castigates editor for failing to mention the visit by Webb 2-2-2-2 Queen Empress to Chicago Exhibition in 1893 and its subsequent journey from Chicago to New York
'To the Station': being road signs to closed stations. Tim Edmonds. 122-3.
Colour photo-feature: (the dates are when pthotographed): milepost to Scorrier Station on 17 October 1960; Drummuir station (ex-GNSR) on 29 June 1989; Harome Siding on 29 April 1999; Balnaguard LMS Halt (damaged) on 24 June 1991; Thorington Station on 10 June 2003; "L.N.E.Ry station & goods yard" at Dunmow on 23 November 1980 and to Eassie stn on 5 July 1991.
Readers' Forum. 124
Call of the South. Editor.
See Volume 18 page 732: 34001 Exeter not Exmouth.
From Bloomers to TOPS. Tony Mortlock.
LCDR M3 No. 188 page 722 (Vol. 18) was passing Faversham not Bromley South.
The LNER V1 and V3 tanks. John Macnab.
See Volume 18 page 762: caption suggested train of LNER rolling stock: this was only partially so as set included LMS vehicle.
Trawsfynydd Camp Station. Bill Crosbie-Hill.
See Vol. 18 page 730: writer suggests that may have been the arrival of a cavalry regiment during WW1: writer had twin uncles, John and Richard Woolhouse, who served in the Rough Riders and spent time at Trawsfynedd Camp in 1915 having reached there from Kingsbridge in South Devon: thet called the camp "trousers".
Climbing out of Manchester. Kevin P. Jones.
See Volume 18 feature on p 695 et seq: bankers used to assist trains from Manchester Exchange up to Miles Platting (notably 635/40635 and its deputies, not the L&YR 0-6-0 illustrated used to bank freights). Mention of the 4.47 Manchester to Hull service which was not banked if 7P hauled; the fast exit from Exchange; the sometimes rapid transit of Miles Platting station (the tempting smell of baked beans from the Gresley buffet car) and late for tea if an unrebuilt Patriot, especially Gigglewick.
Climbing out of Manchester. Peter Mabbott.
See Volume 18 feature on pp 695, especially page 696 (upper): train was not routed via Leeds but via Wakefield and Normanton to York where engines were changed
'Dean goods' and railway damage and disruption. John Bushby.
See colour photo-feature on page 670 of Volume 18: notes that ex-GWR No. 438 and No. 2552 reached Russia during WW2 (see Lokomotiven Ziehen in den Kreig, Vol. 3 (1980). Vol 1 of same series (1977) shows ex-2435 doing a Third Man with Soviet ownership markings in Vienna in 1948. No. 2552 is considered again by Robert Barker in Issue 4 page 253. Some Dean goods were taken into SNFC stock (Allied locomotives of the Second World War, 1995). See also letter from John Emerson (Volume 18 page 764) concerning Pilley Road Bridge across Kingham line in Cheltenham (original feature Volume 18 page 537).
Dublin in the rare ould times. Andrew Kleissner.
See Volume 18 page 708: VS class not V class as stated.
Gunboats and pagodas. R.A.S. Hennessey.
The hermeutics or semantics of the 0-6-4T type: see letter from Daryl Grant (Volume 18 page 764): and original feature by writer of letter on page 454 et seq of Volume 18. See alsoletter from Arthur R. Nicholls (p. 188) on superheated M7 class locomotive. The 0-6-4T originated via the "Engerth" type designed for ascents of the Semmering Pass: the articulated design defied classification (an 0-6+4-0T perhaps); the first genuine ones were probably constructed by the Yorkshire Engine Co. for the Poti Tiflis Railway (see Hennessey's The Trancaucasian Railway and the Royal Engineers, 2004).
Book Reviews. 125.
The Metropolitan Railway. David Bownes. Tempus. MJS *****

The Colour-Rail Catalogue. MB
Acknowledges the wealth of Ron White's effort.
The Banbury & Cheltenham Railway. William Hemmings. Wild Swan. RH ****
The index and bibliography are promised in Volume 3.
The design construction and working of locomotive boilers: an engineering appraisal. Alan J. Haigh. Author. RG **
Very badly produced book full of highly useful information.
East Coast passing. Richard Jackson. rear cover.
Stonehaven, 27 August 1966: A2 60532 Blue Peter heading towards Aberdeen and A4 60024 Kingfisher arriving from Aberdeen on express for Glasgow.
GNR 02 2-8-0 No.63924 (as rebuilt as Class 02/4 in 1943 by the LNER) stands at Retford on a coal train. (Derek Penney). front cover.
See also page 134.
Supremacy of the Word. Kevin P. Jones. 131.
Guest editorial: There seems to be an ever increasing decline in the standard of the written word about railways. Backtrack stands increasingly isolated within a morass of magazines which consist solely of illustrations held together loosely by text consisting either of bits and pieces gathered from elsewhere or of tedious lists of numbers. Ideas are conspicuous by their absence; readers will find it difficult to come across much that is comparable with Roger Hennessey's thought-provoking contribution on virtual railways (Vo1.l6 No.12) or Robin Barnes' wonderful account of what the King of Saxony actually saw and might have seen during his tour of this country in 1844 (Vo1.l6 Nos.6 and 7). The latter author's creation of the twin-chimneyed locomotive on the Sirhowy Tramway was infinitely more stimulating than yet another view of No. 5656 on its final journey trom Merthyr.
Well thought-through memories, as exemplified by those of Master Callender on his initial encounter with a compartment third on the LMS (Vo1.16 No.11), are far more evocative than a dreary catalogue of shed bashes in a Ford Transit. The adventures of Molly Hughes travelling across Britain by rail in late Victorian times, featured in a couple of editorials (Vols.14 No.9 and 15 No.7), have shown what is out there, As an example of this, P.D. James' excellent autobiographical study is crammed full of her own experiences of railways as they formed part of her childhood in the Welsh Marches. As a non-driver, there are many accounts of her train journeys, both long ago and more recently. She even confesses to having despatched one of her characters from King's Cross rather than St. Pancras.
When starting to read railway literature, mainly Hamilton Ellis, Dow and Nock, I was struck that they had known, or claimed to have known, railways as they were before World War 1. My late father started work on the old North British Railway in Dundee during that war and some of his colleagues had been on duty on the night of the Tay Bridge disaster. He could remember the first new cars and aircraft seen in that city, but his interest in railways was slight. However, his generation has now departed and fewer and fewer can remember pre-World War II travel.
My father's diaries mention travel on the 9.30 trom Paddington to Newquay in June 1939. I can remember crossing the Gannel by planks and by ferry and the beach at Crantock, but the railway journey remains a blank. My own earliest railway memories are of walks along the railway line between Potters Bar and Brookmans Park around 1941 and watching long freight trains pass slowly by. The Colourpoint book published a couple of years ago has a wonderfully evocative picture of a Gresley 2-8-0 taken at that time. Illustrations are not wholly bad but they should, in the main, be subservient to text.
One of the joys of railway enthusiasm is that trains can form a happy background to life. The Class 150 DMU s are a useful means of transport to Norwich and the rest of the network. They also complement the landscape, both visually and aurally. On surmner days it is possible to hear the whistle of steam trains as they depart trom Sheringham and savour that wonderful mixture of coal smoke, steam and hot oil, at no cost whatsoever. In the late lamented Railways South East there was correspondence on the peculiar odour of Southern electrics (see letters by F.B. Smith p. 115 and Alan A. Jackson on p. 174 of Volume 2). Surely there must be further vibrant memories and deep thoughts to keep your pages filled.
All change on the Bury Electrics. Tom Heavyside (phot.) 132-3.
Colour photo-feature: class 504 1200V DC: Bury Bolton Streeet with two trains on 30 December 1979; overall blue unit departing Bury for Manchester on 4 July 1979; rail blue unit at Heaton Park Tunnel on 12 January 1979; tow blue and grey units leaving Radcliffe and crossing viaduct on 3 January 1987; orange & brown unit at Besses o' th' Barn on 3 January 1987.
Great Northern eight-coupled. Derek Penney (phot.). 134.
Colour photo-feature: O2/1 No. 63927 with side-window cab at Retford South signalbox; O2/2 No. 63934 light engine at Retford. See also front cover.
Southern gone west: the Torrington Branch. Part One. David Thrower. 135-42.
The stations at both Barnstaple (Junction) and Bideford were on the wrong side of the rivers (Taw and Torridge, respectively) of the towns they were intended to serve. In 1838 the Taw Valley Railway & Dock Company had been formed to link Barnstaple with Fremington, but horse-drawn freight services did not begin on this until 1848. Meanwhile, a highly convoluted series of developments involing the broad gauge Bristol & Exeter Railway and standard gauge L&SWR enabled broad gauge trains to reach Crediton from Exeter in May 1851. An excessively ambitious Taw Vale Extension & Dock Co. had envisaged a network of lines in North Devon which included a link with Exeter. This failed and in 1851 the North Devon Railway & Dock Co. took over the powers to link Barnstaple to Crediton. With push from Thomas Brassey broad gauge services ran from Barnstaple to Exeter from July (freight) and August (passenger) 1854. The waggonway to Fremington was also converted to broad gauge. With further assistance from Brassey the Bideford Extension Railway opened for passenger traffic in November 1855. From February 1862 the Exeter & Crediton Railway switched its lease from the BER to the LSWR and the LSWR took over the lines to Barnstable from Crediton in January 1863 and the line to Bideford in August 1862. Passenger services rapidly became standard gauge but broad gauge freight continued to Bideford until April 1877 and the GWR operated a freight service to Crediton until the end of the broad gauge in 1892. Torrington remained isolated until the owner of the Torrington Canal, Mark Rolle, offered the Canal to the LSWR as a base for a railway: this opened on 18 July 1872. The Torrington & Marland Railway (3ft gauge) connected the ball-clay deposits in the Petrockstow and Meeth areas with Torrington: this opened in 1881. The route from Barnstable to Torrington is described in detail, including the unusual at Bideford which was dictated by the extension to Torrington. Part 2 page 294. See also letter from Andrew Surry (page 444) on broad gauge motive power used on the line and its eventual fate..
The Barking job. Michael R. Binks. 143-9.
Author was the site resident engineer for the complicated operation of segregating the London Transport Executive services from those operated by the Eastern Region (ex-London Tilbury & Southend Railway) lines with trains joining from the St Pancras and Fenchurch Street directions and diverging towards Tilbury and the direct line to Southend. There were many conflicting movements involving the intensive District line services and cross-passenger inter-change was not possible. The new system required a fly-over and a dive-under and very complex changes to the tracks. Complicating factors included heavy freight from the Tilbury line towards the "St Pancras" direction, terminating LTE and BR trains from the St Pancras direction and eventual overhead electrification of the services based on Fenchurch Street. External problems included the proximity of the River Roding (Barking Creek), a tidal tribuatry of the Thames and overhead powerlines. The bridge girders arrived by barge. The task took from 1956 to 1959. The illustrations show the work in progress and on page 149 (lower) the Author is clearly visible with a roll of drawings on 8 November 1959.
Comparisons and revision: the Grouping and early LMS locomotive policy - Part One. Michael Rutherford. (Railway reflections No. 110). 150-6.
As usual the Author challenges the "accepted view" of locomotive development during the first few years of the LMS and compares this with what happened on the other mainline railways at that time, notably on the Southern Railway where the motive power was managed as on the LMS outwith the direct control of the CME. A concise description of the Grouping is included with mention of the extent of Government involvement and the stamp of Sir Eric Geddes.The findings of the Bridge Stree Committee enabled the four-cylinder Claughtons to be used on the Midland lines and accentuated their failings. J.H. Follows (portrait), the General Superintendent of the LMS had a considerable influence on motive power policy. The Divisional Motive Power Superintendents were: F.W. Dingley (Western Division at Crewe); F.W. Attock at Hunt's Bank in Manchester, L.C. Geach at Derby and the redoutable J.G. Barr in Glasgow. The Divisional Mechanical Engineers were Beames at Crewe, G.N. Shawcross at Horwich, D.C. Urie at Glasgow and E. Sharples was at Barrow. Mentions involvement of Jimmie Anderson (see Presidential Address to Instn Loco. Engrs) and visit by Fowler and Edward Gass to France (with Bulleid as translator) to France to study French compounds leading to paper by Gass (not yet cited by Rutherford) and projected 4-6-2 and 2-8-2 compounds thrown out by Follows.
Midland via Evesham. Michael Mensing (phot.). 157-9.
Colour photo-feature: 42466 at Redditch on train to Ashchurch on 18 June 1960; 42416 at Evesham on Ashchurch to Redditch train on 14 April 1962; 43046 at Evesham on same day as previous; 42422 (Fowler type 2-6-4T with side-window cab) departing Ashchurch for Redditch on 29 July 1961; Park Royal Class 103 DMU at Alvechurch on Redditch to Birmingham working on 7 June 1965 and Class 103 at Barnt Green on 19 September 1964.
Recalling the Great Central. 160-3.
Colour photo-feature: 45299 on arrival at Marylebone on train from Nottinham Victoria on 26 June 1965 (Michael Mensing); D11 62633 Prince Albert at Sheffield Victoria in September 1958 (P.J. Hughes); V2 60899 near Charwelton on Marylebone to Nottingham train on 2 March 1963 (snow still on ground) (MM); 44920 departing Nottingham Victoria for Marylebone in September 1966; 45335 passing Sudbury Hill en route tom Wembley Hill on 25 May 1963 with Cup Final special from Manchester (David Idle); 73159 departing Rugby Central for Leicester with train of non-corridor stock in May 1963 (Paul Riley); B1 61028 Umseke pilotting class 5 on Nottingham to Marylebone express passing under North Circular Road bridge in February 1962 (A.C. Sterndale); 62660 Butler-Henderson at Killamarsh on Sheffield Victoria to Nottingham Victoria stopping service in September 1960, and 73066 at Rugby Central on up express in 1963 (PR).
On the dock of the bay. Andrew Smith (phot.) and Pat Avery (captions). 164-5.
Colour photo-feature by deceased photographer: Sothampton Docks on 20 March 1966: 75070 approaching lavender coloured hull of Union Castle vessel Rotherwick Castle; BR class 5 in Eastern Docks with RMS Queen Elizabeth behind; HMS Wakeful in Ocean Dock with tugs; D2990 (Ruston & Hornsby 0-6-0 diesel electric shunting locomotive) painted a lighter than standard green and two USA Dock Tanks Nos. 30064 and 30073 at the Ocean Terminal on a special train.
Llancaiach and after. Edward A. Evans. 166-73.
This is a rich trailer for Railways in Retrospect No. 3: South Wales Valleys by the same author. It includes a note on the origin of the name "Nelson" as the station operated under both Llancaiach (opened originally on 5 January 1858) and Nelson & Llancaiach names. The original Llancaiach station was abandoned and replaced by a new Nelson & Llancaiach station in 1912 in the style typical of the GWR at that period. There are anecdotes about a Royal Visit to Dowlais on 1 July 1912 and on football excursions to Dowlais (Cae Harris) when Merthyr Tydfil FA played in the Third Division and was capable of drawing crowds of 20,000 spectators. There were Sunday excursions to Barry in the summer. Illus. both original and new stations (latter when being completed); station staff in 1913 (includinmg Walter Gilkes, Station Masster), Sgt Kelland (Police) and Ernie Jenkins (lampman); 4169 on two passenger coaches in 1962; and alleged photograph of 56XX in 1947 when lettered BRITISH RAILWAYS!: first vehicle in train was 4-wheel collier's coach.
Caledonian Railway Pullman Carriages and their LMS successors. Niall Ferguson. 174-80.
Two Pullman sleeping cars (Dunrobin and Balmoral) ran on the Highland Railway between 1885 and 1907. From 1905 the CR operated former WCJS dining cars on two of its internal services: Perth to Carlisle and Glasgow to Aberdeen. The Caledonian Railway, through its General Manager, Donald Matheson made an agreement with the Pullman Car Co. via Davison Dalziel (Chairman) on 27 November 1913 to operate Pullman cars. A full-list of the cars, their builders, their bogie type (four or six wheel); their romantic names and their function (buffet/dining/obervation) is included. The Maid of Morven observation car was used on the Oban line: the car had to be turned on the locomotive turntable at Oban with a high risk of breaking the observation windows and the risk was sufficient to carry spare panes and a glazier on the trains! The interior decor is described in detail. WW1 interrupted several planned services: it had been intended to use cars on the Tinto Express to Moffat and on the Strathearn Express to Crief, but Mary Seaton operated between Glasgow and Gourock from 6 July 1914 (the first class season-ticket holder was being courted on a grand scale). All cars were withdrawn at the end of 1916. At the end of WW1 when services were restored there was a dispute between the companies and the Government over compensation for the loss of earnings. Services to Aviemore started in 1922 and further cars were delivered including No. 80 (a third class buffet with Duratex rubber-backed carpeting supplied by Dunlop). The LMS continued the services but dit not renew the agreement and the cars came into LMS ownership from 1934. The change in livery was only made slowly. Many of the cars lasted into ownership by British Railways. Several letters in May Issue (page 316): Peter Butterfield noted that table on page 176 contained several errors concerning departures of trains conveying Pullman cars from Glasgow and Edinburgh; Tim Shuttelworth noted that dates shown on pp 178 and 180 should have been 1956 not 1966; Arnold Tortorella notes that Pullman cars first arrived in Scotland via Midland Railway sevices via the Settle & Carlisle route both onto the NBR and onto the GSWR: there were both Drawing Room Cars and Sleeping Cars from May 1876. Some of those via the NBR eventually traversed Caledonian Railway tracks on through carriages to Perth (an action which involved arbitration by the Railway Commissioners sitting on 11 and 17 May 1877). Further information is also presented on the transfer settlement for the Pullman cars from the Pullman Co. to the LMS. John Macnab noted that cars No. 200 to 203 were named: Mary Fleming, Mary Beaton, Mary Seton (spelling should be noted) and Mary Livingston.
Beyond the Underground Map - Part One. Michael J. Smith. 181-5.
Extensions of Underground services onto mainline railways. The main part deals with services over the LNWR New Lines to Watford Junction. These lines were constructed to encourage suburban traffic and were envisaged as being worked by electricity with a terminal loop under Euston Station. These were authorised in 1906 but the terminal loop was abandoned in 1911 and was replaced with a connection with the London Electric Railway's Baker St & Waterloo Railway (Bakerloo line) at Queens Park: this reached Marylebone and Edgware Road in 1907, Paddington in 1913 and Queens Park in 1915. Bakerloo trains ran between Willesden Junction and Queens Park from 10 February 1913 and these were the first Tube trains to run on a mainline railway. Joint stock was ordered for the new services and this was painted in LNWR livery but this was found to be too slow and unsuitable for conversion to power doors. Electric services to Watford Junction began on 16 April 1917. From June 1965 the Bakerloo line service to Watford Junction was limited to the rush-hours and services to Watford ended on 24 September 1982, but some Bakerloo services were resumed to Harrow & Wealdstone from 4 June 1984, and all-day services were resumed to this point from 16 May 1988. This Part also covers steam services by the Metropolitan District Railway to Windsor via Ealing Broadway between 1 March 1883 and 30 September 1885: these included a fast business service in each direction. Prior to WW2 an electric service was envisaged between Ealing Broadway and West Ruislip over the Castlebar Loop. District steam trains ran to Upminster between 1902 and 1905 (and were subsequently resumed by electric trains once the new tracks were opened by the LMS). Part 2: page 306. See also letter (page 316) from Donald Massey who saw the LER/LNWR stock in service on the Rickmansworth branch prior to 1941: the livery employed was crimson lake.
Northern station train sheds. Steve Burdett (phot.). 186-7.
Colour photo-feature: Stockton on 18 May 1979 with diverted HST passing through; Newcastle on 14 May 1977 with 31 406 leaving on train for Alnmouth; Darlington on 13 May 1977 with Class 101 DMU (see letter on page 253 from John McCrickard: Class 108); Hull Paragon on 15 April 1978 and Beverley on same day with Class 106 DMU.
Readers' Forum. 188.
Southern Railway electric locomotives. T.H.J. Dethridge.
See feature beginning page 17: notes that the arc shaped yellow device on the cab windows of CC1 was a gas detector. CC1 and CC2 were fitted with boards on the cab ends which stated SOUTHERN on either side with an electric flash in between. From 6 January 1964 the Brighton to Plymouth train was worked as far as Fratton by one of the elctric locomotives. The locomotives were used to work several Royal Trains.
Southern Railway electric locomotives. Peter J. Townsend
See feature beginning page 17: notes that the 'Hornbys' were not withdrawn until 1973/4.
Somerset in the 1960s. J.F. Ward.
See feature on page page 8. On 21 July 1962 travelled from Weston-super-Mare to Liverpool on a Manchester train. The Hymek failed shortly after leaving, was replaced by a Grange as far as Bristol, thence by 4937 Lanelay Hall as far as Pontypool Road. This climbed Stapleton Bank in fine style.
Philadelphia — a notable coal railway and a stylish folly. T.J. Edgington.
See page 746: Leckenby (feature begins page 740) was near Middlesbrough not Sunderland as stated; note on the Derby-built 350hp diesel electric shunters at Lambton, and see letter by John Hunter on page 764: the Maid of Morven was preceded by three LNWR observation cars.
Gunboats and pagodas. Arthur R. Nicholls.
See feature on page 454 (Vol. 18) Note on the superheated M7 class 0-4-4T No. 126: this locomotive was heavier and this restricted its activities.
Crimean War. Ted Gibbins.
Note on the publication of Beatty's Railway (published Leisure Products) which linked Balaclava with the front at Sebastopol and provided supplies more efficiently than that provided by horses and human effort, and the provision of ambulance trains.
In and out of Leeds. Paul Chadwick.
See illus. on page 69: 70049 was heading north not south.
Book Reviews. 189.
Lost railways of Lancashire.
Lost railways of Merseyside & Greater Manchester. Gordon Suggit. Countryside. MB **
Argues that the new counties form an inappropriate basis for historical examination of railways and highly critical of the poor reproduction of the illustrations.
Steam railways of Devon and Cornwall. Nick Luff. Bossiney Books. JR. **
This 40 page book includes 37 reproductions of water-colour paintings by the author. This extensive review raises many basic issues about railway art. The reviewer is trenchant in his criticism of the artist's ability to represent the human figure or animals. He is stated to have been more successful in his representation of locomotives and rolling stock, but queries how they relate to photographic images. The reviewer cites Stanhope Forbes' painting of Penzance Station used on the cover of Along Artistic Lines (advertisement inside rear cover of No. 8 of Volume 18) and Monet's Train in the snow.
The willing servant — a history of the steam locomotive. David Ross. Tempus. CPA ****
"excellent treatment of a vast subject".
Fair morn at Perth. Bruce Oliver. rear cover.
Perth mpd on 3 August 1965 with Class 5 44704 and 80126.
LMS Class 2 2-6-0 No.46440 leaves Uttoxeter station and passes Pinfold Crossing with a short westbound parcels train on 19th August 1963. Michael Mensing. Front cover.
See also photo-feature on page 220.
Here yesterday, gone today. Michael Blakemore. 195.
Came across a copy of David Jenkinson's The Times (always thought that young Michael must be a Grauniad type) for 12 May 1986 wherein young Michael amazed at improved Manchester to Brighton service via Kensington Olympia and improvements to railway catering. Away from the railway feature he was surprised at how cheaply a Professor of Philosophy could be hired then and an advertisement from the Wallop School which brings out the very worst of Master Blakemore.
Railway and Landscape: West Somerset. Alan Bennett. 196-8.
Colour feature based upon publicity material produced by the Great Western Railway which combines elegant text with wonderful reproductions of contemporary colour material mainly from the 1930s: Somerset (GWR poster); The Quantocks, Maurice Fraser, 1932 (front cover of brochure); Rambles and Walking Tours in Somerset, Hugh E. Page, GWR, 1938 (front cover of brochure); Somerset Ways, GWR, 1928 (front cover); Somerset, GWR, 1928 (brochure); Somerset, Maxwell Fraser, GWR, 1934. The linking text notes that the publicity material is built around the Taunton to Minehead branch and is divided into three sections: the Vale of Taunton Deane, the section from Bishop's Lydeard to Watchet (the Quantocks), and the final section into Minehead (the latter two are the territory of the West Somerset Railway..
East Anglian Class 47s. John D. Mann. 199-202.
The text balances the omissions from the author's photographic contributions reproduced herein (thus the special livery applied to two Stratford locomotives with large Union Flags to celebrate Her Majesty the Queen's Silver Jubilee is more than just mentioned as the workings on which they performed are listed, but there is no illustration, but see Backtrack, 1998, 12, 36 to see same photographer's wonderful picture of 47 164 at Ipswich on 29 June 1977; also 47169 Great Eastern on 7 March 1979 (the day on which it was named). 47 180 County of Suffolk is illustrated at Ipswich on 14 May 1979 (it had been named on 11 May 1979. Other namings recorded were 47 184 County of Cambridgeshire at Cambridge on 9 May 1979; 47 172 County of Hertfordshire on 26 July 1979; 47 167 County of Essex at Witham on 2 August 1979 and 47 170 Vounty of Norfolk at norwich on 24 August 1979 (also b&w illus of locomotive being prepared for naming at Norwich, but the rear cab was not functional at time!). The class 47 had originally arrived in East Snglia on freight workings in 1964 but were soon allocated to the Norwich to London expresses. Other illus: colour: D1530 (two tone green and very clean) at Manningtree on train for Norwich on 17 August 1967; 47 087 Cyclops (blue) on Parkeston to Morris Cowley car train on 19 May 1977; 47 185 (dirty rail blue) on Whitemoor to Parkeston freight on 14 May 1979. B&w: 1757 at Ipswich on wet 15 October 1973 on Norwich express; 47 leaving Manningtree northbound on 20 April 1975
Historical aspects of the Mersey Railway. Part Two. Jeffrey Wells. 203-7.
Part 1 began on page 90: Parliamentary powers to electrify the Railway were obtained on 30 July 1900 and a contract was placed with British Westinghouse for a four-rail 650V DC system. Care was taken to ensure minimal dxisruption to steam services and the last steam train ran at 12.15 a.m. and electric services started at 06.00 on the szme morning (3 May 1903). Rolling stock was obtained from G.F. Milnes of Hadley in Shropshire: this had tattan seats in the first-class and plywood in the second (vermin had been a problem on the steam rolling stock). A special effort was made to clean the tunnel walls of soot. The financial performance (graph) vastly improved. The LMS electrified the Wirral Railway in the late 1930s and to establish through running the Mersey Railway had to adjust the height of its third rail without interuption to its services and this was achieved by fitting the rolling stock with two sets of collector shoes first on one side and then on the other and the conductor rail was moved whilst the system was closed at night. New high speed lifts were installed and cushioned seating was fitted to the cars. On 14 March 1938 Sir Josiah Stamp attended the opening celebrations. H.C. Casserley photographs of the Mersey Railways rolling stock taken in 1946: both the original and car No. 111 which had been built in 1936 by the Gloucester Carriage & Wagon Company but had acquired a new body at Wolverton Works in 1942 following War damage. The first class cars are especially interesting being fitted with large enamel plates to indicate the superior class. See also letter on page 380 from J.C. Grayson concerning first class travel.
An engine by any other name. R.A.S. Hennessey. 208-15.
The naming and names of locomotives onsidered on a world basis but with some emphasis on British (including Irish) traditions. Some railways rarely named locomotives (notably the Lancashire & Yorkshire Railway), some only used names (the Great Western broad gauge). Hennessey cites several useful books on the subject (which may eventually the form of a basis for a web-page) and considers naming policies and their politics. He also introduces classifications for some of the names (see eventually link to Jones to the problems therein). Illus. p. 212 Europa (Gooch standard 0-6-0, which Hennessey implies was the last broad gauge locomotive to leave Plymouth for Swindon: see letter from Geof Sheppard on page 380).
New Holland Pier and Ferry. Andy Sparks (phot.). 216-17.
Black & white photo-feature (although the ferry is mentioned in the notes it is only seen distantly as it departs for Hull). Views include that of most of the pier, various DMUs, the booking office at New Holland Town station; LNER and adjacent Sealink notices; interior and exterior of New Holland Town signal box.
A pioneer railway historian. [Clement E. Stretton]. J.D. Bennett. 218.
A useful brief biography, but it is a pity that the author was unaware of Jack's very grave reservations about Stretton's observations on locomotive history recorded both in his book on LNWR locomotives and in Backtrack. Such reservations were also noted by Rutherford (again in Backtrack). See Stretton page. Portrait of Stretton. Withering attack on the unreliability of Stretton in letter from Stephen Duffell on page 444. See also letter from Brian Orrell (page 574) which notes Sekon's hostility with Stretton and evidence that Vulcan Foundry supplied information to Stretton,
'Intermediate' days. 219.
Colour photo-feature: GER class T26/LNER class E4 2-4-0s. Three illus of 62785 (still extant in National Collection): at Mildenhall in May 1958 (J.G. Dewing) and at Cambridge on 27 April 1958 on Cambridge University Railway Society special (R.C. Riley): both of these are clearly hauling the identical two coach set: a GER corridor brake second and Gresley composite corridor coach (former in brown livery and latter in BR maroon (and because of lighting conditions look very different) ; and on Cambridge shed on 20 May 1957 (RCR).
In with the new [Ivatt class 2 2-6-0s]. 220-3.
Colour photo-feature: 46423 at Stechford on freight on 2 May 1961 (Michael Mensing); 46479 at Berwick-upon-Tweed on local freight on 25 May 1962 (MM); 46441 at Ulverston on Windermere Lakeside train on 2 September 1965 (David Idle); 46512 at Oswestry on stopping train (Derek Penney); 46465 at Sheffield Midland on Hope Valley train in June 1966 (James Arthur); 46519 at Coventry with two vans on 5 March 1966 (MM); 46504 (caption states was green) at Tysley on ballast train on 19 April 1963 (MM); 46513 at Oswestry on local freight (DP); 46527 at Beechwood Tunnel on Coventry line with parcels train on 12 May 1964 (MM). See also front cover..
Great Western eight-coupled tanks. 224-7.
Colour photo-feature: 5205 on Worcester shed on 19 August 1962 (R.C. Riley); 5206 shunting at Carnparc on 3 April 1965 (Roy Hobbs); 4237 at Aberbeeg hauling coal wagons in April 1961 (A.C. Sterndale); 5235 at Park Junction, Newport on freight on 13 August 1965 (RH); 5213 near Aberbeeg with train of empty flat wagons in April 1961 (ACS); 5206 departing Stormtown Junction, Abercynon with train for Bassaleg Junction on 3 April 1965 (RH); 7234 climbing towards Patchway Tunnel with coal train on 2 September 1963 (David Idle); 7224 on Exeter shed in very clean condition in August 1961 (Douglas Tritton) and 7228 at Wednesbury Central with up freight on 28 May 1960 (RCR).:
Whistling through Wessex. Keith Hill. 228 -38.
The Salisbury to Exeter section of the former LSWR mainline. Castleman, on the LSWR Board, had hoped that the LSWR would extend westward from Dorchester to Exeter and the GWR toyed with extending from Maiden Newton via Bridport and Axminster to Exeter, but the westward shift began as the Salisbury & Yeovil Railway for which powers were obtained in 1854. Yeovil had been reached by the Westbury, Somerset and Weymouth Railway in 1856. From Salisbury Gillingham was reached on 2 May 1859, Sherborne on 7 May 1860 and Yeovil on 1 June 1860 by which time progress of the remainder of the line to Exeter was well advance (opened 19 July 1860). At Yeovil the Hendford station was dual gauge. A joint Yeovil Town station opened on 1 June 1861. Shaftesbury, Wincanton and Chard were missed, but Chard eventually had its own brnach which is described. Furhtter west there were branches to Lyme Regis, Seaton and Sidmouth. Templecombe functioned as a junction with the Somerset & Dorset Railway. Describes a fooplate journey on 35008 Orient Line and the eventual death with the use of the Class 33 which lacked power, the class 50 which added glamour and the eventual use of DMUs and improved services. Colour illus.: (all Southern Pacifics rebuilt unless noted otherwise) 35007 Aberdeen Commonwealth at Salisbury backing onto train for Exeter in 1958 (P.M. Alexander); U class 31626 at Chard Junction in October 1962 (Colour-Rail); unrebuilt 34020 Seaton climbing Honiton bank with Brighton to Plymouth train on 27 June 1964 (Hugh Ballantyne); 24060 25 Squadron at Templecombe with Plymouth to Waterloo train on 27 July 1963 (HB); S15 30824 on down freight approaching Templecombe in September 1962 (A.A. Jarvis); unrebuilt light Pacific 34049 Anti-Aircraft Command at Yeovil Junction with local for Exeter in July 1963 (P.J. Hughes); D824 Highflyer (green) at Salisbury with Brighton to Plymouth train in July 1964 (A.M. Logan). B&w: King Arthur 783 Sir Gillemere at Waterloo on Atlantic Coast Express on 16 July 1937 (John P. Wilson); 35001 Channel Packet approaching Seaton Junction on down ACE on 23 September 1959 (K.L. Cook); 35013 Blue Funnel on Plymouth to Waterloo train passing Semley station on 21 August 1958 (HB); 34013 Okehampton departing Salisbury on slow train for Exeter on 18 April 1964 (HB); S15 30825 leaving Exmouth Junction for Salisbury on pick-up freight (HB); p. 234: 35030 Elder Dempster Lines on Atlantic Coast Express with headboard near Templecombe on 6 September 1961 (see letter from Allen Davis on page 380)(D.M.C. Hepburn-Scott); unrebuilt 34086 219 Squadron passing Seaton Junction with Plymouth to Brighton train on 18 August 1964 (HB); 34039 Boscastle and unrebuilt 34084 253 Squadron at Exeter Central on 24 August 1964 (HB); 50 021 Rodney passing St James Park Exeter on train for Waterloo on 22 August 1988 (Gavin Morrison); 33 049 with the empty stock of the Brighton to Exeter (which only got to Yeovil Junction and awaiting its return working), 50 044 Exeter on diverted Penzance to Paddington train and 50 033 Glorious on train for Waterloo at Yeovil Junction on 5 April 1986 (GM) 50 005 Collingwood approaching Crewkerne Tunnel on Paddington to Penzance train on 5 April 1986 and 50 018 Resolution departing Exeter Central for Waterloo on 16 September 1990, (GM)...
Weird and wonderful creatures—and some other reflections. L.A. Summers. 239.
Refers to his own contribution in Backtrack, 2004, 18, 242- and the response to it by Mick Hutson and KPJ. In addition William Morgan wrote directly to the Author and included a further picture of 2-2-2 No. 9 (ex-Dean 4-2-4T). Furthermore, Morgan provided information concerning the cost of constructing 0-6-0T No. 1833 which was possibly partly constructed from parts built for a second 4-2-4T. Summers also refers to Number 6 of 2004 page 366 for feature which refers to Port Talbot Railway 0-8-2T No. 21 and its possible influence on Churchward design of cylinder smokebox saddle at Swindon. Summers now accepts that it would have been possible to fit external valve gear to Swindon outside cyclinder locomotives (KPJ: one may question why the arch-standardizers: Cox, Riddles et al did not issue an edict) and the strengths and weaknesses of the 47XX class, and how Collett nearly ordered more: cites K.J. Cook's Swindon steam for additional information on 47XX. See extensive letter from Nigel Probert (p. 444) which challenges Summers' philosophy and suggests that great care needs to be taken in interpretation of history.
A tale of two City termini. Alistair F. Nisbet. 240-5.
Holborn Viaduct and Broad Street in the City of London. Article begins under a cloud for not mentioning Alan A. Jackson's seminal London termini, but partially makes up for this by including some minor points, not in Jackson and one or two illustrations of Broad Street. Holborn Viaduct, the road bridge, was opened by Queen Victoria in 1869 and the station abutting it opened at a High Level in March 1874 and at a low level as Snow Hill on 1 August of the same year. Services originally included boat trains to Sheerness. The main suburban services were electrified from 1924 and colour light signals followed in 1925. Some improvements had to be made in the late 1930s to accomodate electric trains from Sevenoaks via Otford and from Gillingham. The station was difficult to operate and eight car trains caused considerable difficulties. Some platforms remained without third rail for steam parcels trains and overnight services for newspaper and market workers. Damage during WW2 was considerable and the eventual arrival of a new frontage was largely to accommodate offices. From 1964 the station was closed on Saturdays and Sundays, later the service was restricted to rush-hours: Blackfriars fulfilled the terminus roles. Traffic via the Snow Hill incline ceased between 1969 and 1971. Total closure of Holborn Viaduct took place in 1990, but now Thameslink normally provides a cross-City service through Blackfriars and Kings Cross. Broad Street was a joint LNWR/North London Railway operation which reached its zenith in the 1890s. For a time (from 1910) business services operated to and from Wolverhampton. Electric trains ran to Richmond from 1916 and to Watford Junction following WW1. The NLR provided services over the congested GNR suburban lines and these were continued by the LMS until they ceased during WW2: subsequently similar services were operated by the LNER/Eastern Region and the latter included services operated by DMUs and by diesel locomotive hauled trains. The author makes much of services from Broad Street to Alexandra Palace and the Graham Road curve which enabled a Watford Junction to Liverpool Street service to be worked for a time: he claims that one platform at Liverpool Street had third rail installed for this service: Stephen G. Abbott (letter p. 380) disputes this odd piece of third rail. Illus (b&w): B1 61251 Oliver Bury at Broad Street (Norman Simmons); N2 69490 with two quad-arts also at Broad Street and class 501 at Broad Street on 11 May 1974 (F. Hornby)..
The day the communication cord pulled Queen Victoria. Michael J. Smith. 246-7.
Account of Queen Victoria's funeral train to Windsor (from Paddington). At Windsor the horses to haul the cortège became restless and the gun carriage had to be hauled by naval ratings (one of whom as author's paternal grandfather) using the train's communication cord and various other lengths of cord. Illus. show cortège at Paddington and at Windsor (without horses) and Atbara 4-4-0 No. 3373 hauling "up special train" consisting of LSWR stock with locomotive carrying shields. See letter from Colin Chivers (pp 380/1) concerning illus. of No. 3373 which was associated with event on 29 October 1900 involving the haulage of the City Imperial Volunteers returning from the Boer War via Southampton, Basingstoke and Paddington..
The railways of Royal Ordnance Bishopton. R.N. Forsythe. 248-50.
There were over 45 miles of 2ft 6in gauge track and 17 miles of standard gauge at a 2000 acre site opened in 1940. During WW2 an internal standard gauge passenger service was operated from Fullwood, adjacent to Georgetown between Paisley and Greenock to Netherfield, South Crook, Rock Bank and Netherfield. These service are not listed in Private and untimetabled railway stations by Godfrey Croughton et al (1982: Ottley 16279). Author mentions more than one Industrial Railway Society citation, but with inadequate details. Author visited the site in year 2000 shortly before it closed. Motive power included woman-power (illustrated).Illus. LNER G5 No. 1169 on freight during WW2. See letters from Jim MacIntosh and from Andrerw Wilson on page 380.
Rolling Stock Focus: East Coast contrasts. Nick Campling (captions). 251.
Colour photo-feature: view of rear of Gresley Society Special from King's Cross to Darlington at York on 2 May 1964. Train set of Gresley corridor stock painted maroon: rear vehicle brake second open E16629E built Cravens as 43554 in 1938 (David Percival); restaurant buffet in blue/grey livery No. E9122E at Stratford carriage sidings in summer of 1969, built as No. 24277 in 1937; Mark 2 first corridor No. E13373 in maroon livery passing Knebworth as part of 09.30 Glasgow Queen Street to King's Cross on 17 July 1964 (David Percival): see letter on page 316 from John Macnab which states that this was regarded as a prestige service.
Readers' Forum. 252-3.
The 'Southern Belle'. Philip S. Evetts.
See feature by Keith Hill beginning page 70 (February issue): notes that Gladstone type was an 0-4-2 type not a 2-4-0, the use of the I3 class 4-4-2Ts on the service, questions the use of the River class on this service, and the six-wheel tenders on the King Arthurs was due to restricted turnatble length, not weight:
The 'Southern Belle'. Roger Merry-Price.
See feature by Keith Hill beginning page 70 (February issue): the six-wheel tenders on the King Arthurs was due to restricted turnatble length, not weight: tank engines of all types were tuned to work the Southern Belle.:
The 'Southern Belle'. Charles Long.
See feature by Keith Hill beginning page 70 (February issue): corrects many errors, notably Mars, not Jupiter, was the car used on trial, the exact nature of the service operated on Sundays, the use of non-Pullman vehicles within formations, the provision of second class Pullman cars, electric lighting (and the provision of back-up oil/gas lighting), the base for the electric train sets at Brighton; liveries, and the financial involvement of Davison Dalziel.
British ambassadors to America. David Patrick.
See feature page 121 credited to Keith Chester: castigates Chester or should it be editor for failing to mention the visit by Webb 2-2-2-2 Queen Empress to Chicago Exhibition in 1893 and its subsequent journey from Chicago to New York
Northern station train sheds. John McCrickard. 253.
See feature on page 186: Class 108 in Darlington station, not class 101 as stated.
Sturrock's steam tenders, locomotive shortages on the GNR, 1865. Brian Orrell.
See page 85: correspondence between William Gooch at Vulcan Foundary and Archibald Sturrock and Patrick Stirling (latter on 18 June 1866, prior to his official start at Doncaster) concerning delays in delivery.
'Dean Goods'. Robert Barker.
See letter by Bushby on page 124 concerning GWR No. 2552/WD No. 200 which appears to have become DR 53.7607 and is the subject of illus N10 of RCTS Locomotives of the Great Western Railway. Part 13. But same locomotive was also claimed to be Ramsgate in 1947.
Book Reviews. 254-5.
The New Romney branch line. Peter A. Harding. Author. TJE ****
Excellent value at £3.50 and recommended.
Work identity at the end of the line? Privatisation and culture change in the UK rail industry. Tim Strangleman. Palgrave Macmillan. RH ****
The deliberate destruction of former social structures which endangered the users of the railways: a thorough social engineering study but which the reviewer calls "wildly expensive".
The Elan Valley Railway: the railway of the Birmingham Corporation Waterworks. C.W. Judge. Oakwood. RH *****
Constructed durng "the golden age of local government" when cities like Birmingham were "virtually self-sufficient city-states". The works included six reservoirs and 38 miles of railway linkng to the Cambrian Railways near Rhayader. There were eight saddle tanks. "excellent value". Excellent review.
Into Rise Hill Tunnel. David Sutcliffe. rear cover
Class 40 in blue livery on ballast train in July 1981.
BR 'Britannia' 4-6-2 No.70024 Vulcan passes Reading West Junction with the 1.55pm Paddington-Pembroke Dock in May 1958. CW. Oliver. Front cover
Living in the past. Michael Blakemore. 259.
Editorial: partly on "heritage railways": includes his observations on proposal to streamline Duchess of Hamilton
Saddle tank shunters. captions: John Scholes (Industrial Railway Society). 260-1.
Colour photo-feature: Andrew Barclay (1969/1925) 0-4-0ST J.N. Derbyshire at the Carlisle Plaster & Cement (now British Gypsum) Cocklakes Works, near Cumwhinton on 18 April 1969 (Alan Tyson); Andrew Barclay (?/1949) 0-4-0ST as NCB West Ayr Area No. 21 at Waterside Colliery with coal wagon/tender on 9 June 1966 (AT); Manning Wardle inside-cylinder 0-6-0ST (2047/1926) at Rugby Cement Company's works on 16 May 1966 (R.C. Riley); Yorkshire Engine Co 0-4-0ST 784/1905 as New Parkgate Iron Co.'s No. 8 at Hellingdon in Northamptonshire on 13 April 1957 (RCR).
The tribulations of the 'Baby Deities'. 262
Colour photo-feature: D5906 in northern part of Welwyn Garden City on up Cambridge Buffet Car Express passing under new bridge in April 1962 (T.B. Owen); D5906 on 10.30 King's Cross to Cambridge formed partly of Gresley stock on 18 March 1961 (R.C. Riley); D5909 and D5904 in store at Stratford Works in 1962 (KPJ note: these were in service, including on the Cambridge Buffet Car service, when KPJ arrived in Welwyn Garden City: other than one trip when the fire alarm interupted progress at Potters Bar they appeared to be at least as good as any of the other assorted motive power at that time)
From Coast to Coast. Keith Hill. 263-9.
The North Country Continental connected Liverpool Central with Harwich Parkeston Quay. This is really one of those boyhood reminiscences (the highlight of which was standing on the footplate of a Britannia class locomotive on the front-end of the train at Lincoln Central, and of running to see the train after school in rural Lincolnshire). Seekers of information about the train per se would be better seeking out C.J. Allen's Titled trains of Great Britain, 3rd ed., 1953 where Chapter 54 (pp. 148-55) where its origins in Great Eastern Railway enterprise receive enthusiastic attention. Master Hill can be trusted for the period when the service declined in importance. He digresses to consider some of the names applied to the locomotives used on the service: the Britannia class and the earlier B17 and B1 classes. Illus.: B17/6 61645 The Suffolk Regiment at Lincoln Central on eastbound service in May 1957 (colour: M. Longdon); unrebuilt B12 8557 descending from Woodhead (not as caption) with three Gresley vehicles, two former GER vehicles including dining car and ex-GCR vehicle (pre-1930?); B17/2 2834 Hinchingbrooke at Lincoln with wetward service on 17 May 1932 (T.H. Hepburn); B17/6 61645 The Suffolk Regiment with train for Harwich at Lincoln on 1 June 1957 (John P. Wilson); 61627 Aske Hall at Sheffield Victoria coming off train; 70000 Britannia at Sheffield heading east on 20 September 1958 (David Tyreman); B1 61192 arriving Penistone with eastbound train; 45 021 at Manchester Piccadilly with train for Harwich on 20 August 1980 (Gavin Morrison); 47 011 at Chinley with train for Manchester on 28 October 1982 (GM); 47 583 County of Hertfordshire leaving Chesterfield for Harwich on 8 May 1982 (GM). Further information on page 507 from Richard Allsop..
The Facit branch of the Lancashire & Yorkshire Railway. Tom Wray. 270-5.
In 1862 the L&YR obtained powers for a railway from Rochdale up the Whitworth Valley to Shawforth, but the railway only reached Facit when it opened on 1 November 1870. Subsequently the line was extended to Bacup on 1 December 1881. The line had severe gradients: 1 in 35 on the descent into Bacup. The stretch from Wardleworth to Facit was single track, the remainder was double track including the severe incline from Britannia down into Bacup. There was a huge viaduct in Rochdale across the Roch Valley which collapsed during demolition. Illus. (mainly after closure to passenger traffic: Broadley station; Facit station; Facit incline: Shawforth signal cabin; Britannia station; Bacup engine shed and station.
Comparisons and revision: the Grouping and early LMS locomotive poliey. Part Two. (Railway reflections No. 111). Michael Rutherford. 276-84.
Places the "period of ineptitude on the LMS" within the context of what was really going on elsewhere: such as the real lack of need for the Castle class (which was not as successful on introduction as sometimes portrayed) and the failure to fit the Star class with a Number 7 boiler, the construction of further Directors under Gresley, and Maunsell's incomparable D1 and E1 classes. Much of this is squeezed into a most interesting chronology. Anderson is once again placed in the stocks. See letter from Dennis Lorriman (p. 572): comments on the 4P compounds: queries how a locomotive with one high-pressure cylinder could work at short cut-offs, Also suggests that Rutherford had quoted E.S. Cox for describing a footplate journey (on a stopping train from Liverpool to Crewe) in which he advised the driver to increase the cut-off of a compound to 45% to achieve good running as the low pressure cylinders provided the steam expansion (this rather improbable episode has not been traced: sounds more like Powell). Also cites Poultney's contribution to the discussion of Cox's A modern locomotive history wherein he argued that many of the firemen liked the Webb compounds as they were economical, although the drivers feared their complexity..
On the slate [railways of North Wales]. 285-7.
Colour photo-feature: all anonymous via Colour-Rail: Hunslet 1ft 10¾ gauage 0-4-0ST Holy War at Dinorwic; Hunslet 4ft gauge outside-cylinder 0-6-0T Dinorwic on the Padarn Railway; Hunslet 671/1898 0-4-0ST Cackler which worked between foot of quarry inclines at Hafod Owen and upper terminus of Padarn Railway at Gilfach Ddu; Hunslet 409/1886 0-4-0ST Velinheli; Andrew Barclay (?/1931) 0-4-0WT built for Durham County Water Board for construction of Burnhope Reservoir and sold to Penrhyn Slate Quarries at Bethesda in 1936 and became Cegin; Avonside 0-4-0T (also ex-Durham County Water Board) and as Marchlyn (both this and previous sold to USA): Dinorwic Bagnall 0-4-0ST of 1906 Sybil (named after wife of Charles Assheton Smith). The Penrhyn locomotives were lined black; those at Dinorwic were a great many shades of red from chocolate brown to Indian red.
'Britannias' on the Western. 288-9.
Colour photo-feature: 70022 Tornado leaving Severn Tunnel with up express with ex-GWR rolling stock painted in carmine & cream (P.M. Alexander): see letters from John Smart and from Piet Biesheuvel (page 444): train was leaving Green Lane Tunnel, not Severn Tunnel and date was after July 1957; 70023 Venus on up Capitals United Express near Twyford in May 1958 (Mk I rolling stock in chocolate & cream) (T.B. Owen); 70027 Rising Star approaching Paddington with express from South Wales on 10 September 1960 (R.C. Riley); 70027 on 15.45 ex-Paddington passing West Ealing on 2 June 1957 (RCR); 70018 Flying Dutchman on up Red Dragon passing Pilning in August 1959 (PMA).
The Stanier and Fairburn 2-6-4 Tanks of the LMS. 290-3.
Colour photo-feature: 42611 with 46111 Royal Fusilier on empty stock at Euston on 14 March 1962 (Geoff Rixon); 42082 near Thorpe Madeville between Banbury and Woodford Halse with two coaches on 12 October 1963 (Michael Mensing); 42668 at Kidsgrove Liverpool Road with Radway Green ROF workers' train on 26 September 1960 (MM); 42590 at Crewe probably with train for Stoke area on 26 May 1960 (MM): see letter from D.J. Wood (page 507) for train being worked (probably 16.26 via Radway Green for ROF factorey); 42074 at Bangor shed in June 1963 (GR); 42267 at Birmingham New Street with train for Rugby on 7 September 1961; 42616 entering Watford Junction bunker-first with Tring to Euston local on 23 Novemeber 1963 (David Idle); 42080 on empty stock at Kensal Green on 13 April 1964 (DI); 42247 leaving Newport (Shropshire) for Wellington on passenger train from Stafford on 29 August 1964 (MM).
Southern gone west: the Torrington branch. Part Two. David Thrower. 294-9.
Mainly freight traffic: coal from Fremington Quay (decline of household coal and coastal shipping); ball clay from Meeth to Fowey; enthusiast specials, motive power (notably E1/R class for former freight), the ultra-basic remnant, the surprisingly large population without a proper train service and attempts at railway preservation on a cycleway. Reference to 'Bubblecar' blew away and was replaced by coach from 4-VEP (letter from author page 444). Also letter from Andrew Surry (but this really relates to Part 1 beginning page 135)..
1913 — a halcyon year. Philip Atkins. 300-5.
An analysis of the locomotives which went into traffic on the railways of Great Britain which cites the Locomotive [Railway Carriage & Wagon Review] for that year as its source (including some 1914 references back to the previous year): the illustrations listed only tell part of the story. The most interesting material is tabulated: output from the major British railway workshops: nil from Derby, Eastleigh and Kilmarnock in that year; Table 3 lists operating and repair costs (the penultimate row should surely be HBR not NBR: not picked up in corriegenda p. 380) and Table 4 (corriegenda p. 380) lists overall locomotive stocks ranked by wheel arrangement: 0-6-0, 0-6-0T, 4-4-0.... Illus.LNWR Claughton No. 2222 Sir Gilbert Claughton with Sir Gilbert and C.J. Bowen Cooke on footplate on 7 March 1913 (excellently reproduced); NER T2 No. 1247 at Darlington (official photograph) in February 1913; GSWR 0-6-0 (P. Drummond) No. 84 at Ulverston on 7 August 1924; NSR 0-6-2T No. 96; Furness Railway 4-4-0 No. 132 (constructed NBL: official photograph); LBSCR K class 2-6-0 No. 337 (Brighton official); J class 0-6-4T as SR No. 1595; and GNR 2-8-0 (O1 class) No. 456 (Doncaster official)
Beyond the Underground Map. Part Two. Michael J. Smith. 306-10.
To Aylesbury — and beyond by Metropolitan Railway which reached Aylesbury on 1 September 1892. Ahead of this the Metropolitan had taken over the Aylebury & Buckingham Railway which ended at Verney Junction on the LNWR Bletchley to Oxford line. Thisa route also provided access to Brill (over the Wootton Tramway): the strangest outpost of an empire ruled from 55 Broadway in the heart of political London. The author notes the problems of mapping and how the Metropolitan Railway tended to produce two maps: one for its urban activities and overleaf another for its rural destinations in deepest Buckinghamshire. London Transport tended to ignore destinations beyond Aylesbury and as early as 1935 a decision was made to limit services to Amersham and Chesham, but WW2 caused steam/electric services to continue to Aylesbury until just into the swinging sixties. Pullman services and the effect of the arrival of the Great Central Railway are both mentioned. In the far East London Transport trains, or trains operated on behalf of the London Transport by the LNER/Eastern Region reached [Chipping] Ongar in Essex. London Transport had contemplated curtailing the Central Line at Loughton, but LCC housing estates at Debden caused services to be extended to Epping. Eventually the service to Ongar was electrified on 18 November 1957, but the service (latterly extremely limited) ended on 1 September 1994. Now it is a heritage line. All these lines had been built by the Great Eastern Railway. Illus.: Metropolitan Railway steam/electric stock at Aylesbury on 2 May 1936; L1 67794 arriving Chalfont & Latimer on up train on 23 July 1955; former MR K class as LNER 6160 arriving Rickmansworth on 27 April 1946 (with E class No. 81 in the bay platform) (all H.C. Casserley); LT electric locomotive No. 14 Benjamin Disraeli on up train approaching North Harrow on7 June 1960; F5 67193 on Ongar push & pull train at Epping alongside 1920s Central Line train; 67218 calling at North Weald on Ongar shuttle on 16 November 1957; two tube trains pass at Noth Weald on 19 July 1958 (Alan A. Jackson).
But can you prove it...? L.A. Summers. 311-13.
Sources, accuracy and bias (as perceived by Summers). J.T. van Riemsdijk (p. 507) produced a scalding response to this feature for its inappropriate polemical style characterized by the contemporary word "admits". He is especially critical of the way in which Summers implies that Chapelon might have been involved in some way in collaborating with the occupation forces in Vichy France during WW2. The Writer who served in the SOE during WW2 indicates that Chapelon, like many others in Vichy France, was investigated but cleared from any hint of duplicity. Van Riemsdijk also attacks Summers for his completely unjustified attack on the editorial standards of Backtrack. Furthermore, on re-reading Summers (as a result of the letter from this great authority) it should be noted that Summer's observations on Ian Allan's editorial policy are absurd: Tuplin was a highly controversial writer and yet published frequently in Trains Illustrated, etc. Finally, van Riemsdijk's comments on Rogers' authorship should be observed. The writer of this piece has almost the last word on p. 636 [correspondence closed]..
Building bridges. Stephen Dent (phot.). 314-15.
Colour photo-feature: Tomatin viaduct across River Finhorn; Teviot viaduct, Roxburgh; Dukes Drive viaduct, Higher Buxton : Dinsmore viaducts (also publshed Vol. 12 page 636).
Readers' Forum. 316-17.
Caledonian Railway Pullmans and their LMS successors. Peter Butterfield
See feature on page 174 et seq.: noted that table on page 176 contained several errors concerning departures of trains conveying Pullman cars from Glasgow and Edinburgh.
Caledonian Railway Pullmans and their LMS successors. Tim Shuttelworth .
See feature on page 174 et seq.:noted that dates shown on pp 178 and 180 should have been 1956 not 1966;
Caledonian Railway Pullmans and their LMS successors. Arnold Tortorella.
See feature on page 174 et seq.: notes that Pullman cars first arrived in Scotland via Midland Railway sevices via the Settle & Carlisle route both onto the NBR and onto the GSWR: there were both Drawing Room Cars and Sleeping Cars from May 1876. Some of those via the NBR eventually traversed Caledonian Railway tracks on through carriages to Perth (an action which involved arbitration by the Railway Commissioners sitting on 11 and 17 May 1877). Further information is also presented on the transfer settlement for the Pullman cars from the Pullman Co. to the LMS.
Caledonian Railway Pullmans and their LMS successors. John Macnab.
See feature on page 174 et seq.: notes on names of cars.
Beyond the Underground map. Donald Massey.
See page 181: Remembers seeing the LER/LNWR stock in service on the Rickmansworth branch prior to 1941: the livery employed was crimson lake.
The Grouping and early LMS locomotive policy. Keith Fenwick.

East Coast contrasts. John Macnab.
The 09.30 Glasgow Queen Street to King's Cross service was considered to be a train worthy of particular attention [and was the subject of KPJ's sole venture into party travel when he was a student of librianship in Glasgow in 1958 - when he mistakenly thought that day returns to Edinburgh were permitted within its hallowed corridors]. See page 251 for illus of train passing Knebworth in 1964.
Historical aspects of the Mersey Railway. M.D. Walsh.
See page 90 et seq Mrs Walsh possesses a leather-bound citation to her grandfather, John Baker (Chief Tunnel Foreman) presented to him by John Fox.
Historical aspects of the Mersey Railway. Joe Lloyd.
See page 90 et seq (list pp. 91/2) contains several errors in names carried by steam locomotives which worked the railway.
The Drummond age. Darryl Grant. 317.
See page 46: Drummond's failed attempt to bring locomotive building to New South Wales via Sir Saul Samuel, the New South Wales Agent-General in London. The Locomotive Superintendent of the NSWGR, William Thow, participated in discussions in a consortium which included Drummond, but this failed. Nevertheless, Thow was influnced by Drummond for a design of a 4-6-0, the P class. Another consortium, led by Henry Hudson, did start locomotive manufacture as thed Clyde Engineering Co.
Book Reviews. 317-18.
The railways of Ryedale. Patrick Howat. Martin Bairstow (publisher). ***** MB
The Thirsk & Malton and Gilling & Pickering lines served Kirkbymoorside and Helmsley and the public school at Ampleforth Abbey. Many of the intermediate stations closed to passengers as early as 1930 yet freight continued to flourish and there were special trains for pupils at the school and for through traisn betwen Scotland the North East to Scarborough until they were Beechinged.
From Forest to Ferry — the story of the Brockenhurst-Lymington branch.line. Keith Hill. St. Barbe Museum & Art Gallery, Lymington. **** DT
Well received: includes a history of the line and the ferries which were served by it and the Solent Tunnel scheme.
Lost railways of Shropshire. Leslie Oppitz. Countryside. RH ****
"very good value for its modest price"
The LSWR at Nine Elms — the Curl Collection. Vol. 1. The Works and its products, 1830-1909. Barry Curl. KRB Publications. ***** DT
"thoroughly excellent volume"
Conway Valley local. Cliff Woodhead. Rear cover.
Derby lightweight DMU at Bettws-y-Coed station with Pullman camping coach behind.
GWR 'King' 4-6-0 No. 6003 King George IV sweeps regally through Sonning Cutting with a London-bound express.. (Derek Penney). front cover.
More from the department of administrative affairs. Michael Blakemore. 323.
Editorial: reasons for name Pendragon Publishing and for Rothesay House ublications
Lost on the Elgin road. Tom Heavyside (phot.). 324-5.
Colour photo-feature:47 814 (rasberry ripple InterCity livery) clearly at Nairn whatever the caption may claim: See editorial corriegendum page 444. 47 643 (similar livery) departing Inverness on 12.25 to Aberdeen on 11 July 1986; 37 113 Radio Highland (Railfreight livery) on Inverness to Burghead freight for United Distillers; 47 673 Galloway Princess at Nairn with train for Inverness and 37 156 Britist Steel Hunterston (grey) on Royal Scotsman touring train near Allanfearn on 16 May 1992.
Mid-1960s on the London Midland Region. David Stewart-David. 326-32.
Happy days? as a railway general trainee working in the Stoke Division. Several reminiscences: studying single-line working between Whitchurch, Oswestry and Welshpool by riding on the footplate and by visiting the signal box at the last-named. Returning on the footplate to Birmingham Snow Hill in the cab of a type 47. Holiday to France, travel by train hauled to Euston from Stoke by class 2 diesel which still managed to arrive before time, Comments on laxness of railway opertion: pursuing freight that had departed, the construction of unnescssary pannier tanks at Bagnalls. See letter from Rabbi Walter Rothschild (page 574) on the failure to retain infrastructure necessary to restore freight working in Britain, and how the Belgian and Dutch railways only carry freight from the great seaports of Antwerp and Rotterdam through to destinations outwith their borders. In Germany freight lines have been transferred to private operators to maintain a freight network. Illus.: (colour): p. 327 lower 75026 on return excursion near Abergele in June 1963 (Geoff Rixon) (see letter from David F. Williams (p. 574): location near Mochdre and Pabo signal box.. B&w: p. 329 (lower): interior of Denbigh signal box (see also letter from David F. Williams (p. 574) which shows modern signal box structure built in 1957 shortly before lines were closed.
Racehorse names for LNER Pacifics. Steve Banks and Max Garratt. 333-9.
Notes that neither Gresley nor William Whitelaw, nor Sir Ralph Wedgwood were afficionados of horse racing, although copies of Ruff's Guide to the turf were kept in Gresley's office. The article notes the naming policy of the constituent companies (mainly not to, with the exception of the two Scottish constituents, although the Chairman came from one of these). The direct involvement of Gresley in the A4 bird names is noted, however. The origin of the racehorse names, both on the A1/A3 Pacifics, and on the later Thompson and Peppercorn locomotives, is pursued in depth. The names were selected from the 'classics', notably the Derby and the St Leger meetings, the latter being run at Doncaster. The majority were winners, and many of the selected names were winners of more than one race. Names rejected included: April the Fifth and Caligula. The failure to select Mahmoud, a multiple winner, and the somewhat strange selection of Aboyeur, a 100 to 1 outsider which displaced Bower Ismay's rightful winner of the 1913 Derby, through his ownership of the Titanic. Happier times for the Ismay connection (p. 378). Reg Davies (letter page 572) argues that Caligula would have been quite unsuitable at time when naming took place. Geoffrey Hughes in long letter on p. 572 suggests that Percy Maclure, Locomotive Running Superintendent of the Southern Division of the LNER may have been responsible for introducing the racehorse names. Also suggests that Flying Fox neatly follows Flying Scotsman and that the plates were cast at King's Cross shed. There is also a suggeestion that there may be a link with the Interchange Trials (KPJ: but 4474 ran un-named on GWR). Further letters on page 636 (October issue) from Christopher Tyas (on significance of Doncaster & York as racing centres) and Dennis Postlethwaite on No. 2744 Grand Parade. And still further from Geoffrey Hughes and from Geoff Skelsey on page 695..In Volume 20 page 62 letter from John C. Baker on names for Lemberg and St Simon..
A Glasgow suburban journey. Gerald J. Guy. 340-4.
Commuter journeys made between Hillfoot station (on the Milngavie branch) and Glasgow Queen Street during the 1950s when an intensive suburban service was operated using six-coach sets hauled by Gresley V1 and V3 3-cylinder 2-6-2Ts which the author notes were capable of rapid acceleration. Sometimes the author made three round trips within the day, and presumably travelled home for his dinner (lunch in English English) which was commonplace at that time. Later the line was electrified as part of the Blue trian operation, but the bulk of the article is about the steam service which included through trains to and from Edinburgh via Bathgate. Other destinations included Bridgeton and Hamilton which disappeared with electrication (or earlier in the case of the latter). The route is described in detail, both as it was, and as it has since become. See also letter from John Macnab (p. 507) mainly on name changes at Partick station/s; footbridges at Bearsden, and a long march to Yorkhill Quay when Macnab was getting some Service in..
Ferry across the Humber. John Spencer Gilks (phot.). 345.
Colour photo-feature: PS Wingfield Castle on 21 April 1963 in Associated Humber Lines colours (funnel: buff with red band and black top) and Lincoln Castle on 8 April 1977 in BR corporate colours (was coal-burniong at time of photograph). Former from W. Gray & Co., West Hartlepool in 1934 and latter from A. & J. Inglis in 1940.
Philimiooriay — working on the railway. Keith Gregson. 346-7.
Writer heard this song when appearing with the folksong group known as the Liverpool Spinners on BBC Television in the 1960s. Quotes from this, and other folksongs dating from the 1840s to show how it is possible to interpret ballads as part of railway history.
'King' country. Derek Penney and Michael Mensing (phots.). 348-351.
Colour photo-feature all MM unless noted otherwise: 6000 King George V climbing Hatton Bank (with bell swinging)(DP); 6029 King Edward VIII arriving Solihull with 15.10 from Paddington on 9 May 1961; 6001 King Edward VII descending Hatton Bank (DP); 6011 King James I passing Lapworth on up express (DP); 6019 King Henry V just north of Widney Manor station on 16.30 Birkenhead to Paddington on 14 June 1962; 6015 King Richard III restarting 17.10 ex-Paddington at Knowle & Dorridge on 11 July 1962; 6021 King Richard II on 11.40 ex-Birkenhead leaving Leamington Spa on 7 October 1961 (Brunswick green shown at its best in autumnal light); 6016 King Edward V near Olton on 07.25 ex-Wolverhamton on 25 June 1962; 6011 King James I departing Solihull with 06.45 ex-Wolverhampton on 17 May 1962.
On Caledonian lines. 352-5.
Colour photo-feature: A4 60007 Sir Nigel Gresley at Stirling on 9 June 1965 with down St Mungo (Alan Tyson) "stange" containers being loaded probably contained Dricold (dry ice or solid CO2) see response from David Stewart-David page 507); Fairburn 2-6-4T 42241 at Inverkip with train for Wemyss Bay on 10 June 1965; CR 4-2-2 No. 123 with GNSR No. 49 Gordon Highlander at Carstairs on 19 April 1965 on railtour (David Idle); Class 5 No. 44820 at Castlecary on 12.35 Perth to Broad Street express freight on 21 April 1965; 70036 at Stirling with fish vans on 10 June 1965 (AT); Caprotti 73146 in Cumbernauld Glen on 21 April 1965 with 10.00 ex-Dundee West express for Buchanan Street (DI); ex-CR 294 class 0-6-0 with freight crossing Larbert Viaduct on 11 April 1963 (DI); 45011 arriving Lanark with 18.00 ex-Edinburgh Prnces Street on 29 June 1962 (Cliff Woodhead); 60007 Sir Nigel Gresley backing onto train at Glasgow Buchanan Street on 9 June 1965 (shows Buckeye coupling with jaws open and Pullman-type gangway on corridor tender and the dreary Brunswick green)(AT).
The 'Scots' and their weans. Part One. (Railway Reflections No. 112). Michael Rutherford. 356-65.
Considers locomotive policy in general on the LMS, including the purchase of ex-ROD 2-8-0s, the Claughtons and the Bridge Stress Committee before turning to the influences which were worked into the Royal Scot and Patriot classes (and the differences between them). External influences included that of the GWR Castle class and to a minor extent the Maunsell Lord Nelson class. Internal influences were drawn mainly from the three-cylinder compounds and the 2-6-4T then under development at Derby. The role of Herbert Chambers and Eric Langridge is noted (the former in liaising with NBL on the design of the Royal Scot). Sir Henry Fowler's involvement is also noted. Rutherford notes some of the disadvantages associated with the introduction of Pacifics which included the provision of larger turntables and the greater "grip" provided by a 4-6-0 when hauling trains on steep gradients (tests with A1 2573 Harvester on restarting on Cockburnspath incline in June 1925 are cited against Pacifics as 2573 failed to restart with a load of 520 tons). KPJ: worst slipping ever seen by him was rebuilt Royal Scot which erupted like Mount Etna whilst attempting to restart from Greenfield station on 16.47 ex-Manchester Exchange. Part 2 page 424. References in Part 3 on page 487.Illus.: 6152 Royal Scot at Crewe North shed in 1936 (W. Potter); 356 lower 46148 The Manchester Regiment climbing Shap northbound with heavy train of carmine and cream stock plus two vehicles coupled inside front of train (cattle wagon and a horse box (see letter from Terry Tracey on page 574); 6149 The Manchester Regiment outside Crewe Works in 1937 (J.P. Mullett); 5531 Sir Frederick Harrison at Edge Hill shed in 1939 (W. Potter); 45511 Isle of Man crossing Castlethorpe wwater troughs in August 1958 (T.B. Owen): black & white:
Merlin's railroads. Kirsten Elliott and Andrew Swift. 366-7.
Monmouthshire had been dependent upon Bristol for its newspapers until Reginald Blewitt established and edited the Monmouthshire Merlin in 1829. This newspaper carried several accounts of early locomotives supplied to tramroads. On Boxing Day 1829 a report was carried on the delivery of a locomotive from Robert Stephenson & Co.to Samuel Homfray of Tredegar. In March 1830 (precise date not given) the paper noted that Gurney's steam carriage was on its way to Crawshay's Cyfartha Iron Works. On 16 July 1830 there is a report on the arrival of a locomotive from Thomas Prothero at Pillgwenlly Wharf for the haulage of empty trams from Newport to Blancyffin Isha Colliery over the Sirhowy Tramroad. In July 1832 Blewitt inherited the Llantarnam Abbey Estate and this led to him leasing the Cwmbran Colliery, building the Porth Mawr Tramroad and leasing the Caerleon Tramroad which provided access to a wharf at Caerleon and obviated carriage by canal..
Joseph Locke and the Stephensons. David Gilks. 368-73.
Studies the interactions between Joseph Locke and both George Stephenson (where the relationship was frequently difficult) and the much more agreeable and fruitful relationship with Robert Stephenson. Locke "srted out and put right" the 13 foot misalignment in the tunnel at Edge Hill on the Liverpool & Manchester Railway. Later Locke's involvement in the Grand Junction Railway showed that he was a master of organization . Feature contains many memorable comments and reminds the reader that Locke was on the footplate of the locomotive which ran down Huskisson on the opening day of the Liverpool & Manchester Railway. Notes that George had "great vision and drive, but he could not claim to have good organizational skills or attention to deatil." and "George was quintissentially the man of vision, a rough and rude battler, blessed with great foresight.". Later Locke was involved on the LSWR and the Woodhead route. Extensive bibliography. Part 2 begins page 496..
Waking the dead: the E4 radial tanks. Jeffery Grayer. 374-7.
Mainly the last few years of the ex-LBSCR Billinton 0-6-2T locomotives in service as late as 1963 and the preservation of No. 473 Birch Grove on the Bluebell Railway. Illus.: E4 No 32479 and E4 No 32503 in the foreground and Terrier No 32670 beyond it
This way for America. 378-9.
Superb rolling stock constructed for the non-stop Euston to Liverpool Riverside luxury trains run in association with Trans-Atlantic liner sailings: the LNWR American Special. Five coloured postcard views showing interiors of first class dining car with moveable armchairs; afternoon tea being taken in salon-de-luxe by three ladies straight out of Henry James novel whilst the gentlemen partaked of coffee with their cigars. The butler's pantry is also shown (see letter p. 507 from A.R. Nicholls noting that machine was a knife cleaner, not a knife grinder as stated in caption). as well as an empty compartment with sofa chairs. See also Aboyeur.
Readers' forum. 380.
Backtrack Index. Mick Field.
See Bob Farmer's letter in January issue (p. 60) offering his index to readers as an Excel spread sheet: now available at: http://myweb.tiscali.co.uk/bobbacktrack
An engine by any other name. Geof Sheppard.
See caption on page 212 of the April issue implying that Europa was last broad gauge locomotive to leave Plymouth. This statement has puzzled writer and appears in the RCTS Locomotives of the Great Western Railway Part 2 where it is claimed that "Europa was actually the last broad gauge engine to leave Plymouth for Swindon – about 4 am on Saturday, 21st May 1892" but there was no train scheduled to leave after 01.10. Having consulted contemporary newspapers and reports in The National Archives, writer cannot find where this claim originated. The last train left Penzance at 21.57 on Friday 20th May behind two convertible tanks (Nos. 3557 and 1256). Inspector Scantlebury was to travel on this train to certify that the line was clear of broad gauge vehicles before the gangers could start the conversion, so no other train was allowed to run behind this one. Scantlebury's late running train was still in Cornwall when the last down train (the 17.00pm from Paddington) arrived in Plymouth at 01.15 and this was climbing the bank out of Totnes, where the local paper reported that it was still hauled by No.3557, at the time that Europa is claimed to have left Plymouth. Further information would be useful.
1913 - A halcyon year. C.P. Atkins
See May issue page 300 et seq Table 4: the following corrections should be noted:to my article in the May issue:
Table 4 Wheel arrangements exceeding 150 examples: 0-4-2T 297, 0-4-2 284, 2-4-0T 194
Further wheel arrangements in use:
0-4-0, 0-4-0T, 0-4-2, 0-4-2T, 2-4-0T, 4-4-0T, 0-6-4 T.
A tale of two city termini. Stephen G. Abbott.
See April issue p. 240: incorrect in stating that one of the platforms at Liverpool Street was electrified on third rail system to accommodate the short-lived Watford service diverted from Broad Street. The Graham Road curve was electrified at 25 k V ac overhead like the rest of the lines out of Liverpool Street and the dual-voltage Class 313 units changed to third rail in Dalston Kingsland station. Subsequently, parts of the North London line itself have been converted to either dual voltage or ac only. A novel installation of resistances prevented dc traction current from interfering with signalling track circuits on the ac lines, the Graham Road curve being too steep to permit a neutral section in the overhead. He travelled on the 16.12 from Liverpool Street in September 1986 in the company of a handful of fellow passengers.
Historical aspects of the Mersey Railway. J C. Grayson.
See feature Part 2 on page 203: the Mersey Railway maintained a very high percentage of first class travel:in calendar year 1920 it was in second place for the level of first class traffic originating on the line, first and third places being taken by two other lines in the Liverpool area. Figures from the Railway Year Book for 1921 show this. The Liverpool Overhead Railway exceeded this level and it is probable that first class travel was also high on the LYR electric lines in Merseyside.
Whistling through Wessex. Allen Davis
See page 234 of the April issue: train not nearing, but travelling away (west) from, Templecombe. As a schoolboy writer travelled daily between Milborne Port and Templecombe, with plenty of footplate rides, one on a 'Britannia' which was filling in during the rebuild of the Bulleid Pacifics.
The railways of Royal Ordnance Bishopton. Jim MacIntosh.
See feature on page 248: queries how the site described related to WW1 Georgetown National Filling Factory described by E.A. Pratt's British Railways and the Great War, from which following is taken: This factory was named after Lloyd George and, situated three miles from Paisley, was served exclusively by the Caledonian Railway. The first sod was cut on 25th September 1915 and the first consignment despatched on 13th March 1916. By the end of December 1918 459,000 tons had been despatched by rail. All raw materials and supplies were also carried by rail as were the 10,000 workers who required 34 trains daily. The Caledonian undertook the maintenance of about 18 miles of sidings laid in or adjoining the factory by contractors and the CR itself put down and worked another four and a half miles of sidings. It built at Georgetown a passenger station with signal box, goods office and carriage-cleaning platfonns, and altered and extended the existing station and platforms at Houston as a further means of meeting the demands of the passenger traffic. Does anyone know if this WWI system survived to be incorporated in the later system or was it all dismantled after 1918?
The railways of Royal Ordnance Bishopton. Andrew Wilson
See feature on page 248: RCTS Locomotives of the LNER Part 7 refers to two G5 Class locomotives at Bishopton factory during World War II. No. 1713, was fitted with a special spark arrester in January 1941 and sent to Bishopton, returning in November 1943. Part 11 Supplementary information, lists No.1169 as at Bishopton from January 1941 until September 1944. There is no mention of any spark arrester on this engine and the photograph of it at work does not appear to show anything special. These locomotives may have been required to haul the workers' passenger trains within the works area. The main line coaches would probably be air-braked ex-Caledonian vehicles, with which the G5 locomotives were compatible.
The day the commnication chord pulled Queen Victoria. Colin Chivers.
See feature on page 246: The photograph of page 247 shows one of four special trains provided for the return of the City Imperial Volunteers (CIV) from the Boer War on Monday 29 October 1900. According to the Railway Magazine, December 1900, the LSWR provided four trains "comprised of the newest types of vehicles, fitted with lavatory accommodation", which left Southampton Docks at 9.15, 9.40, 10.05 and 10.20am and were hauled respectively by T9 Class No.708, T7 Class double single No.720, T9 Class No.702 and T9 Class No.706. A photograph of No. 720 as decorated by Nine Elms shed for its train appears as Fig. 336 in Barry Curl's The LSWR at Nine Elms (KRB Publications). Progress on the LSWR to Basingstoke, where the trains were handed over to the GWR, was decidedly leisurely. Four Atbara Class locomotives were provided by the GWR for the run from Basingstoke to Paddington where the second train made the quickest journey, at 47.5 mile/h. The Atbaras were specially named Pretoria, Roberts, Powerful and Maine. The CIV were a separate Regiment raised from London volunteers in December 1899 by the then Lord Mayor of London, Sir Alfred James Newton, and consisted of about 1,700 officers and men, each of whom was made a Freeman of London, in a blaze of publicity on enlistment. Another photograph, of 'No.3 train' taken near Reading, appears in the December 1900 issue of Railway Magazine.
Book reviews. 381.
The Blackpool Highflyer. Andrew Martin, Faber. RPW ****
Novel (fiction) set as fireman on LYR out at Halifax in the early 1900s.
Electric Railways 1880-1990. Michael C. Duffy. Institution of Electrical Engineers. RH *****
"It is not often that a book breaks fresh ground so comprehensively that it might be perceived as definitive; this is such a book.... Duffy offers unusual perspectives and lateral thoughts - as well as being highly informative." "suggests, sensibly enough, that the 'steam railway' for much of its existence was actually part-electrified, by virtue of signalling and later operational control, resting on electric telegraphs and telephones; it all depends on what one means by 'electric railway.'"
The Bennie Railplane. William B. Black. East Dunbartonshire Council. RH ****
The Bennie Railplane system was a hybrid monorail of modest length (131 m), perched on gantries high above an LNER siding, off the Glasgow-Milngavie line. The text puts Bennie's work neatly in its technical and historic contexts; it has been thoroughly researched, has a good bibliography and numerous notes. An attractively produced work, representing excellent value.
The track of the Ironmasters: a history of the Cleator & Workington Junction Railway. W. McGowan Gradon with additional notes by Peter Robinson. Cumbrian Railways Association. TJE *****
Expanded reprint of only book dedicated to history of the Cleator & Workington Junction Railway. The original edition of this work was published in 1952 when author lacked access to official records. Nevertheless the original text, apart from a few typographical errors, has been reproduced verbatim in this edition. The author then based his writing on local newspaper reports. A series of notes compiled by Peter Robinson (President of the Cumbrian Railways Association) has been added after each chapter amplifying and expanding the text in the light of modern research. The main text and notes are supplemented by nine new appendices which add to the value of the book. These include comprehensive chronologies, distance tables, gradient profiles, track diagrams and lists of staff at stations, also directors and their business interests. Well illustrated with vintage photographs from the CRA collection plus more recent views.
Morning glory at Farnborough. J.S. Gilks. rear cover.
Unrebuilt light Pacific 34051 Winston Churchill on up stopping service on 1 February 1965 two days after Sir Wiuston's funeral train. Note LSWR pneumatic signals.
SR N Class 2-6-0 No.31875 passes Cockwood harbour, near Starcross on the GWR main line Peter W. Gray. front cover.
Return excursion from Goodrington to Bere Alston via Exeter and Okehampton on 16th June 1962. This was a rare duty for this class; excursions from the Southem to the Torbay line were more usually worked by light Pacifies.
Search engine — searching and researching at the National Railway Musuem. Helen Ashby.
Guest editorial: Aim to increase both electronic and physical access to the vast collection of documentation. Two e-mail access points are suggested the feedback form at www.nrm.org.uk, or the writer's own e-mail address at helen.ashby@nmsi.ac.uk
Given a Crosti look. 388-9.
Colour photo-feature: only first fitted with a worrking Franco-Crosti boiler — remainder as modified to conventional form: 92028 passing Wellingborough shed in July 1959 (K.C.H. Fairey); 92021 ex-works at Crewe in 1962 (M. Chapman); 92027 at Cricklewood in August 1963 (Geoff Rixon); 92029 passing Thrimby Grange with up freight in August 1967 (David A. Hill); 92022 at Stott Lane sidings, Eccles with van train (Jim Carter):
Tizzard, Rodney. Eastleigh Shed during the 1950s; as told to Paul Joyce. 390-9.
Tizzard started work as a cleaner in 1952, and his first firing turn took place on an O2 class tank engine when he was sixteen in 1953. There is a brief vignette of Stephen Townroe and his canvas-topped car. As with many descriptions of push & pull working on the Mid-Hants (and other) lines this tended to be performed solely by the fireman as the regulator was disconnected when pushing. There is an anecdote about smokebox ash being supplied to a crossing keeper for sale to a tomato grower. Drivers mentioned include: Roy Sloper, Tom 'Speedy' Featherstone, Claude Johnson. See also Backtrack 2012, 26, 661.
Skelsey, Geoffrey. "Of Great Public Advantage": aspects of Cambridge and its railways, 1845-2005. Part 1. 400-6.
See p. 507 for Editorial cringe on misapplication of apostrophe. 1811 Census records that King's Lynn was larger than Cambridge, but by 1861 the Cambridge population was three times greater than that of Lynn and ten times greater than that of Ely. Prior to 1845 reliance had to be placed on the river or on stagecoach, post coach or cartage. No new college had been created between Sidney Sussex in 1594 and Downing in 1800. It ispossible to infer that the railway encouraged the growth of the university. There was no canal communication between the Fens and the canal network in spite of the apparently easy route provided by the Lea and the Stort and the Cam. This route did attract long distance railways, however, but development was slow. The Northern & Eastern Railway rerached Broxbourne from Shoreditch in 1840, Bishop's Stortford in 1842 and Cambridge on 29 July 1845, by which time it had become part of the Eastern Counties Railway which had originally been 5ft gauge, but this was changed after its nothern advance from Bishop's Stortford which extended to Brandon via Ely on the same day that Cambridge was reached. At Brandon an end-on junction was made with the Norwich & Brandon Railway (Norfolk Railway). The swing bridge at Trowse enabled Yarmouth to be reached. Until 1959 this was the main route from London to Norwich (and was so once again at Christmas 2004 when the local "train company" prefered to divert its railway customers to the long, dirty and dangerous bus ride from London rather than direct them to WAGN's electric trains and its own DMUs). On 1 September 1845 an excursion was run from London to Cambridge and on 5 July 1847 Queen Victoria and Prince Albert arrived by train when the Prince was installed as Chancellor. See also letter from Norman Pattenden (p. 573) on reporting the Royal progress by telegraph. At that time the city was squalid with packed housing and foundries in the centre. Peterborough was reached from Ely in January 1847 and King's Lynn was connected in October 1847. The Colleges imposed conditions on student travel and forbade all travel between 10.00 and 17.00 on Sundays. Asd late as 1960 the Proctors were raiding the station which continues to be remote from the City centre.A horse tramway served the station until it closed in February 1914, as it had never been electrified. The Ortona bus company was the main bus operator for a time, but now it is back to Stagecoach. The architect for the station is believed to have been Francis Thompson. The station remains the sole remaining single platform station in Great Britain, although the "paper railway" Thameslink has plans to add an up platform. The terminal bays at both ends had been added by 1863. Much of the material on which this feature stems comes from two diaries: the Rev. Joseph Romilly (1791 to 1864) the Registrary to the University and Josiah Chester who became an apprentice with Eaden Lilley, a drapery business, and eventually rose to be an important figure in the town's affairs. The mendacity of the Eastern Counties Railway is noted when appeals were made by Addenbrooke's Hospital to recover some of the cost involved in treating those injured in the construction of the railway. Part 2 page 501 et seq.
Hill, Keith. Riviera reflections: 100 years of the 'Cornish Riviera,. 407-15.
1 July 1904 is given as the inception date: consultation of C.J. Allen's Titled trains of Great Britain verifies this, but shows that the train preceded the name and reflected non-stop running between Paddington and Penzance which had been presaged by King Edward VII's high speed journey to Dartmouth and back (from Plymouth, non-stop) in March 1902. Hill has mined S.P.B. Mais's The Cornish Riviera for its "charming" legends and its "exotic" climate. Although the author's own first journey on the train had to await the issue of a railwayman's free pass (even first class "foreign" ones were not permitted during the train's heyday KPJ) and D1006 Western Stalwart was the motive power through to Penzance, he captures the progress in motive power from French compound and City class, through Star, Castle and King to Warship, Western and type 50 to HST, and through slip coaches, the Centenary stock and BR Mark II and the gradual increase in speed and productivity (on the down journey cleaners board the train at Truro). He notes some of the journey's highlights: the rush to Reading, the more gradual progress up to Savernake, a dash through the Vale of Pewsey, a glimpse of Glastonbury Tor, and now little more than a glimpse of the sea after Dawlish, whilst gravity still imposes its tax on the climbs to Dainton and Rattery. Then into Cornwall with its forests, moors, china clay and remains of its mining industries. Hill prosiacally notes the uncertain economics of the train west of Plymouth: he might have done better to compare its success with the inferior travel now imposed on rail travel to another English outpost: the North Norfolk Coast where through carriages are long departed and connections are sometimes poor. Illus.: p. 408 6002 King William V [sic] approaching Teignmouth on down train on 3 Septemebr 1936 (Ken Nunn): see letter from M.A. Knott (p. 574). p. 409 6019 King Henry V paasing Kintbury on down train in 1948 (F.R. Hebron)
Apple green days on the LNER. 416-19.
Colour photo-feature: A3? Pacific 2555 Centenary on up Queen of Scots at Leeds Central with glimpse of Sentinel railcar (also green) behind in 1938 (H.L. Overend); B1 (B18/GCR 8C) 4-6-0 No. 5195; C1 No. 4451 with down train of quad-art suburban stock near Brookman's Park in 1937 (Kenneth Leech); B3 (GCR 9P) 4-6-0 No. 6166 Earl Haigh leaving Aylesbury for Marlebone on train from Manchester in December 1938 (Caprotti valve gear) teak rolling stock shows up well; A4 4482 Golden Eagle in apple green in December 1936 with ex-non-streamlined Pacific corridor tender (G. Ford); B12/3 8537 at Broxbourne in June 1939; D49/2 The Cattistock and C7 No. 706 waiting at Scarborough coupled to their stock for return excursions in August 1938; B1 Noo. 1119 at Shepreth Branch Junction on up express from Cambridge (H.N. James); 2599 Book Law at Doncaster in September 1937.
Shopping at Woolworth's: the N Class 2-6-0s. 420 -3.
Colour photo-feature: 31816 at Bricklayers Arms shed in October 1959 (A. Morris); 31872 near Franborough North with a Reading to Redhill train on 6 September 1962 (Derek Penney); 31816 passing Redhill on 27 February 1960 (R.C. Riley); 31811 passing Winchfield with Woking to Eastleigh freight on 25 July 1954 (David Idle); 31412 passing Ash Junction on Reading to Guildford train on 11 April 1964 (DI); 31411 at Guildford on Reading train on 27 July 1963 (Roy Hobbs); 31849 shunting at Bere Alston on 24 June 1961 (Peter W. Gray); N1 (3-cylinder type): 31876 passing St Mary Cray on empty stock on 16 May 1959 (RCR); 31844 at Cowley Bridge Junction on empty ballast wagons going to Meldon Quarry on 21 June 1960 (PWG); 31411 on balast train near Basingstoke in March 1966 (A.C. Sterndale)
Rutherford, Michael. The 'Scots' and their weans. Part 2. (Railway Reflections No. 113). 424-32.
Part 1 began on page 356. Concluding part begins page 487. This is a somewhat wayward contribution and includes a fair amount which is only indirectly related to the Royal Scot class. This includes the relatively slow evolution of LMS publicity activity, but it does note that this led to an exhibition of Royal Scots at Liverpool, Manchester, Crewe, Glasgow, Dundee and other venues, and 6161 The King's Own was exhibited at Wavertree for the Liverpool & Manchester Railway Centenary in 1930 alongside 6029 King Stephen and 850 Lord Nelson. Booklets and colllectables were also produced. Sales of posters are quoted but these not relate to locomotives. A table lists named expresses running in the summer of 1927, although not all of these would be suitable for haulage by Royal Scots. Notes that C.J. Allen in his Locomotive Practice & Performance series in Rly Mag. was critical of the early performance of the class. But Sir Henry Fowler gave details of ccoal and water consumption from dynamometer car tests made between Euston and Crewe with the class in response to a paper by Lawford Fry presented to the Institution of Mechanical Engineers in1928. Rutherford notes that it was these tests which prompted Gresley to verify the LMS dynamometer car against the LNER vehicle. The final batch (Derby, 1930) were fitted with modified piston valve heads. Many Derby practices and details were incorporated into the NBL design as co-ordinated by Herbert Chambers and (probably) James Anderson. The resulting amalgam of practices led to a number of inherent faults. Some could be rectified by modifications during shoppings (it is considered that the locomotive sent to the USA included them all), and the locomotives became highly reliable and more work was given to them, both in trailing loads and mileages in the working diagrams, until the inherent design faults began to make themselves known with a vengeance. Modifications became more drastic, time-consuming and costly (eg new frames) and eventually all the engines were converted to taper boiler engines which Stanier had perceived this as an early task. Of the problems with the 'Scots' when built, the two that were potentially dangerous were drifting exhaust obscuring the driver's view of the road and signals and the tendency to rough riding - either on poor track or after a high mileage since shopping. Both were cited as the reason for accidents (Leighton Buzzard and Weaver Junction respectively). The former was aleviated with large deflector plates; completely flat at first, later curved inwards at the top. The ride was an inherent problem with 4-6-0s: a King had derailed at Midgham and a Lord Nelson at Kent House and the bogies required modifications to the springing. In Table 3 it is shown that the distance from the bogie to the first coupled axle was only 8ft 11 in as compared with 10ft 9in for the Lord Nelson. but would have been 11ft 6in for the Derby proposed compound 4-6-0. Illus.: colour: 6100 as painted by F. More and M. Secretan; last unconverted Royal Scot No. 46137 The Prince of Wales's Volunteers (South Lancashire) near Brinklow with an up Liverpool express in June 1953 Train in carmine & cream, locomotive in green, low evening light) (J.B. McCann); Patriot No. 45519 Lady Godiva passing Longsight station with up express in June 1957 (W. Oliver); 45542 climing to Shap with down express in July 1958 (J.G. Wallace), B&w: Patriot No. 6000 under construction at Crewe in July 1933; No. 5547 climbing Grayrigg bank (H. Gordon Tidey); 5551 departing Crewe on long Manchester to London express; 5500 Croxteth with smoke deflectors sometime beetween May 1934 and February 1937.
Ferguson, Niall. The Wild West comes to Toon: Buffalo Bill Cody's Wild West Show's visits to Scotland. 433-6.
William Frederick Cody was born in Iowa in 1846. He had worked for the Pony Express and had made some record rides on horseback and been a scout for the US Army during the Indian Wars. Following a chance meeting with Ned Buntline, a writer on the Wild West, a stage show was developed in 1872 with Nate Salsbury, the theatre impressario. A vast show was staged on Staten Island which drew audiences of 200,000 per week. Henry Irving saw this show and arranged for it to come to Britain in 1887. Two hundred people and two hundred animals were brought over on SS State of Nebraska and unloaded at Albert Dock, London and taken by train to Earl's Court. The show coincided with Queen Victoria's Golden Jubilee and the show ran for six months from April. In November the show spent three weeks in Birmingham, and then went on to Manchester and Hull before returning to the USA. Another tour took place in 1891 and this included a show at Glasgow in Dennistoun from 16 November 1891 to February 1892. In 1897 a special train was constructed for Barnum & Bailey's Circus by W.R. Renshaw of Stoke to an American design adpated for British conditions. This was fitted with both vacuum and Westinghouse brakes and buckeye couplers: there were 35 flat cars and 16 stock cars. Most of these cars, but not the elephant cars, were used for the Cody show and these were formed into three trains. The cars were painted orange, except for the sleeping cars which were painted red. Eight vehicles were equipped with British couplings and buffing gear at one end. The Caledonian Railway was paid 6d per vehicle per mile, but passengers and bicycles were extra (the former were charged ½d per mile and there were terminal charges for loading and unloading. The venues are tabulated and included locations off the CR: Galashiels, Hawick and Kirkcaldy on the NBR, Saltcoats on the GSWR, Huntley and Fraserburgh on the GNSR, and Inverness on the HR. The Dundee show is considered at greater length and was based on Magdalen Green with a train service to and from Dundee West and extra trains or modified trains from Perth and Auchterhouse. The show left Britain in October and never returned. John Frederick Wake of Darlington auctioned off the vehicles and some were purchased by the Alexandra (Newport & South Wales) Docks & Railway (ADR).
Hennessey, R.A.S. One track to the future: early monorail visions, 1820-1920. 437-41.
Begins with a taxonomy (classification): elevated or suspended (Wuppertal Schwebebahn), the single rail without any other kind of support (Brennan gyro-stabilised), the straddle variety (Listowel & Ballybunion Railway in Ireland) and the upper support type (Kearney) and the hybrid type with outriggers, notably the Ewing system. Level crossings with roads (except on elevated systems) and points and turnouts were difficult to engineer. The use of steam traction was also difficult. A small Monorail Transporter for civil engineering sites was described in The Engineer in 29 December 1949 and 29 May 1959. Chalmers Kearney attempted to popularise his ideas via fiction: Eróne (1943) which introduces a "Monoway" and makes oblique reference to his nearly successful system between North and South Shields. In true Hennnessey form the article covers everything from pure? fiction to "sound" proposals, through to actual ventures. Utopian cities are prone to monorail transport: H.G. Wells was interested in them and included them in The War in the Air (1908). Includes a reference to Oswald Spengler's: The decline of the West (1917) which led to Spengler's rule: when new cultural forms emerge a large range of possibilities are explored in their early histories: Hennessey suggests that this was the case with monorails and was certainly so with hovercraft (KPJ) and possibly with tilting trains (KPJ). Others mentioned include: Dr Maude Royden, Rowland Allanson-Winn (5th Baron Headley); William Bradshaw's Goddess of Atvabar (1892) possibly inspired by Le Roy Stone's system at the Philadelphia Centennial Exhibition of 1876; The Eagle contributor: Frank Hampson's Red Moon Mystery (1953); Luke Herbert's Brighton to London system to be wind-powered and to convey fish and Andraud's Windway to be propelled by inflatable rubber tubes. The Rev. Riach Thom's model Marvo Railway and H.H. Tunis' top-supported monorails at the Jamestown Exposition in 1907 are both mentioned. Hennessey's suggested website visit (www.monorail.org) is disappointing unless one is interrested in Seattle. Also cites B.G. Wilson and J.R. Day's Unusual railways (with B.G. Wilson Ottley 2389) and the latter's More unusual railways (1960 Ottley 2393) which KPJ also found disappointing. Bibliography. See letter from Nigel Probert (p. 572) on Edouard Locher and his double rack system employed on the 1 in 2 Mount Pilatus Railway in Switzerland..
Dent, Stephen (phot.) and Foster, Richard D. (captions). Signalling spotlight: Western signals on the Shrewsbury & Hereford Joint Line. 442-3.
Bracket signals at Bromfield; signals and signal box at Moreton-on-Lugg in July 1989 with lifting barriers at level crossing; bracket signal at Craven Arms.
Readers' Forum (correspondence). 444
Completely lost on the Elgin branch. Editor.
See feature page 324: not Elgin but Nairn
Philadelphia — a notable coal railway. Terry McCarthy.
See feature by Brian Syddall in Vol. 18 (12) page 740: notes that driving wheel diameter of TVR 0-6-2Ts sold to the Lambton and Hetton Collieries Railway was 4ft 6½in and not as stated).
The Torrington branch. David Thrower.
See feature concluding on page 294 which shows editorial folly of breaking rules on mentioning "modern" developments: the bubblecar mentioned evaporated.
The Torrington branch. Andrew Surry.
See feature beginning on page 135 on broad gauge motive power used on the line and its eventual fate. Cites Colin Maggs' The Bristol & Gloucester Railway which gives details of Dreadnought and Defiance sold by the B&GR to Thomas Brassey, contractor to the North Devon line..
'Britannias' on the Western Region. John Smart.
See p. 288: photograph of 70022: where date of 1956 suggested, but state of locomotive suggests post July 1957.
'Britannias' on the Western Region. Piet Biesheuvel.
See p. 288: train was leaving Green Lane Tunnel, not Severn Tunnel. Follow up letter from Michael J. Smith (p. 574) noting that many passengers thought that Pilning Tunnel was entry to Severn Tunnel and status of Severn Tunnel in terms of longest (compared with East Finchley to Morden via Bank (or how about Channel Tunnel?).
C.E. Stretton. Stephen Duffell.
See unfortunate feature on page 218: most of this blistering attack on the reliability of Stretton is incorporated into the Stretton page.See also letter from Brian Orrell (page 574) which notes Sekon's hostility with Stretton and evidence that Vulcan Foundry supplied information to Stretton,
But can you prove it?. Nigel Probert.
Interpretation is a key element in historical studies (writer is challenging some of Summers' assertions in feature on page 239). Illustrates by citing an ITV South Bank Show 8 May 2005 concerning the storage of National Gallery paintings in the Manod slate quarry during WW2. The roadway on a bridge under a railway at Llan Ffestiniog had to be lowered considerably to accommodate the lories yet the bridge still carried a 10ft 6in headroom warning. A more serious case of interpretation was that when the writer was researching the broad gauge it became obvious to him that Brunel lacked a clear paradigm of what the broad gauge might achieve. He thought that the rolling resistance would be lower forgetting that the weight of the stock would be greater. O.S. Nock may have been incorrect in stating where Churchward is buried (source not given), but this according to Probert does not invalidate Nock's assessment of Churchward's locomotives, especially in terms of their performance. Response from L.A. Summers (p. 573): notes some failings made by Nock and long correspondence maintained between Summers and Nock. Notes that C.J. Allen sometimes changed details in some of the performance logs which he received (and that quoted speeds should be checked). Also requests information on the true propensity for Pennsylvania Railroad 4-4-4-4 Duplex type to slip, and suggests that might have been used to engineer their displacement. Response also from Terry McCarthy (p. 573) noting that citation is essential..
Book Reviews. 445.
Taken by trains - the life and photographs of William Nash, 1909-1952. Kate Robinson and Robert Forsythe. Oakwood. DWM ***
William Nash was a railway enthusiast who became a professional railwayman and whose life was cut short in the Harrow disaster of 1952. Nash was a talented photographer. Biographical comment supported by photographs. Book obviously written with affection and style; content of the pictures is excellent but in a significant number of instances they have been reproduced 'through a glass, darkly'.
The steam age in Ireland: a collection of railway art. Lord O 'Neill. Colourpoint. SDW *****
Reproductions of paintings by artists such as Jack Hill and Victor Welch, and morevrecent work by Sean Bolan, Norman Whitla and Debra Wenlock, supported by informative and extended captions and some by sepia-toned photographs from the National Railway Museum.
Ryde by Steam Volume 1. Andrew Britton. Medina Books, KH *****
First of trilogy of pictorial books on railways of Isle of Wight.
Sir Samuel Morton Peto Bt. 1809-1889 - Victorian Entrepreneur of East Anglia. Edward C. Brooks. Bury Clerical Society. DG ***
Originally published in 1996: text creates a gradually emerging image of a very talented, energetic and compassionate man motivated by humane and tolerant philosophy, who was prepared to take risks and to stand by his responsibilities, even to his own cost. Book is well researched with considerable detail at every stage. Chapter divisions are ordered by themes, eg 'Maker of Lowestoft' and 'The Railway Era', rather than by a chronological sequence.
The Railways of Upper Strathearn: Crieff-Balquhidder. Bernard Byrom. Oakwood Press (Locomotion Paper No.225). NF ****
Book is a typical, though somewhat minimalist, example of the standard Oakwood railway history.
Repairs at Eastleigh. Roy Hobbs. rear cover
N class 31811 and BB 34056 Croydon on 4 April 1963.
NER J72 0-6-0T No. 68736 at York in 1961 as repainted in North Eastern Railway livery for station pilot duty. front cover.
Two J72s were treated to this colour scheme for use at York and Newcastle, No. 68736 moving to Newcastle later that year See also page 480 for same locomotive at Newcastle Central..
Behold the Lord High Human Resources Director: a personage of noble rank and title. Michael Blakemore. 451.
Editorial: When asked, as he is from time to time, how he came to be editor of a magazine such as Backtrack, he can only answer that it was largely fortuitous — knowing the right person and, being in the right place at the right time had as much to do with it as any formal career plan. Admittedly (inspired by the belief that such editorial luminaries as John Slater, Basil Cooper, Geoffrey Kichenside, Michael Harris and that well-known anagram from way back G. A. Sekon had an agreeable billet in life) editing a magazine was always an ambition even at school, but it was not something towards which a careers officer could direct him; nor can he say that all those years of dutifully composing French essays, solving simultaneous equations, calculating the dimensions of isosceles triangles, trying to understand the laws of physics and avoiding PE lessons were any sort of obvious preparation.
That the railway of today is very different to that of the 'Big Four' era, both physically and in operational structure, hardly needs saying. Railways were largely managed by career railwaymen who had risen to hold respectable positions as dignified and potent officers. However, a peep behind the scenes is revealing of changes in the managerial functions necessary to run the show. From the 1930 Railway Year Book we find the LNER had a Chief Chemist, a Port Master, a Cartage Manager and a Chief of Police (a term I always find slightly sinister, with vaguely Balkan or Middle Eastern connotations i), the GWR had a Chief Clerk to the Chief Goods Manager, a Stationery Superintendent, a Horse Superintendent, a Registrar of Deeds and a Chief Draughtsman (a Mr. Hawksworth, as yet unknown). The Southern's senior appointments included an Assistant for Lighting, Heating & Water (Chief Engineer's Dept. ) and a Chief of Tests ("you may now turn over your paper and begin writing. ?"), while on the LMS there were a Mineral Manager and a Road Motor Manager. The point of mentioning them is that you could imagine what they did, in panelled offices, at solid wooden desks with candlestick telephones.
Fast forward to the latest volume and we find the people needed to deal with affairs today have sharper-suited titles. The joined-up vertically-organised system is gone, replaced by a catalogue of operating and leasing companies, each with its own important-sounding heirarchy, all with a Human Resources Director (or similar) and others, no doubt, whose functions (like those of Gilbert & Sullivan's Lord High Executioner) are particularly vital- but often unfathomable. GB Railfreight has a Safety Compliance Manager, GNER a Head of Procurement and a Senior Product Manager, Leisure, Scotrail an External Relations Manager, Virgin Rail a Director, Safety & Quality, Trans Pennine Express a Liaison Director. The solid wooden desk is replaced by the laptop, the candlestick phone by the ubiquitous mobile.
Through the streets of London. John Spencer Gilks (phot.). 452-3.
Colour photo feature: mainly views from a high level: West London Extension line with class 33 crossing Battersea High Street with northbound freight on 26 July 1975; class 33 light engine crossing Thames by Cremorne Viaduct on same day; Waterloo departures in late afternoon on 21 October 1966; Vauxhall station in December 1974, and Kensington Olympia on 5 October 1987 from platform level with Kensington South Main signal box and London Transport shuttle.
Killin branch engines. 454.
Colour photo feature: 439 class 0-4-4T No. 55204 outside Loch Tay engine shed on 17 May 1961 (Michael Mensing); 80136 leaving Killin Junction with single coach on 7 August 1962 (David Idle).
Nisbet, Alistair. Elliot Junction [accident] 1906. 455-62.
This serious accident which was mainly caused by extreme weather conditions (blizzard) and possible drinking on duuty by Driver George Gourlay (who was probably ill at the time) occurred on 28 December 1906 and was the subject of an investigation by Major Pringle (published 20 April 1907). Criminal proceedings were taken against Gourlay and he was found guily of culpable homicice (Scottish equivalent of manslaughter and sentenced to prison. The Board of the NBR (probably influenced by its brewers and distillers) ensured that a job was found for the unfortunate man, who was able to draw his pension. The accident has been covered by several others (none cited): Niall Ferguson; The Elliot Junction accident Br. Rly J., 1992, 5, (44) 178 and in Rolt's Red for danger (pp. 121 et seq) and very sympathetically by Hamilton Ellis in his North British Railway and probably by John Thomas. See letter from John Macnab (p. 574) concerning arrival of corpses at Arbroath and errors on Map: no station at Elliot, Carmyllie branch terminated at Redford; and location of Victoria Bar.W. Tollan (20 p. 126) notes that the Carmyllie quarries sent marble to Cologne Cathedral..
Flann, John L. Reminiscences of a BR surveyor: in and out of the office, 1951-58. 463-8.
Work in the Estate Department of the London Midland Region. Training as a Member of the Royal Institute of Chartered Surveyors took place at Euston (in his own time and at his expence). Some early outdoor work took place near Watford under Bill Carr. The dangers of working on the lineside are noted. Later field work was performed north east of Manchester. Working on his own began near Newport and Wellington in Shropshire: the former survey dated September 1952 formed a part of his professional examination. In the autumn of 1952 he became a supernumerary in the Liverpool District Office directly under Heaton Smith and within the orbit of Harry E. Sharpe, the District Surveyor and later uber A.G. Fox.. He lived in a hotel in Wallasey and travelled to work by ferry. Most of the travel to sites was accomplished by train, including by freight brake van, but sometimes by bus. He was in the possession of a LMR all-line pass and this enabled him to commute on a weekly basis to his home South of London. Illus.: Oldham Clegg Street station with two push & pull units: ex-GCR C13 4-4-2T 67433 on Oldham Glodwick Road to Guide Bridge service and 40056 on Delph Donkey in not very early 1950s (Donkey included carmine & cream corridor coach), NB also electric lighting and advanced signalling courtesy LNER and glimpse of crumbling Oldham Central across the road (J. Davenport); 45517 at Blackburn; 42435 at Bolton Trinity Street on 20 August 1963 on Southport to Manchester Victoria slow; exterior of Liverpool Central with entrance to Mersey Railway on 29 August 1955 (T.J. Edgington); Liverpool Overhead Railway at Pier Head on 26 October 1956; 45526 Morecambe and Heysham leaving Liverpool Road freight depot for Carlisle with express freight; ex-LNWR 0-6-2T 58904 with 17.45 to Wellington and Newport station (both Shropshire) on 15 July 1950 (T.J. Edginton); 41283 at Ormskirk with Rainford p&p on 27 June 1954 (TJE); 40195 at Southport Chapel Street with train for Preston on 9 October 1956 (TJE), 45600 Bermuda arrived at Liverpool Lime Street with stopping train from Manchester Exchange. See also letter from W. Taylor on page 695 which notes the lasting significance of the surveyor's work and that many of the linen-backed plans are still stored..
Summers, L.A. The view from Paddock Wood. 469-74.
Brief introduction to history of railway at Paddock Wood on the SER mainline to Dover. This served originally as "Maidstone Road Halt", but developed as a junction for the Medway Valley line opened to Maidstone in 1844, and from 1893 as the junction for Hawkhurst, although some of this branch had opened earlier. Hop-picking was a key activity on this line. There was a buffet at Paddock Wood, but Summers admits to not knowing anything about it when it was in operation. Partly an assessment of the improvements wrought by electrification and comment upon the tedious nature of cross country family journeys from Paddock Wood to Oxfordshire via Redhill. Illus.: staff group photograph with stationmaster Vallence in 1936; H class 31177 at Hawkhurst in June 1961 (Frank Hornby); L class 31773 at Tonbridge shed in May 1957 (FH)..See also letter from George Matthews (p. 637) on television series The Old Pull & Push in 1959/60 filmed at Goudhurst.
The Caledonian Railway '938' Class 'Rivers'. (The Backtrack Archive). John MacIntosh (captions). 475
Black & white photo-feature: 938 at Balornock in 1920; 941 departing on freight from Viaduct Yard, Carlisle in 1923; 943 at Carlisle Kingmoor in 1922 (A.B. MacLeod). All locomotives in CR blue. According to caption no known photograph of River class on passenger train in CR days.
Lancashire & Yorkshire Railway Locomotives. Barry C. Lane (captions). 476-7.
Black & white photo-feature: photographs (except first by J.M. Tomlinson): East Lancashire Railway: 2-4-0 Aeolus (rebuilt as 2-4-0 in 1867) from Walker Bros. 2-2-2 at Burnley Manchester Road in 1867: see letter from Paul Kehoe on page 765 and immediate response from Barry Lane which queries the date and suggests 1868 or later; former 1876 0-6-0ST (centre wheels removed) acting as train heating boiler at Blackpool North during pre-grouping period (also in Railway Archive No. 10 page 74 upper); 0-6-0ST No. 788 (Beyer Peacock 0-6-0 of 1882 converted to 0-6-0ST in 1898)(same locomotive refered to in Railway Archive No. 10 page 72); Hughes 4-cylinder compound 0-8-0 No. 1472 of 1906 at Fleetwood shed; 4-cylinder 4-6-0 as LMS No. 10444 converted for oil-burning in 1926 at Poulton-le-Fyle.
The SECR H Class Tanks. Roy Hobbs (phot.). 478-9.
Colour photo feature: 31308 at Dunton Green on 27 August 1961; 31544 at Rowfant on Three Bridges to East Grinstead train in September 1962; 31551 between Three Bridges and Grange Road in June 1963; 31263 entering Westerham on 28 October 1961 (view from cab); 31324 leaving Stoke Junction for Allhallows-on-Sea on 2 December 1961 (David Idle): all working push & pull. See also letter from J.R.W. Kirkby (page 573) who travelled on night suburban trains in the late 1930s hauled by H class locomotives with birdcage sets when the electricity was turned off for maintenance work.
Above the banks of the coaly Tyne. 480-3.
Colour photo feature: 60129 Guy Mannering on York to Glasgow Queen Street express on 29 August 1964 at Newcastle Central (David Idle); 68736 at Newcastle Central on 15 April 1963 (T.J. Edgington) (see also front cover); 60001 Sir Ronald Matthews with smokebox door open at Gateshead mpd on 31 August 1964 (DI) (caption writer refers to this as "rare A4" sales of Steam World deserve to increase for that); K1 62021 at Gateshead mpd on 28 October 1962 (DI); V3 67652 light engine with castle in background (David Sutcliffe); Gresley EMU in blue and cream? livery in December 1948 (note driver's window still retains WW2 protection); 60131 Osprey crossing High Level bridge on 21 March 1965 (road swing bridge also visible) (J.S. Gilks); Deltic 9002 The King's Own Yorkshire Light Infantry and class 45 on 10 January 1972 (K. Gregory), and class 105 DMU (Rail blue) crossing High Level bridge (KG).
Steam on the South Wales Main line. 484-6.
Colour photo feature: 43XX class No. 6338 passing 5096 Bridgwater Castle at Cardiff General in September 1962 (Barry Gant); 4073 Caerphilly Castle at Swansea High Street in August 1956 (Hugh Daniel); Castle 5060 Earl of Berkeley hauling South Wales Pullman through Skewen in January 1957 (HD); 7820 Dinmore Manor leaving Newport on Cardiff to Portsmouth "express" in June 1962 (C.G. Maggs); black Hall 5937 Stanford Hall approaching Cockett Tunnel with down Pembroke Dock Express in September 1961 (HD); 4073 at Newport High Street with down express in May 1959 and 7825 Lechlade Manor departing Narbeth with stopping train in June 1962: all Colour-Rail.
Rutherford, Michael. The 'Scots' and their weans. Part Three. (Railway Reflections No. 114). 487-95.
Part 1 began on page 356; Part 2 on page 424. In spite of silly title for feature (the weans were not manufactured in Glasgow!) the references are listed within a highly sensible classification: drawings and official photographs; contemporary accounts; retropsective accounts; performance (mainly from Nock); train services and names. Notes that Jack Francis, a leading draughtsman at Crewe, designed the enlarged boiler for the Claughton and Patriot classes: this became the G9½S: Francis was moved to Derby, but continued to live in Crewe. (see also letter page 636 from C. Taylor) The illus. on page 492 of Royal Iniskinning Fusilier is important for showing the vacuum pump drive; the coil springs fitted to the crank axle and second driving axle (the latter were replaced by laminated springs during rebuilding. The Patriot class was characterized by variations in bogie and chassis types, and only the last series were selected for rebuilding with larger boilers. The frames used for the Patriots were stronger than those for the Royal Scot class as they lacked the cut-outs for lightening. Furthermore, the cylinders were smaller and frame cracking was not experienced. The weight quoted for the Patriots was 83 tons 8 cwt as aginst 84 tons 18 cwt for the Royal Scots, but the CME had claimed 80 tons 15 cwt in the case of the former. Annual milegaes are quoted for both classes. Col. illus.: 45543 Home Guard at Bay Horse on Manchester to Windermere express in July 1962 (A.R.E. Cope); 45519 Lady Godiva at Bromsgrove on express heading towards Bristol on 20 June 1959 (T.J. Edgington); 45511 Isle of Man at Crewe in June 1956 (T.B. Owen); 45519 on express at Dore & Totley (P.J. Hughes); 45509 The Derbyshire Yeomanry on Marple Viaduct with carmine & cream stopping train (severe colour degradation) (E. Oldham). B&w: 46158 The Loyal Regiment fitted with indicator shelter in 1930; 46146 The Rifle Brigade at Camden mpd (unrebuilt) (see letter p. 636 from George W.F. Green concerning caption error); 45542 and 45500 (minus name) at Carnforth; 45537 Private E. Sykes V.C. climbing Madley Bank with up express from Barrow on 20 June 1948; 6142 undergoing piston valve examination in Edge Hill shed; 45504 Royal Signals puffing up Lickey incline with sanders working hard in August 1960 (T.J. Edgington); 45506 The Royal Pioneer Corps passing Preston on fitted freight in September 1955; 45538 Giggleswick stored outside Rugby works on 3 June 1962 (G.L. Wilson).
Gilks, David. Joseph Locke: railway engineer. 496-500.
Began on page 368: notes Locke's Presidential Address to the Instn Civil Engrs in 1858 in which he compared the French and British governments in their attitdes towards railway development. Gilks then considers Locke's "rescue work": the alignment of tunnels on the Liverpool & Manchester Railway; the reorganisation of the contracts for the London & Southampton Railway with transfer of most of the work to David McIntosh or to Thomas Brassey and the overcoming of the many landslips which had beset construction; and Woodhead Tunnel. His relationships with Brassey and with John Errington are considered. He disliked the construction of tunnels and was prepared to use steep gradients to avoid them as on Shap. His main mistake appears to have been the inadequate sized of Crewe Works for the Grand Junction Railway. His main contribution to locomotive design was in standardization. This article restricts his activities overseas mainly to the line from Paris to Rouen and onto Le Havre. He received the Légion d' Honneure when the line to Rouen was opened on 3 May 1843 and Queen Victoria was present on 22 March 1847 when the line was complete. On 10 January 1846 the Barentin Viaduct had collapsed, but Brassey financed its reconstruction. In 1847 Locke became Liberal MP for Honiton. There are staues of Locke in Locke Park, Barnsley (illustrated) and alongside Barentin Viaduct (illustrated, but not statue). He is buried in Kensal Green Cemetry and there was a memorial window in Westminster Abbey, but this was removed during WW2. Portrait p. 497.
Skelsey, Geoffrey. 'Of Great Public Advantage': aspects of Cambridge and its railways — 1845-2005. Part Two. 501-6.
Part 1 began on p. 400. Even in 1845 the railway provided the possibility of a day trip to London with several hours in the capital. The early ticket prices were high: 10s 6d 1st class. By 1852 it was possible to reach London in 1hr 25 min. non-stop. Excursion trains were run to the Great Exhibition of 1851. Joseph Romilly made several visits. On 23 April 1849 an excursion was run to Norwich in connection with a public execution. From 1870 expresses were run to St Pancras and in 1904 a time of 72 minutes was achieved via this route, a time not bettered until 1937. The St Pancras service ended in 1917. The GNR service began in 1866 with a time of about 110 minutes: by 1897 expresses had reduced this to 80 minutes. Postal services provided sorting en route. In September 1937 the service from Liverpool Street was vastly improved to meet road coach (bus) competition: five coach trains ran non-stop in 65 minutes. Nevertheless, the earlist arrival in London was at 08.48 by a very slow train; the earlist fast did not arrive until 09.07. In 1937 the King's Cross service was also improved with time of 72 minutes. The Garden Cities and Cambridge Buffet Expresses provided this service, but following WW2 the title was shortened to Cambridge Buffet Expresses. These ended with electrification to Royston in 1977. No student is permitted to keep or use a motor car within the City. The Cambridge University Railway Club was formed in 1911. Many of the branch lines around Cambridge lost their services and passenger numbers quoted by the Author support this action, but the loss of the service to Oxford faces severe criticism from the Author, although he is luke warm for the prospects for a revival of this route. More recently the surviving lines have received far better services, especially those via Peterborough (to such unlikely destinations as Langley Mill). The direct route to Newmarket was a very early railway closure. The Great Northern route was improved by the elimination of the Potters Bar bottleneck and by electrification. In 2005 there were ten arrivals in London before 09.00 and this reflects the University's greater requirement for travel to London for meetings. The Author was Attaché to the Chancellor of Cambridge University for 27 years. Extensive bibliography. The Editor is to be congratulated for allowing the Author to give a complete account. Illus. p. 506 interior of Cambridge South signal box showing all-electric equipment installed in 1927 by British Power Railway Signalling.
Readers' Forum. 507.
'Of great public advantage'. Editor.
Editorial cringe for it's use as possessive pronoun.: see feature on Cambridge! (page 400)
This way for America. A. R. Nicholls.
See feature on pp. 378-9: apparatus described as a "knife grinder" was a knife cleaner.
But can you prove it? J.T. van Riemsdijk
See p. 311: some of this important letter is reproduced below: "The author thus denigrates the magazine [Backtrack] he is writing for and insults its editors, past and present. It is a cowardly attack because it makes no specific criticism and largely protects the author from being required to justify his statement or reveal his own opinions. This author [Summers] continues in like manner: attacking Rogers' book on Chapelon he asserts that Rogers "admits" basing his book on Chapelon's own account. The word "admits" has, in recent years, become the hallmark of the politician and the polemicist, useful to such people because it implies guilt without being specific, again protecting its user from challenge. Rogers' guilt seems to be that of going to the best and most original source. The vague smear continues: the author would like to know what Chapelon did during the Vichy period: why has he not tried to find out? "Neither Rogers nor anyone else has any information on this". That is complete rubbish. There are still people around who were in the SNCF during this period and I myself [letter writer], and George Carpenter, have known others, as we have both known Chapelon himself. Moreover, there are hundreds of Chapelon's letters 'in various hands, including a block of over 400 written over 35 years to a very close friend, currently being prepared for publication by the French Association for the History of France's Railways, a very learned body with University status (of which I "admit" to being a member) the proceedings of which include two thick volumes of personal accounts of the SNCF in the Second World War. I had some (distant) contacts with SNCF personnel when I worked in the Special Operations Executive and followed these up early in 1946, when I formed lasting friendships with railwaymen of various grades. The conclusion to be drawn from all these sources is that, apart from a politically motivated minority, the prime loyalty was to France but some collaboration with the Germans was necessary to protect French lives. Chapelon continued working on postwar locomotive design and advising on motive power matters. He was a backroom boy, largely uninvolved in politics. However, both he and Marc de Case, like numerous others, were investigated after the war for possible collaboration. Both these great engineers were freed of all charges." L.A. Summers has final "official" word p. 636.
Steam on the Caledonian main line. David Stewart-David.
Cylindrical objects being loaded into the Aberdeen train at Stirling (photo pgae 311) are almost certainly 'Drikold' containers from ICI, which were widely distributed by passenger train. They contained solid CO2 which made dry ice used in ice cream production.
A Glasgow Suburban Journey. John Macnab.
See feature page 340 et seq: Partick station was described as Partick for Govan in some timetables, but was renamed Partickhill in 1953, and the new station of 1979 becoming Partick once more. The type of footbridge illustrated at Bearsden and Westerton stations was installed around 1959 to give OHLE clearance. A similar footbridge at Partickhill was removed on this station's closure in 1979 to Polmont station on the E&G route to replace the structure there on that station's modernisation and is still in use. Writer was marched from Partickhill station to Yorkhill Quay having come off a troop train from Elgin during ASLEF strike.
The North Country Continental. Richard Allsop.
See feature on p. 263. Writer was a schoolboy in the 1950s. It was a highlight of his day at Worksop, and March mpd could be relied upon to turn out an immaculate Sandringham B17 for the run to Sheffield. Both 'Halls' (KPJ: this appears to be a novel use of Halls) and 'Footballers' worked the train in the early 1950s but the latter were gradually displaced by more of the GE-tendered variety. One of regulars was No.61630 Tottenham Hotspur which was then the only 'Footballer' to have a GE-pattern tender. In the early part of the 1950s B17s were overhauled at Gorton Works. The train was used for transferring locos to and from works. Sometimes the works locomotive would act as a pilot to the March-based B17 but more often than not it would replace it with a detrimental effect on timekeeping, particularly on the westbound service. Bl7s could be rough engines when due for overhaul. At least the crew were likely to be rewarded on the return with an ex-works locomotive. In 1949 two of the Southern Region's Tavern Car sets were allocated to the boat train. Named The White Horse and The Jolly Tar they were more popular than the set used on the Master Cutler but still only survived for two years before returning to the Southern Region in modified form.
Stanier and Fairburn tanks of the LMS. D.J. Wood
See page 290: train illustrated was probably 16.26 surving Royal Ordnance Factory at Radway Green which travelled via Longport.
Black Country routes. Steve Burdett (phot.). 508-9.
Colour photo feature: 47 592 on diverted express passing Stourbridge Junction on 16 October 1983; class 121 No. 55033 Daisy the DMU leaving Stourbridge Town in MIDLINE livery in June 1987; 25145 with loaded steel train at Blowers Green on 2 April 1980; six car DMU (white/blue livery) at Cradley Heath on 6 January 1979 (six cars for West Bromwich Albion football match); 45059 Royal Engineer shuting steel train at Kingswinford Junction on 7 April 1982; Dudley Freightliner Depot with 47534 running light having acted as banker on 29 March 1976.
Book Reviews. 510.
The Ramsgate Tunnel Railway. Peter A. Harding. Author. TJE. *****
A most interesting book... Highly recommended.
Royal Deeside's Railway: Aberdeen to Ballater. Great North of Scotland Railway Association. TJE ****
Two serious errors have crept into the text and captions. British Railways came into existence by virtue of the 1947 Transport Act on 1st January 1948 (not 1947) and the last passenger trains ran on Saturday 26th February 1966. Subject to the above caveat, highly recommended.
Bolton Engineman... a last look back. Jim Markland. (Scenes from the Past No. 47). Foxline Ltd. MB ****
Reminiscences of footplate cres at Bolton shed during years 1956-68. Written in Lancashire dialect.
Mixed traffic at Newport. James Arthur. rear cover.
61XX No. 6116 on mineral empties and Hymek D7049 (in original livery) on down express on 17 April 1964
LMS 'Princess Royal' 4-6-2 No.46207 Princess Arthur of Connaught poses for the camera at Camden shed on 3rd July 1959. (R.C. Riley). Front cover
"Will you step into my parlour...". Michael Blakemore. 515.
Editorial: being brought up in a deprived area (Bury) or editor was deprived of the sight of Pullman cars and had to await his employment at the NRM before savouring their pleasures. This is followed by a gentle plug for those services provided to cart the stinking rich around the countryside whilst mere mortals are jolted along in Pacers.
Travels with the 'Marquess'. 516-17.
Colour photo feature: preserved K4 3442 The Great Marquess: preserved by Viscount Garnock in 1961: at Wetherby East on 25 September 1963; at Whitby Town on 13 April 1964 (for filming of BBC programme about privately owned locomotives (both Gavin Morrison); at Stainton Dale with K1 62005 on 6 March 1965 (last day special) (David Sutcliffe); near Rogerley Hall on Weardale branch on 10 April 1965 (J.S. Gilks); at Nowrwwod Junction on special from Victoria to Chichester on 12 March 1967 (JSG).
Nisbet, Alistair F. The Banbury branch. 518-20.
Very brief history: Cites Bill Simpson's The Banbury and Verney Junction branch, Oxford: Oxford Publishing, 1978 [Ottley 12189]. Line opened 1 May 1850 and linked Banbury with Bletchley and was worked by LNWR. Illus. colour: Buckingham with 41275 on a push & pull working and two single unit railcars M79900/1; Buckingham station buildings; the two railcars at Brackley, Banbury Merton Street; Buckingham signal box (all John Langford). B&w: Padbury station after closure (T.J. Edgington) and exterior of Banbury Merton Street.
Mullay, A.J. Across the narrow sea: rail operation of the Stranraer—Larne Passage, 1969-1975. 521-5.
British Transport Ship Management Ltd created in January 1969 to operate the Caledonian Princess which had entered service in 1962 and had been joined by Antrim Princess in 1967. This was in succession to Shipping and International Services (SIS). It was a peculiar situation in that the Scottish Region had been forced to transfer its Clyde ferries to the Scottish Transport Group, but had been left with the Stranraer service. Writer returns to loss of Princess Victoria (see Backtrack 15, 691): he cannot comprehend how the ship was lost so near to land and that communication was so poor. He also notes that much of the blame was attributed to Captain Harry Penny, a former LNER man . See also Frank Jones' involvement in launch of Caledonian Princess service.
Hennessey, R.A.S. Wheels within wheels: locomotive wheel notations: causes and effects. 526-33.
Whyte and other notations. According to writer Whyte published his system in American Engineer and Railroad Journal in 1900 in a contribution of less than 300 words. This had followed a contribution entitled "The confusion of types—a logical locomotive classification needed" in the same journal. Also observes pre-Whyte difficulties, such as locomotives noted as ten-wheelers (probably 4-6-0s) and to axle-based notations used on Continental Europe leading to Pacific 231. There is also the VDEV system with notations which remind KPJ of Ranganathan's classification for library books where every keyboard symbol is exploited to produce highly complex notations: a Midland compound 4-4-0 would rejoice in being a 2'B h3v: presumably a Big Boy would require Vistavision. Tuplin's modification of the system is noted. Ahrons contributed a paper on the topic to the Institution of Locomotive Engineers, The vast literature on locomotive classifications is cited, much of it is helpfully in German. Many appropriate websites are also listed. The use of the Whyte notation by Churchward was noted by Rutherford in 1998, 12, 50 (not as cited)..
Hill, Keith. Wisps of Wight steam. 534-43.
Mainly concerns the Southern Railway/Southern Region period of operation. The pre-grouping scene is very briefly described: Isle of Wight Railway which connected Ryde with Shanklin in 1864 and was extended to Ventnor in 1866; the Ryde & Newport Railway opened in 1875 and reached Cowes (these lines became the Isle of Wight Central Railway in 1887). Other lines extended from Sandown to Newport, from Newport to Yarmouth and Freshwater (Freshwater, Yarmouth and Newport Railway), to Brading and to Ventnor West. There is an extensive, and still growing literature on these lines, but D.L. Bradley did it well for the RCTS. . There is very brief mention of a tunnel under the Solent (covered more fully in the same author's skim along the Lymington branch Vol. 18 p. 6). The main thrust of the article is the forceful influence of the Southern Railway: push & pull operation to Ventnor West to reduce costs; increasing line capacity at Ryde with seasonal double track working; an improved layout at Newport station; a new passing loop at Havenstreet; the introduction of the O2 class as standard motive power; names (listed) for O2 locomotives; improved (secondhand) rolling stock; influence of Alastair MacLeod; new workshop fascilities; All Island Weekly Season Ticket, cross Island train service; lack of serious deterioration during WW2; possible Post-War improvements not implemented; deterioration under British Railways.
'Princess [Royal]' pageant. 544-7.
Colour photo-feature: [all red unless stated otherwise]: green 46211 Queen Maud outside Crewe paintshop (Gavin Wilson); 46200 The Princess Royal on Camden mpd on 3 June 1962 (R.C. Riley); 46207 Princess Arthur of Connaught on down Mid-Day Scot near Kensall Green in September 1961 (A.C. Sterndale); green 46203 Princeess Margaret Rose at Carnforth mpd in 1962 (Ray Helm); 46200 on way towards Euston on last leg of Aberdeen Flyer on 3 June 1962 (RCR); green 46206 Princess Marie Louise (with coal-pusher equipped tender clearly visible) at Crewe on up express in April 1962 (P. Riley); 46200 leaving Watford Tunnel on Aberdeen Flyer (A.C. Sterndale); 46207 on up Ulster Express on 9 March 1961 at Dudswell (south of Tring) (J.P. Mullett); green 46201 Princess Elizabeth leaving Perth southbound on empty stock in June 1962 (T.B. Owen); 46207 passing Camden on down Liverpool express on 20 September 1958 (RCR). The red captured by Sterndale was brighter than that captured by Riley (more "blue")
Thrower, David. Southern gone west: The North Devon & Cornwall Junction Light Railway. Part 1. 548-56.
The Company was founded in 1909 with the backing of Colonel Holman F. Stephens. Powers for the line were obtained from the Light Railway Commission on 28 August 1918, but had to be re-obtained on 22 April 1922. The line opened on 27 July 1925 and was worked by the Southern Railway, but the line remained independent until 1948. Much of the line was built along the course of the narrow gauge (3ft) Torrington & Marland Railway which was constructed to serve the ball clay industry in the Peter's Marland area. The locomotive stock of the narrow gauge railway is lightly sketched and included 0-6-0ST Mary (Black Hawthorn 1880), 0-6-0T Marland (Bagnall 1883), 0-4-0T Peter (Lewin 1871), 0-4-0VB Coffeepot (Head Wrightson), and Fletcher Jennings 0-4-0ST Jersey No. 1, Jersey No, 2 and Merton. The ssaddle tanks were removed from the larger locomotives to reduce weight and these were towed behind on a wagon permanently connected to the locomotives. There was a further Bagnall 0-6-0T (1886) and Avonside 0-6-0ST Avonside of 1901. Presumably the Industrial Railway Society has fuller details. The seemingly endless series of halts were at Watergate, Yarde, Dunsbear, Petrockstow, Meeth, Hatherleigh (the only place of significance, but far removed), Hole for Black Torrington and Halwill Junction are described and illustrated. Part 2 see page 646 et seq.. See letter on p. 636 from Rabbi Walter Rothschild with observations from Bert Dyke on mixed trains, passenger numbers (mainly zero) and E1/R class.
Merritt, Keith. The Chessington branch. 557-9.
Opened by Souhern Railway to Tolworth on 29 May 1938 and to Chessington South on 28 May 1939. Growth stimulated by Kingston Bypass, but final destination at Leatherhead plugged by M25. Illus. of art deco style stations include Malden Manor exterior and cast concrete canopies at most of stations. Notes demise of Chessington Zoo. See letter from Roger Whitehouse on page 695 concerning service frequency and from Alistair Nisbet (Volume 20 p. 62) concerning location of Wimbledon Chase (Sutton line) and station for Zoo was Chessington South..
Hurley, Paul. The ICI Light Railway. 560-3.
The Alkali Division of Imperial Chemical Industries (ICI) had an extensive railway network in Cheshire which connected with the WCML and the Cheshire Lines Chester to Manchester line near Hartford. Another line was the Weston Point Light Railway near Runcorn created by Castner Kellner (a constituent of ICI) to link their plants with the LNWR in 1920. There was a further network at Winsford. There is a long list of locomotives employed by ICI at their Brunner Mond and Alkali Divisions and at Weston Point and at Winsford. The assistance of the Industrial Railway Society is recorded. Illus.: 0-4-0WT Crookes (Kerr Stuart 1917); 0-4-0WT Hemming (Kerr Stuart 1916), 0-4-0WT Kelvin (Borrows, 51/1908), 0-4-0WT Faith (Kerr Stuart 1928); powerful 0-6-0T Castner (Andrew Barclay); sidings at Lostock works, Northwich.
Wells, Jeffrey. The 'Harrogate Pullman': ' a noteworthy innovation'. 564-8.
Service began on 8 July 1923. Account based on a Rly Gaz. feature published 6 July which refers to a special prefactory trip organized during the weekend of 30 June/1 July when the train was run from King's Cross to Harrogate and guests were entertained in Harrogate by the Mayor and Corporation (guests included Wedgwood, Gresley and Bulleid). There appears to be some sloppy sub-editing as the full service is stated to have begun on 8 June. It is to be hoped that the cars have been described correctly or there will be a three column letter from Charles Long. The service was extended to Newcastle via Ripon and later to Edinburgh (13 July 1925) and eventually became The Queen of Scots. The trouble is that an article based on assorted issues of the Railway Gazette really needed further background reading and research. The author also fails to note that the Pullman cars were transferred from the Great Eastern Section where there was a lack of suitable work for them (see Allen's Titled trains...)
Thames Valley branches. 569-71.
Colour photo-feature: 1456 (black) with auto trailer at Henley on 14 June 1958 (T.J. Edgington); 1450 (black) in sandwich of auto cars at Bourne End in August 1957 (L.V. Reason); 1421 (green) with compartment-type auto-car at Marlow on 14 April 1962 (J.S. Gilks); 9406 shunting coal wagons at Bourne End in March 1962 (C.R. Gordon Stuart); 1445 (green) hauling auto trailer on curve into Bourne End from Marlow in March 1962 (note 10 mph speed restriction for 14XX - all others 5 mph (CRGS); bridge over Thames at Bourne End on 23 August 1963 (JSG); class 121 and trailer crossing viaduct on approach to Windsor (Castle in background) on 16 September 1978 (JSG)
Readers forum. 572.
One track to the future. Nigel Probert
See feature on page 437: argues that Edourd Locher's double rack system for Mount Pilatus Railway in Switzerland was in effect a form of monorail. Cites Philip Kelley and Donald Binns' Swiss mountain railways. Vol. 1. See also letter from John C. Cooke on page 765 which describes an earlier railway designed for extremely steep gradients which ran from Sassi to the hilltop basilica at Superga on the outskirts of Turin..
Racehorse names for LNER Pacifics. Reg Davies.
See feature on page 333 et seq: forcefully argues against use of name Caligula (would have been unsuitable in period in which naming took place).
Racehorse names for LNER Pacifics. Geoffrey Hughes.
See feature on page 333 et seq: suggests that Percy Maclure, Locomotive Running Superintendent of the Southern Division of the LNER may have been responsible for introducing the racehorse names. Also suggests that Flying Scotsman neatly follows Flying Scotsman and that the plates were cast at King's Cross shed. There is also a suggeestion that there may be a link with the Interchange Trials (KPJ: but 4474 ran un-named on GWR). Further from this venerable author on page 695..
The Grouping and early LMS locomotive policy. Dennis Lorriman.
See Rutherford's Railway Reflections No. 111 (p. 276) and his comments on the 4P compounds: queries how a locomotive with one high-pressure cylinder could work at short cut-offs (this led to a response from Adrian Tester on page 637 which in turn led to a further letter from Dennis Lorriman on page 318 of Volume 20), Also suggests that Rutherford quoted E.S. Cox for describing a footplate journey (on a stopping train from Liverpool to Crewe) in which he advised the driver to increase the cut-off of a compound to 45% to achieve good running as the low pressure cylinders provided the steam expansion (this rather improbable episode has not been traced: sounds more like Powell). Also cites Poultney's contribution to the discussion of Cox's A modern locomotive history wherein he argued that many of the firemen liked the Webb compounds as they were economical, although the drivers feared their complexity.
But can you prove it...? L.A. Summers. 573.
See letter from Nigel Probert on page 444 on accuracy: notes some failings made by Nock and long correspondence maintained between Summers and Nock. Notes that C.J. Allen sometimes changed details in some of the performance logs which he received (and that quoted speeds should be checked). Also requests information on the true propensity for Pennsylvania Railroad 4-4-4-4 Duplex type to slip, and suggests that might have been used to engineer their displacement.
But can you prove it...? Terry McCarthy.
See letter from Nigel Probert on page 444 on accuracy; notes importance of citation.
SECR H class tanks. J.R.W. Kirkby.
See photo-feature page 478: in late 1930s worked at Bricklayers Arms Goods Depot and returned from late shift via Elephant & Castle (for 01.20 Blackfriars to Orpington train) as faar as Herne Hill for 01.36 train to Belmont (which terminated at Sutton. Both trains were three-coach birdcage sets hauled by H class as electricity was turned off third rail at night.
Cambridge and its railways. Norman Pattenden.
Working of Royal Train from Tottenham to Cambridge on 5 July 1847: how progress was reported by telegraph (cites account in Pictorial Times). See feature beginning page 400.
Severn Tunnel. Michael J. Smith. 574.
See letter by Piet Breiesheuvel on page 444 noting that tunnel was that at Pilning rather than Severn: further evidence for this plus comment on "longest" as compared with East Finchley via Bank to Morden
C.E. Stretton. Brian Orrell.
See letter from Stephen Duffell (page 444) and original feature page 218 and Stretton page: notes the extreme hostility between Stretton and Sekon: in 1896 failed to be elected to the National Railway Museum Committee and this led to a writ against Stretton from Sekon. But writer notes that some of Stretton's material may have had valid sources: there is evidence that the management of Vulcan Foundry provided Stretton with a listing of the first one hundred locomotives to be built there.
Elliot Junction. John Macnab.
See page 455; writer's maternal grandmother witnessed corpses from accident being brought into Arbroath. Also notes errors on map: no station at Elliot on Carmyllie branch (which terminated at Redford) and location of Victoria Bar. This letter led to response from Alistair Nisbet in Volume 20 page 62 which corrects some of assertions made in this letterr, notably location of quarries and existence of platform at Elliot Junction which could be used by Carmyllie trains.
'Cornish Riviera'. M.A. Knott.
A get-knotted sort of letter concerning the misdeeds of Michael (caption page 408): suggests that King William V should follow King Charles III!
The 'Royal Scots' and their weans. Terry Tracey.
See illus. on page 356 lower: notes the sheeted wagon attached immediately behind locomotive (and requests to know more); also notes that he worked as a railwayman at Mallaig in late 1970s and obsereved mixed train weorkings where tank wagons containing fuel oil for the fishing fleet were attached to the rear of the 16.35 from Fort William and 18.00 return passenger workings.
Mid-1960s on the London Midland Region. Walter Rothschild.
See feature on page 326: failure to retain infrastructure necessary to restore freight working in Britain, and how the Belgian and Dutch railways only carry freight from the great seaports of Antwerp and Rotterdam through to destinations outwith their borders. In Germany freight lines have been transferred to private operators to maintain a freight network.
Mid-1960s on the London Midland Region. David F. Williams.
See photograph on page 327 lower: location not as quoted but near Mochdre and Pabo signal box. Page 329 (lower) shows interior of new signal box at Denbigh installed shortly before the lines controlled were closed..
Evening departure from Derby. Cliff Woodhead. rear cover.
Peak D100 Sherwood Forester crosses River Derwent on Five Arches bridge on 19.10 slow train to Manchester Central on 14 April 1962. (first coach was a push & pull driving trailer).
BR Class 25 Bo-Bo No.25 151 climbs towards Diggle Junction. Brian Magilton. Front cover.
Passing former splitting distant signal at clear with an eastbound train of COVHOPS in September 1982. See also colour photo-feature and letter from Chris Jones-Bridger (p. 695) which suggests that train would shortly be running away on descent from Marsden to Huddersfield.
Wells, Jeffrey. The social experience of railways. 579.
Guest editorial composed on a Class 142 Pacer. Ponders how passengers are forced into close proxmity and digs through some earlier literary (Thomas Hardy's poem In a waiting room and James Scott's Railway romance and other essays, 1913: (Ottley 4100) and in art: George Earl's Perth station: coming south.
Celebrating Trafalgar! Notes on naval details by David Mosley. 580-2.
Colour-photo feature: Jubilee class included names associated with Nelson and with the Battle of Trafalgar: 45664 Nelson climbing Shap with down express in 1954 (J.D. Mills); 45645 Collingwood at Carlisle on 3 August 1963; 45675 Hardy in kissabled state at Holbeck mpd (Derek Penney); 45676 Codrington on 17.15 Euston to Northampton leaving Northchurch Tunnel in May 1964 (J.P. Mullett); 45742 Victory at Holbeck on 11 August 1963 (Gavin Morrison) and 45682 Trafalgar covered in steam (or is it gun smoke?) at Gloucester Eastgate in September 1962 (A.A. Jarvis). Colour-Rail involved in several.
Gibson, Fergus. The Railway Clearing House: hidden treasures uncovered. 583-7.
The means which the RCH took to make adjustments in the allocation of payments for the carriage of passengers and freight (including its classification) over the lines of more than one company. Illus. colour two Railway Clearing House maps: Aylesbury, High Wycombe, Princes Risborough, Quainton Road, & Verney Ashendon (post-Grouping) and Glasgow & District (Pre-Grouping). Black & white: approach to Fenchurch Street showing Midland Railway, Great Northern Railway as wee as Great Eastern Railway freight depots and lines leading to LNWR depot; Chard Central station formerly Chard Joint (GWR/LSWR), Railway Clearing House building in Eversholt Street; former NER J21 0-6-0 No. 65089 approaching Eden Valley Junction, south of Penrith on WCML on passenger train for Darlington on 14 June 1950 (Eric Bruton) and Stanier class 4 2-6-4T departing Bangor with train for Caernarvon and Afon Wen for Cambrian line. See letter from W.M. Tollan on page 695 on drawn-in (non-existent) lines and chords on the map of eastern Glasgow.
Syddall, Brian. Kidsgrove steam. 588-94.
On initial inspection this may seem like a typical Syddall contribution: a few of his photographs (taken in the late period of their operation) accompanied by excellent notes on the locomotives concerned, plus a few notes on the industries which they served. But in this case the industrial activities and the transport system which served the Kidsgrove area take precedence over the handful of photographs. Thus there is an extensive description of the Grand Trunk Canal, later the Trent & Mersey Canal and its promotors: Josiah Wedgwood (who needed transport for his raw materials and pottery), the Duke of Bridgewater, Thomas Gilbert and James Brindley. The Harecastle Tunnel had a major influence on future canal development as it had to be limited in dimensions to save cost. The tunnel also assisted in the extraction of coal which Thomas Gilbert was mining (together with iron ore) at Clough Hill, Nabs Wood and Birchenwood within the Kidsgrove area. Gilbert constructed White Hall on Clough Hill and when this passed to his nephew John Gilbert in 1798 he erected Clough Hall. The Gilberts were responsible for the development of Kidsgrove, but in 1809 the mining interests were sold to Thomas Kinnersley, a banker from Newcastle-under-Lyme. In 1840 his son, Thomas Kinnersley, erected four blast furnaces at Birchenwood. To link this industrial activity to the canal a narrow gauge tramway was constructed and included a rope-worked incline known as The Dragon (through the beam engine which powered it). The Kinnersleys were noteworthy benefactors to Kidsgrove. The Potteries Loop Line with its 1 in 40 gradients was opened by the North Staffordshire Railway in 1875. Thomas Kinnersley had employed Robert Heath as his manager, and his son Robert became an ironmaster in Biddulph, and in 1889 acquired most of the Clough Hall estate. In 1894 Robert Heath & Sons acquired a controlling interest in the Birchenwood Colliery Co Ltd and constructed a two mile private railway to link the Black Bull ironworks with Birchenwood. The coal seams were further exploited and beehive coke ovens were constructed at Birchenwood in 1896. In 1909 Simon Carves byproduct recovery coke ovens and chemical plant were installed and in 1912 the beehive ovens were replaced by German Carl Still ovens and this led to a weekly coke production of 4500 tons. This activity was the subject of a Royal visit by King George V and Queen Mary on 23 April 1913. In 1920 the Power Gas Corporation installed Mond Gas Producers to handle low grade coal where gas and chemicals were the main products and tank wagons were acquired to handle the chemicals. In 1925 a slag reduction plant was installed for road-making materials. The Mond gas plant was never as successful as had been expected and closed in 1929. The Heaths pulled out of the business in 1931 but the Birchenwood Coal & Coke Co. Ltd was formed by the local colliery companies to continue processing their output.Syddall considers that Robert Heath built sixteen locomotives at Biddulph (Lowe stated eleven), but these were not supplied to Birchenwood, although some appear to have worked there latterly..
Sparks, Andy. The old order at Manchester Victoria. 595-7.
Black & white photographs taken in the summer of 1980 showing the delabidated station, and its passengers, trains and staff (typically with a fag in their hands presumably bought from Finlays tacky kiosk). 25 093 waits to bank a pssing freight and 47 354 is heading towards Blackpool in pre-Pacer days (this picture also includes one of the unusual multiple four aspect colour light signals installed by the LMS). It is difficult to believe that club-car trains were running to both Blackpool and Southport in the early 1950s from the shambles which existed then and was still plying for trade in 1980.
Ludlam, A.J. Grimsby to Hull by train, tram and ferry. 598-605.
The Grimsby & Immingham Electric Railway was 6.8 miles long and started in Immingham as a street tramway at Corporation Bridge, but most of the system was laid as a railway on flat-bottomed rails. Power was supplied from the Immingham Power Station. The line opened on 15 May 1912. The town section was closed in 1955 and the whole line on 1 July 1961. The Great Central Railway purchased special purpose inter-urban type bogie vehicles, but these were augmented under British Railways by the purchase of secondhand single deck trams from Newcastle Corporation and from the Gateshead & District Tramways Company. These vehicles are tabulated. As implied in the title one coould travel from Grimsby to Immingham by tram, thence following a short walk board a train for New Holland. Unfortunately, the train service on this line was extremely limited. From New Holland it was possible to travel to Hull on either the Tattershall Castle, the Lincoln Castle or Wingfield Castle which were coal-fired paddle steamers. The ferry service ended on 24 June 1981 when the beautiful white elephant, the Humber Bridge opened. The ferries still survive. See also Ludlam's Railways to New Holland and the Humber ferries. Oakwood. See entertaining letter from G. Travis on page 765 who records an illicit journey by drunken Norwegian seamen on a "stolen" tram from Immingham towards Grimsby which was apprehended by the police at Pyewipe. Also notes that the ferries frequenly ran aground on sandbanks in the Humber..
Freight by Great Central. 606-7.
Colour-photo feature: 9F 92031 leaving Catesby Tunnel with up coal train on 2 March 1963 (remains of 1963 snow still much in evidence (Michael Mensing); V2 60847 St. Peter's School, York, A.D. 627 on "up"? fitted freight leaving Charwelton water troughs in May 1963 (Colour-Rail); 92071 on down empties passing Rugby Central in April 1963 (Paul Riley); O4/8 63674 south of Bulwell Common on mixed freight in August 1963 (D.B. Swale); 92091 passing Loughborough Central on up coal train (N.F. Ingram). See Editorial grovel (page 695) concerning location of Annesley, near Nottingham..
Standing in the Shadows. 608-9.
Colour-photo feature: mainly rather views taken inside stations: class 4 4-6-0 No. 75058 awaiting departure inside Southport Chapel Street with train of non-corriodor stock in September 1964 (Joe Richardson); two Stanier class 3 2-6-2Ts (40116 and 40078) await departure from Caernarvon for Portmadoc on RCTS special on 222 July 1962 (David Sutcliffe); Platform 1 at Paddington in 1962 at 17.40 (John Edgington); Brush Type 2 D5517 and N7 69614 at platform ends at Liverpool Street in 1960 (DS).
Along the Pennine Ways. 610-14.
Colour-photo feature: Two class 5 4-6-0s (45062 leading) on Newcastle to Red Bank sidings newspaper parcels vans empties passing Mirfield in August 1966 (note speed colour light signalling) (David A. Hill); Fowler class 4 2-6-4T No. 42394 on empty stock at Halifax on 1 November 1965 (David Idle); class 5 45131 emerging from original Standedge Tunnel with eastbound freight on 25 July 1966 (Bruce Oliver); Patriot 45517 on Leeds/Bradford to Liverpool Exchange express (see Editorial correction page 765: train is 10.30 Liverpool Exchange to Newcatle) on Luddendenfoot water troughs on 20 April 1961 (Gavin Morrison); WD 90620 hauling empty wagons on Low Moor triangle on 25 July 1966 (BO); Britannia 70038 Robin Hood crossing Saddleworth Viaduct with return special from York on 2 July 1967 (DAH): see letter from Kevin Jones (page 765) noting that "canal" was River Tame and earlier use of Britannia Pacifics on route; Jubilee 45647 Sturdee passing Longwood on climb to Standedge with Leeds to Llandudno holiday extra on 20 August 1966 (GM); class 5 44694 on eastbound express passing Hebden Bridge in summer of 1966 (Derek Penney); Trans-Pennine five-car (not six as per caption) DMU passing Milnsbridge climbing towards Standedge on 9 September 1966 (note buffet car and roof boards)(GM); 47 456 crossing Gauxholme Viaduct with diverted Trans Pennine express on 5 August 1984 (GM) WD 90047 passing Hall Royd Junction in January 1967 (Brian Magilton); 47 448 Gateshead on Mk II stock in Regional Railways livery on Newcastle to Liverpool express at Mirfield on 1 May 1989 (GM). Further installment od Pennine pictures Vol. 20 page 98 et seq
North Eastern Grit. Bruce Oliver (phot.). 615
Colour-photo feature all taken 28 July 1966: staiths at North Blyth with collier Queensland alongside (caption notes that 6.8m tons of coal were handled in 1961; J27 65809 passing Ashington with short freight and 65819 at Cambois shunting wagons into CEGB power stqation.
Rutherford, Michael. 1905 and Churchward's revolution on the GWR. (Railway Reflections No.115). 616-26.
Begins with an anecdote concerning the writer's failure to see the 0-10-0 Big Bertha working on the Lickey Incline and his introduction about fifty years ago to the writings of O.S. Nock and to the RCTS series Locomotives of the Great Western Railway seen in reference libraries (what hope now of that). Also roundly condemns British steam railways and how they shaped our history, No. 5, 6100 Royal Scot for its inaccurate statements. This is given as a pretext for the writer returning to Churchward's remarkable revolution before the rug was pulled from under his feet probably by the resignation of Earl Cawdor from the Chairmanship and his eventual replacement by Viscount Churchill who demanded tighter financial control. Rutherford argues that Churchward's great advances were carried on the back of a huge capital investment programme which followed the end of the broad gauge and the emergence of strong external competitive pressures: this programme included the South Wales direct line; the new mainlines from the Midlands to London and the South West and the development of Fishguard. These new lines needed new motive power to haul the improved rolling stock (corridors, dining cars, and fitted freight) to ensure that traffic growth matched the capital invested. As usual with Rutherford theree are many illuminating small comments (on Churchward's intimates for instance) and in useful tabulations: Table 2 Experimental and prototype boilers; Table 3 Protype locomotives and Table 4 Production of Churchward standard locomotives and total GWR stock on an annual basis 1902 to 1926. Rutherford sadly comments that within sixty years the products of the revolution had gone to scrap (and some of the vast new works had either gone or were under-used).Illus: (colour): F. Moore: No. 175 Viscount Churchill and 2949 Stanford Court on up express from Birmingham near Ruislip with crimson lake train. B&w: 2907 Lady Disdain at Bristol Temple Meads, 2-6-2T No. 3112 in post-1911 condition on Severn & Wye Excursion. Drawings of 5ft 8in 4-6-0 and 6ft 8½in 4-4-4T (unfulfilled) and 4ft 1½in 2-6-2T (not quite as fulfilled) and 5ft 8in 4-4-2T (to become No. 4600)
Hughes, John C. The Liverpool Central Station Railway. Part One. 627-31.
In the initial stages the LNWR was involved, but the railway was eventually promoted for the GNR and MSLR by the engineer John Fowler and the contractors Waring Bros. as a speculative venture, but was actually constructed by the Cheshire Lines Committee (with the involvement of a third partner, the Midland Railway). The approach from Brunswick was difficult to construct due to the tunnels through hard rock and blasting had to be limited as it was an urban area. The intermediate station at St James was between tunnels and the platforms may have been hewn from the roack. The station site was constricted. On 26 December 1882 the retaining wall backed by Back Bold Street collapsed following heavy rain and it was found that some of the station structure had to be reinforced. In 1888 the MSLR (New Railways) Act sought to construct a link from Huskisson goods station into the Mersey Railway, but this was not supported by the MR and GNR and failed to be constructed. A highly competive fast train service was operated to Manchester with a time of 40 minutes via the Warrington cut-off. The MR ran Pullman sleeping cars to St Pancras and both the MR and GNR operated expresses to their adjacent stations in London. The MSLR and MR tended to use 4-2-2s for thier fast services. Part 2 page 752.
Farr, Keith. The workmen's trains of Swindon. 632-3.
The best known of these were provided to and from the Highworth branch, but there were also services to Purton (latterly Kemble), Wootton Bassett, and the one used by the writer to the Old Town on the former MSWJR where the train divided with the front going forward to Chiseldon and the rear dor Cirencester Watermoor. This first appeared in North Star "three years ago"
Cole, Beverley. Railway golfing posters. 634-5.
Five wonderful colour reproductions relating to one of Scotland's greatest inventions: North Berwick by Andrew Johnson, c1930; St Andrews by Michael 1937 (both LNER); Golf in Northern Ireland — Portush by Norman Wilkinson c1925 (LMS); Cruden Bay by Tom Purvis (LNER c1930), and The Yorkshire Coast by Austin Cooper (LNER c1935). The last is in a very different style: golf seems somewhat pedestrian compared with flirting on the beach or making an advance at tennis. The others portray golf in a romantic but serious style. Text includes an extract from Bernard Darwin from The Times of 1932 on the arrival by train for a golfing holiday. Arthur Chadwick (20 page 62 noted that golf course at Cruden Bay is very highly regarded and forms part of rounds of many American visitors, also special first class fares for golfers (no business permitted) provided by North Eastern Railway. W. Tollan (20 p. 126) notes the development of Turnberry and its remarkable railway. See also later article on same subject: Volume 29 p. 582.
Readers' Forum. 636-7.
LNER racehorse names. Christopher Tyas.
Refers back to correspondence by Geoff Hughes and Reg Davies on page 572 and original feature on page 333. Suggests that the writers failed to note the significance of Doncaster and York in terms of horseracing: he might also have noted that Newmarket was on the LNER.
LNER racehorse names. Dennis Postlethwaite.
Refers back to original feature on page 333. Letter writer's favourite A3 was No. 2744 Grand Parade named after the 1919 Derby winner owned by Lord Glanely (writer questions who Lord Glanely was and receives reply from Geoff Skelsey on page 695) . With gay abandon the writer notes a number of inappropriate couplings of the sort favoured by Steam World, but it may be noted that double-headed Pacifics were extremely rare and their use as bankers was something which only light Pacifics resorted to. [KPJ very surprised that Norman McKillop's Spearmint failed to be mentioned].
But can you prove it...? L.A. Summers.
See especially the highly respected locomotive historian (J.T. van Riemsdijk's) letter on page 507 and his comments on Summer's comments on Chapelon (page 311) and his presence in Vichy France during WW2. In this letter comments upon Rogers' biographies of Chapelon ("a ghosted biography"; in which case can Summers state who wrote the book for Rogers) and of Churchward. See also Rogers page. He also attacks the Ian Allan organization largely on the basis of rejecting his manuscripts. He also notes a lack of ability at French which would appear to be a serious fault in attempting to assess a very great French engineer.
The 'Royal Scots' and their weans. George W.F. Green.
See illus.
The 'Royal Scots' and their weans. C. Taylor.
See Rutherford article on page 487: mentions that Jack Francis designed a riveted thermic syphon [siphon] for the enlarged Claughton boiler.
The North Devon & Cornwall Junction Railway. Walter Rothschild.
See feature on page 548.In Bert Dyke's memoirs there is a note on the service being operated in 1955 by the E1/R class. Watergate Halt was rarely used and passengers were very limited. All trains were mixed. Halwill Junction generated practically no passenger traffic: the station was mainly used for the exchange of traffic between lines.
The view from Paddock Wood. George Matthews. 637.
See feature on p. 468. The Hawkhurst branch was used as the setting for a children's television series in 1959/60 known as The Old Pull & Push: Goudhurst was known as Cowdhurst in the series.
Compound expansion. Adrain Tester.
Response to letter by Dennis Lorriman (p. 572) and led to further letter from Lorriman on page 318 of Volume 20. Although it was possible to alter the cut-off of the high pressure and low pressure cylinders separately on MR compounds numbers 2631 and 2632, this ability was not perpetuated on the later engines (either MR or LMS) as it made them difficult to control. This resulted in some loss of performance, especially at high speed
Book Reviews. 638.
The Yarmouth train. Malcolm R. White. Author. TJE **
"A useful book spoilt by poor presentation".
Ryde by steam. Volume 2. Andrew Britton. Medina Books. KH *****
"an excellent publication"
Manchester Victoria station. Tom Wray. Lancashire & Yorkshire Railway Society. MB ****
The reviewer from Bury clearly has an affection for the station (KPJ was a commuter through the neighbouring Exchange where squalid was a far too affectionate expression to describe the draughty horror). He fails to report why a fifth star was not awarded.
Scenes from the past: No. 26 (Part 5). Kirkham to Blackpool (North) and Fleetwood. Stuart Taylor. Foxline. MB ***
"wallow in nostalgia": three stars for Blackpool, two for poor old Yarmouth!
Under Chester's signals. David A. Hill. rear cover
BR Caprotti class 5 73142 hauling a freight? passes under LNWR signal gantry inn August 1965.
GWR '45XX' 2-6-2T No.5520 calls at Tenby on 22nd August 1959 with the Saturday 8.50am Paddington-Pembroke Dock, the leading carriage being an unlikely LNER vehicle. Martin Welch. front cover
Deceived by the spin. Michael Blakemore. 643.
Editorial. Clearly Master Blakemore had not been to bracing North Norfolk: "It's not been a bad summer!". September was glorious, but July and August were dreadful in the Far East
In the mountain greenery: photographs of the West Highland Line. John Spencer Gilks. 644-5.
Colour photo-feature: Class 5 44968 hauling northbound freight at Coire Thòin north of Tyndrum with Ben Doran in background on 14 July 1961 (from front and rear);Class 5 on southbound passenger train on Horseshoe Curve crossing Gleann Chaillean viaduct on same day; Class 5 44702 heading for County March with Glasgow-bound train with two fish vans at rear and train including LNER corridor articulated twin (page 645 middle) John Macnab 20 p. 62 notes that the articulated twin (TSO E13162/3) formed part of the original tourist sets of 1933; and on 12 April 1971 with two class 27s heading north and at least one heading south at Crianlarich with rail blue rolling stock and some snow on hills.
Thrower, David. Southern gone west: The North Devon & Cornwall Junction Light Railway. Part 2. 646-52.
Part 1 began on page 548. The train service and motive power: E1/R and Ivatt 2-6-2Ts. The most exciting day in its existence was when the Atlantic Coast Express was diverted over the line due to the direct line to Okehampton being blocked by snow sometime during the severe 1946/7 winter. Illus.: colour Halwill Junction with 18.30 for Torrington departing behind 22 August 1964 (and two other trains in station (Peter W. Gray and next two); two views of Exmoor Ranger RCTS excursion hauled by 41206 and 41291 on 27 March 1965 at Venton Cross and at Meeth; and enthusiasts' excursion formed of two 4-TC sets, a buffet car and two class 33 locomotives at Meeth on 16 March 1975 (J.S. Gilks); black & white: Halwill Junction with 41283 on 10.52 to Torrington and 80038 on train for Bude (PWG); Petrockstow on 28 September 1956 (H.C. Casserley); E1R 32608 on freight at Petrockstow on 24 May 1952 (T.J. Edgington); Dunsbear Halt on 20 May 1956 (J.S. Gilks); 41216 departing Hatherleigh towards Torrington (TJE); 41295 with on mixed trasin crossing 41298 with another train at Paetrockstow on 23 August 1956; Hole for Black Torrington on 28 September 1956 (HCC), and Exmoor Ranger approaching Torrington (PWG)
Smith, Michael J. Human error at Hampstead: the story of the Metropolitan Railway's first fatal accident. 653-9.
Collision between two multiple unit electric trains in fog on Saturday 26 October 1907 led to three fatalaties. Based on Board of Trade accident report conducted by Major J.W. Pringle.
Rutherford, Michael. F.W. Hawksworth: last of the few. (Railway reflections No. 116). 660-9.
Includes internal Swindon report on The Locomotive in France (based on Chapelon's publications prepared in 1939), internal awareness that the King class was greatly lacking in comparable performance, Hawksworth plans to fit a Hall class with an 8F boiler; some consideration of outside valve gear for the Hall clas, a proposal to convert the 42XX 2-8-0Ts to tender locomotives, the Pacific, the gas turbine locomotives, oil firing, the County class, higher superheat and all those pannier tanks. Like Beames Hawksworth had been a rugby player. The Hawksworth passenger rolling stock, especially its bogies, receives commendation. See also letter from Robert Barker in Vol. 20 page 126 which notes the limitations of Hawksworth's driving skills during the General Strike (but he was a rugby player)..
They came to Rainhill. Tom Heavyside (phot.). 670-1.
Colour photo-feature:: 150th anniversary of the Liverpool & Manchester Railway during 24-26 May 1980:
King's Cross for the North. 672-5.
Colour photo-feature: A4 60030 Golden Fleece backs out having worked up Elizabethan in August 1961 (Douglas Tritton); A3 60047 Donovan departs on express in August 1961 (A.C. Sterndale); A1 60115 Meg Merrilies at buffers of Platform 1 having arrived with Yorkshire Pullman on Saturday 21 July 1962 (Geoff Rixon); 60067 Ladas backs out on 1 September 1962 (GR); 60061 Pretty Polly heads north in August 1961 (ACS); 60015 Quicksilver arrives on express from from Newcastle on 1 September 1962 (GR); 60003 Andrew K. McCosh backs onto 15.55 to Leeds on 30 June 1962 (GR); 60130 Kestrel backing onto morning northbound train in 1961 (B.J. Swain) and 60145 Saint Mungo on afternoon train for Newcastle with carmine & cream coach at front. (some Colour-Rail).
The GWR '45XX' prairie tanks. 676-9.
Colour photo-feature: 5537 on B set at Penmere Platform on 09.05 Truro to Falmouth on 18 May 1959 (Michael Mensing); 5572 at Lostwithiel (actually Fowey) see letter from Roger Taylor (V. 20 p. 62) with freight for Rowey on 23 September 1960 (R.C. Riley); 4593 departing Truro with Falmouth train on 8 April 1960 (two carmine & cream corridors) , also note yellow shunting disc signal and 5537 at Perranporth on 23 September 1960 (both RCR) and 5574 at Barry Pier station with two auto-trailers on Stephenson Locomotive Society special on 13 July 1957 (T.J. Edgington); 4569 at Bodmin General on 18 May 1959 (MM); 4588 waiting to leave Helston on 16.10 on 15 May 1959 MM); 4564 on train of Oxfits loaded with broccoli at Gwinear Road on 9 April 1960 (RCR); 4588 at Helston (another view MM); preserved 4555 on real freight passing through Snow Hill station on 1 May 1965 (TJE).
Grayrigg. 680.
Colour photo-feature: Britannia 70005 on parcels train in July 1964 (David A. Hill); class 5 44917 leaving loop at Oxenholme with banker on freight in August 1967 (DAH); and 45593 (formerly Kolhapur - no name) decending bank with passenger special on 30 April 1966 (Derek Penney).
Robinson, Peter. The Wartime crisis on the Furness Railway. Part 1. 681-8.
1916 was a critical period during WW1: there was a shortage of munitions and as the Barrow area was a key area for the production of iron and steel for conversion into munitions the Furness Railway and its staff were closely involved in this crisis. Part 2 page 758.. See also letter from Tom Wray (Volume 20 p. 190) on quantitities of haematite ore to produce rails.
Allen, Jonathan. Loughrea: 30 years gone. 689-91.
The line from Attymon Junction to Loughrea, when closed on 1 November 1975, had been last to operate mixed trains on the Irish CIE network. It was also the last surviving Baronial line where the County Council had guaranteed the shareholders' dividend. See also letter in 20 page 62 from Stephen G. Abbott on use of electric storage heaters to save the little Deutz locomotive from excessive effort, also the substantial number of passengers on the train in 1967. Illus. (all by author): General Motors Class 181 Bo-Bo No. 188 arrives with morning Galway Mail with Travelling Post Office and steam heating van in September 1975; G class Deutz diesel hydraulic No. 616 on passenger workings.
Horne, Eric H. Kimbolton recalled. 692-4.
Memories of Kimbolton station (on the LMS Kettering to Cambridge route) in the 1930s, and of the town (with its Castle and Public School).
Readers' forum. 695.
Great Central geography lesson. Editor.
See page 606: Annesley is north of Nottingham, "not" Leicester (KPJ actually it is!)
Hidden treasures — the Railway Clearing House. W.M. Tollan.
See map of Glasgow area (p. 583): map shows lines which were never built. As the map also shows the location of the ultra-green turf at Celtic Park this supporter observed that the footplate crews of freights used to crawl past to observe the game.
The Chessington branch. Roger Whitehouse.
See feature p. 557: three trains per hour on every day, including Sunday, until 1958.
Remininiscences of a BR surveyor. W. Taylor.
See article by Flann on page 463: notes that many of the linen plans are still stored and that the boundaries marked are still significant, noting the effect on a potential landfill developer near Shirebrook and on the extension of the North York Moors Railway to Pickering which might have been adversely affected by a clause in the original Whitby and Pickering Railway Act.
LNER racehorse names. Geoff Skelsey.
See letter from Dennis Postlethwaite on page 636 questioning identity of Lord Glanely (who was a South Wales industrial magnate, formerly Sir William Tatham, who had a country home at Exning near Newmarket).
LNER racehorse names. Geoffrey Hughes.
See feature on page 333 and correspondence from GH on page 572: suggests that Gresley was probably the driving force in the selection of the names. also reminds us that RCTS Locomotives of the LNER Part 2A (Appendic C page 218) has a list of the origins of all the names (including Spearmint not mentioned until now) which was compiled by Willie Yeadon. See further letter from John C. Baker (20 p. 62) on the names Lemberg and St. Simon..
Cover picture — October. Chris Jones-Bridger.
Suggests that 25 151 was probably on its final run when picture taken as train ran away between Marsden and Huddersfield and had to be diverted into Hillhouse Yard. Date of accident was 3 September 1982.
Book reviews. 696.
A history of North Eastern Railway architecture. Volume 3. Bell and beyond. NERA. RH *****
If the book is as good as the review then it must be exceptionally good.
The landscape trilogy, the autobiography of L.T.C. Rolt. Sutton. RH. *****
The review is another exceptionally good read, but has it taken four years to prepare? This combined edition of Rolt's autobiographical works appeared to emerge in 2001. See also Rolt page.
The little book of civilisation. Institution of Civil Engineers. RH ***
According to reviewer puts a 'green spin' on civil engineering. Projects considered include Jubilee Line and Channel Tunnel.
Highland Railway: people and places. Neil T. Sinclair. Breedon. GS *****
"outstanding value for money"
Bennett, Alan. Cornwall: half-foreign land. 697-702.
Exploration of the area through the GWR and Southern Railway holiday literature. Colour illus. art work in 1934 Holiday Haunts entitled Cornish Riviera (internal divider) and showing Land's End; cover for GWR The Glorious West (1933) brochure; cover for S.P.B. Mais Winter in the West (GWR 1929) and cover for third edition (1934) of Mais The Cornish Riviera; Tregenna Castle Hotel advertisement; Legend Land including map inside; frontispiece for 1939 Holiday Haunts (with lots of ladies with plywood surfboards sporting in the surf: Mrs KPJ still likes to take hers into the North Sea at Sheringham) and bookmark of St Michael's Mount.
A Somerset country junction. Paul strong. rear cover.
Dulverton with 43XX on train from Barnstaple bound for Taunton.
Number 12 (December 2005) Issue No. 176
SR 'Merchant Navy' 4-6-2 No.35030 Elder Dempster Lines heads the down 'Bournemouth Belle' away from Clapham Junction in September 1964. (Derek Penney). front cover.
All is calm, all is bright. David Blakemore.
Editorial thanks to those who assist in keeping Backtrack on the rails.
As it was on the Scarborough line. Eric Saunders (phot.). 708-10.
Colour photo-feature: type 45 hauling 15.15 Scarborough to Glasgow passing through curves at Kirkham Abbey on 12 July 1980; two Class 104 DMU four-car units on 10.43 York to Scarborough on 27 July 1975 leaving Malton; 47 303 heads 09.51 York to Scarborough past Burton Lane signal box on 19 July 1975; class 47 on return excursion heading towards York in 1975 passing NER lower quadrant distant signal at Haxby; 40 078 crossing River Ouse by Scarborough Bridge on 19.29 Scarborough to Wakefield on 10 July 1980; class 101 DMU in off-white and blue livery passing remains of Kirham Abbey staion on 12 July 1980; 31 119 approaching Burton Lane Junction with freight from Scarborough on 1 August 1975.
Baker, Michael H.C. Ashford. 711-17.
During the lifetime of the author the station at Ashford has grown from being a major junction for services in the East of Kent (including those serving Folkestone and Dover for cross Channel ferry services into a major junction with high speed line from London to Paris and Brussels via the Channel Tunnel. This article is mainly concerned with personal memories of the steam railway of the 1950s and its gradual displacement by electric, and to an extent, diesel electric traction. Nevertheless, the article ends with a reminder of the exciting present where Lille is less than an hour away.Illus. (colour) train spotters gather around BR type 2 No D5000 at Ashford on 28 July 1959; terminus at New Romney with train on 19 August 1960 (both Rev Hedley Sparkes: author does penance in 20 page 254): black & white: F1 class 4-4-0 of the SECR on a Kent Coast express c1910; L1 No 31789 on Ashford shed in May 1955; soldiers rescued from Dunkirk in June 1940 at Dover; locomotives under repair at Ashford works (BR period); Schools No 30936 Cranleigh leaving Tonbridge on 3 June 1961; King Arthur No 30800 Sir Meleaus de Lile with small tender on Ashford shed in May 1955; Schools No 30903 Charterhouse and Britannia No 70014 Iron Duke on Golden Arrow c1953; WW1 troop train of SECR carriages at Canterbury West ; Preserved BR class 4 No 75069 at the Ashford station on 30 May 1992.
Johnson, E.M. 'The 'Flying Scotsman'1938 train and celebrations. 718-24.
The fiftieth anniversary of the 1888 race to Edinburgh was used as one of the elements in a major publicity drive to amrk the introduction of new rolling stock for the Flying Scotsman train in 1938. To demonstrate the advance of travelling comfort on the ECML a train of vintage six-wheelers was prepared in East Coast Joint Stock livery and Stirling eight foot single No. 1 was overhauled and used to haul it, initially on a train on 30 June from King's Cross to Stevenage where the press and invited guests joined the new train for a demonstration run. Johnson describes the new train at some length, noting the pressure ventilation, the liberal use of Rexine, the colours of the upholstery, the ladies' retiring room and the buffet car additional to the normal restaurant car. Stock was provided for through carriages to Glasgow, Perth and Aberdeen. Subsequently, No. 1 was briefly placed on exhibition at Edinburgh, Newcastle and York and used on excursions from Manchester (to Liverpool), and from Norwich to Yarmouth and Ipswich.. Illus.: LNER No 4472 Flying Scotsman on Flying Scotsman train climbing past Holloway on 1 May 1928 (H. Gordon Tidey); The Flying Scotsman in 1888 hauled by Stirling Single No 53 passing Holloway station; No 4498 Sir Nigel Gresley on Flying Scotsman near Naburn in 1938 (Cecil Ord) Stirling No 1in 1901 at Peterborough; preserved Stirling No 1 in 1938 on the special for Stevenage stands at King's Cross on 30 June 1938; restored coaches; another picture of No 1 leaving King's Cross; on a special to Cambridge in 1938 near Knebworth? and on 21 September 1938 on a special to Liverpool Central leaving Manchester Central (Gerrald Harrop). Sadly no pictures of two "Flying Scotsman" trains at Stevenage: see Hughes: LNER (page 139): marvellous for the number of "well knowns" visible: obviously Sir Nigel, but also C.J. Allen, R.A. Thom and L.P. Parker (Error in caption: states Hitchin!). Further letters in Volume 20 page 190 from Peter J. Rodgers on extant pressure-ventilated buffet lounge car owned by Gresley Society Trust at Kirkby Stephen East and extant Stirling (for Single No. 1), and for date of photograph of No. 4498 (1939) (from B.J. Harding).
Andrews, David. "From our own Correspondent". [Charles Rous-Marten's account of City of Truro's exploits in a Wellington (New Zealand) newspaper, The Evening Post on 17 June 1904]. 725-30.
One of the more puzzling aspects of this account (as perceived over a century later) is that in the report Rous-Marten notes the use of radio to report the passing of the Kronprinz Wilhem off the Scilly Isles to Plymouth via The Lizard, but that his report of "the epic railway journey" took from 16 May to 17 June to appear in print in New Zealand. Moreover, the report as reproduced herein makes no reference to Wellington, Somerset as the location of the record speed. An e-mail from the Author (who read the New Zealand accounts at the Newspaper Library in Colindale) notes that the cost of telegraphs at the time would have precluded an extensive report being made by that means. The article is illustrated with pictures of the Kronprinz Wilhelm and the Philadelphia (associated with the fast run made by Duke of Connaught on 30 April 1904. These can be inspected on the Internet at www.greatships.net. The locomotive: carrying its post-1912 number of 3717 City of Truro at Shrewsbury (in 1920s?); as restored to running order in 1957, City of Truro on the turntable at Swindon on 16 June 1957 (T.J. Edgington); at Newbury in 1957 when in service between Didcot and Southampton; and in colour at at Winchester Chesil in May 1957 (TJE); and approaching Birmingham Snow Hill on 16 June 1957 with SLS special (TJE). See letters in Issue 3 (2006) on page 190 from Andrew Ward concerning errors in captions relating to Kronprinz Wilhem.and from David W. Green who had travelled behind (and on footplate of) City of Truro whilst commuting between Eastleigh (where he was an apprentice) and Winchester.
East is East. 731-3.
Colour photo-feature: three more of George W. Powell's photographs in the Colour-Rail collection, supported by work of other photographs (names noted within parentheses): D16/3 62618 (with burnished smokebox door rim and in BR lined black) at Sudbury on Cambridge to Colchester train with horsebox, Thompson non-gangway coach with lavatory and corridor in artificial teak finish and Gresley non-corridor brake third? still in teak livery: B12/3 61576 in BR lined black in highly burnished condition on Railway Enthusiasts' Club Suffolk Venturer special at Colchester on 30 September 1956; D16/3 62546 Claud Hamilton at Yarmouth South Town shed (B17 behind) in May 1956 (Bruce Chapman); J19 No. 64657 at Long Melford on very short pick-up freight in July 1959 (Powell); D16/3 62610 on turntable at King's Lynn on 23 June 1958 (R.C. Riley); J68 68649 shunting at Stratford in 1955 (BC) and B12/3 61572 and J15 65462 at Norwich shed on 31 May 1961 (RCR)(and both still within earshot on NNR). See also letter from John Watling (Volume 20 page 190) on dismissive mention of Lord Claud Hamilton, the Director and Chairman of the Great Eastern Railway and of the locomotives named after him: both assisted in decreasing the isolation of North East Norfolk and bringing London nearer to the Continent..
Pick-up goods. 734-5.
Colour photo-feature: 80093 with van and brake van on Killin to Callander at Balquidder on 9 October 1964 (J.S. Gilks); 75048 crossing Kent Viaduct with tank wagon and three open wagons on 2 August 1968 (David A. Hill); ex-CR Jumbo 57441 shunting at Kirriemuir with horse-drawn truck of coal being taken out of yard (G.H. Hunt); B1 61018 Gnu shunting at Ruswarp in May 1964 (J.S. Gilks) and N class shutnting coal wagons at Banstead on 24 May 1962 (JSG).:
Roaming through Galloway. Michael Mensing (phot.). 736-9.
Colour photo-feature: 45254 passing site of Lochanhead station with 09.05 Stranraer Town to Dumfries; Class 4 2-6-4T 42689 on 16.51 Kirkcudbright to Dumfries crossing River Dee at Tongland on 11 July 1963; 45432 and 45351 on 13.40 Stranraer Harbour to Dumfries train near Urr Viaduct on 13 July 1963; 44935 departing Stranraer Harbour with 13.40 to Dumfries on 12 July 1963 (Loch Ryan in background); 44675 approaching Gatehouse-of-Fleet station with 08.57 Castle Douglas to Stranraer on 16 July 1963 (with second view of photographer's white Ford); 44995 (tender first) on 08.00 Kircudbright to Dumfries north of Tarff on 20 July 1963; Class 4 2-6-0 76073 crossing River Dee at Tongland bridge on 18.00 Dumfries to Kircudbright on 13 July 1963, and 76073 on local goods from Kirkcudbright to Dumfries in golden light of summer evening.
Hill, Keith. A vision of splendour: the story of the 'Bournemouth Belle'. 740-51.
The Southern Railway introduced the Bournemouth Limited in 1929 to enable the ricer citizens of Bournemouth to enjoy a day in London. In 1931 the Bournemouth Belle was introduced to provide luxury travel from London to Bournemouth and back. New third class Pullman cars were built for the service and note is made of the coloured rubber tiles used for the flooring (in 1931 luxury was obtained at rock bottom prices as the price of rubber had fallen to its ultimate depth). In typical twenty first century fashion Hill considers that the flooring was a potential death trap in the event of fire, but KPJ will disist from going on at length for the failure of the "new generation of writers" to place themselves in the context of the times (not so very long before then there were no brakes on the trains!). The inaugural Bournemouth Belle got off to a poor start on Sunday 5 July 1931 due to a late locomotive substitution and delays en route, but the return journey arrived on time. In 1932 the train only ran during the week during summer, and on Sundays only for the remainder of the year, but in 1936 the train became a daily one as it did when reinstated on 1 October 1946. Initially Merchant Navy class Pacifics were used. In Festival of Britain year (1951) Britannia class Pacifics were used. When the Bulleid Pacifics had to be withdrawn on temporary basis Hill suggests that both class 5 and V2 classes were used to haul the prestige train. The very last Bournemouth Belle was hauled by D1924 on 9 July 1967 The writer notes that it was "a child of its time" with its low rolling stock utilisation, but fails to add that it was aimed at a class of person which now expects other people to travel by train. Illus. (colour including Townroe of 1951 unless stated otherwise)Merchant Navy 35014 Nederland Line leaves Southampton Central in 1954; Rebuilt WC 34017 Ilfracombe with the 'Belle' at Raynes Park in 1961; Rebuilt MN 35020 Bibby Line runs into Bournemouth in August 1960; Rebuilt MN 35030 Elder Dempster Lines at West Byfleet in 1964; Britannia 70009 Alfred the Great in Branksome yard in 1951 (S.C. Townroe) ; Southern Railway Lord Nelson No 856 Lord St Vincent nears Surbiton in 1930s (A.C. Cawston b&w); immaculate locomotive & train hauled by 35022 Holland-America Line passing Basingstoke on 12 September 1964; grubby rebuilt BB 34071 601 Squadron at the head of clean train passing Esher on 29 March 1966 (Geoff Rixon); Southern Railway King Arthur 780 Sir Persant standing in for normal Lord Nelson at Lyndhurst Road on 6 October 1936 (O.J. Morris b&w); Lord Nelson 861 Lord Anson passing Walton-on-Thames in 1938 (C.R.L. Coles b&w): all remainder black & white:21C13 Blue Funnel waits to leave Waterloo on 15 July 1947 (J.P. Wilson); 21C159 still to be named Sir Archibald Sinclair at Waterloo on 16 July 1947; 21C15 Rotterdam Lloyd hurries through Wimbledon in 1947 (C.R.L. Coles); 70009 Alfred the Great waits to leave Bournemouth in July 1951 (W. Rogerson); 35016 Elders Fyffes passes under the signal gantry at Hook on 8 May 1954; o 34002 Salisbury passing the car sheds at Wimbledon on 8 November 1964 (Brian Stephenson); dDiverted over the Mid Hants line BR class 3 77014 pilots an equally dirty unrebuilt WC 34012 Lapford near Ropley on 18 September 1966 (Brian Stephenson); 35022 Holland-America Line passing Woking on 13 September 1964 (Brian Stephenson). See also letters in 20 page 62 from Lewis F. Cobb Christchurch Priory not Abbey and some of Castleman's Corkscrew is still extant: Lymington Junction to Northam Junction. On page 126 (Vol. 20) there is Charles Long informative letter which notes theat rubber tiles were not a hazard, but that the canvas roofs and gangways were a potential fire hazard and that most of the Pullman cars were still timber-framed as late as the early 1960s. Noted that Pullman cars could not be hauled into Waterloo by 4-6-0 or 4-6-2 locomotives with the smokebox adjacent to the cars due to the risk of buffer locking. Both Long and Nick Wellings (also page 126 (20)) note the origins of the name of 21C19 French Line C.G.T. (la Compagnie Générale Transatlantique).
Hughes, John C. The Liverpool Central Station Railway. Part Two. 752-7.
Began on page 627: through Great Central and Midland services to London: two of the Midland expresses managed the journey in under four and a half hours. The GCR ran through trains to Hull and to Harwich, and from 1902 to Lowestoft, Yarmouth and Cromer. A considerable amount of emigrant traffic came via Hull for the United States and in 1893 this was noted by the Liverpool Health Committee. The Midland also ran services intom East Anglia. The Adelphi Hotel was replaced by the Midland between 1911 and 1914 in the hope of attracting liner traffic. On August Bank Holiday Monday in 1893 there was a collision between a light engine and an excursion train at St. James due to smoke and fatigue due to excessive hours. Sites were acquired for additional ventilation shafts into Central Tunnel, but these were not constructed. Robinson constructed two class 5A 0-6-0Ts with condensing apparatus in an attempt to alleviate the smoke problem. On 24 August 1911 another collision occurred due to poor visibility. On 15 October 1913 there was a serious collision between two expresses at St James due to signalmen error and this caused seven deaths: the inquiry was conducted by Colonel Druitt. The LMS had no real interest in Midland route services. The LNER continued to provide GCR motive power, but from 12936/7 larger locomotives, including B17 claass and Ivatt Atlantics appeared but a K3 (No. 3817) caused extensive damage to the coping on Platform 1 on 4 October 1937. Colour light signalling was installed in the mid-1930s and in 1930 a control room was established. There was damage during WW2. The American airbase at Burtonwood led to some exotic traffic. The assorted ex-LNER 4-4-0s were replaced by LMR 2-6-4Ts and in turn by DMUs with diabolically rough riding according to Nock. Beeching arranged for services to be switched to Lime Street. The Central Tunnel now provides a route for services to Hunts Cross from Southport and Ormskirk.
Robinson, Peter. The Wartime crisis on the Furness Railway. Part Two. 758-63.
Part 1 began on page 681. There was a severe shortage of motive power (reported to the Board on 12 January 1917) but locomotive manufacturers were unable to fulfill orders due to the pressure of War work: firms contacted included Hawthorn Leslie, North British Loco and Kitson & Co. Winter steamer sailings on Lake Windermere had to be wiithdrawn and this caused protests from local people. There was disagreement between Pettigrew and Rutherford over the use of electric capstans for shunting and on the Pettigrew 0-6-2Ts causing damage to the track. Derailments appear to have been frequent. Seemingly this led to the early retirement of Pettigrew. One measure adopted but possibly not implemented was to allow NER locomotives to work through to Millom. Train control was introduced by Aslett in early 1918 to assist in reducing congestion. The writer implies that the Rutherford 4-6-4Ts were indeed his work and suggests that their introduction stemmed from the departure of Aslett. Includes excellent potted biographies of Alfred Aslett (with portrait), William Frank Pettigrew (with portrait), David L. Rutherford and Lionel Speakman.
Campling, Nick, Rolling Stock Focus : LMS stock from the 1930s. 764.
Colour photo-feature: Period 1 corridor third (1926) SC1354M at Inverness in 1952 in carmine & cream livery; Period III corridor third M1696M in Maryport & Carlisle set at Carlsle on 28 August 1965; and articulated corridor brake first M56002/3M at Neasden South on 9 March 1964: vehicle built for 1939 Coronation Scot set had bow roof and no gangway connection at brake end (vehicle or one like it used in "club trains" from Manchester Victoria in early 1950s) :
Readers' Forum. 765
Along the Pennine ways. Editor.
See colour photo- feature on page 611: 45517 was heading in opposite direction.
Along the Pennine ways. Kevin Jones.
See colour photo-feature on page 612 (top): notes that 70032 Tennyson was observed on the morning Liverpool to Newcastle express at Delph Junction on 1 January 1953 and corrects the respective locations of the River Tame and Huddersfield Canal.
Grimsby to Hull by tram, train and ferry. G.Travis.
See feature on page 598: writer worked for HM Customs & Excise mainly in Hull, but sometimes at Immingham where he encountered the illicit use of a tram. Sometimes progress across the Humber was impeded by groundings on sandbanks.
One track to the future. John C. Cooke
See letter from Nigel Probert on page 572 which argued that Edourd Locher's double rack system for Mount Pilatus Railway in Switzerland was in effect a form of monorail. This letter describes an earlier railway designed for extremely steep gradients which ran from Sassi to the hilltop basilica at Superga on the outskirts of Turin. This was designed by Tommaso Agudio seems to have combined rope haulage with a double rack system and had a belt and five braces braking system (presumably the pilgrims were not that pious). The line provided through carriages off the Turin tramway system and closed in 1932. Reference is made to an Italian technical publication of 1892 and to F. Keith Pearson's forthcoming Fell and his mountain railways which describes how John Barraclough Fell had hoped to build a line to the basilica...
Lancashire & Yorkshire Railway locomotives. Paul Kehoe
See page 476: East Lancashire Railway 2-4-0 Aeolus at Burnley Manchester Road station: suggests date of 1868.
Barry C. Lane replies
Agrees that in error to suggest opening date for station: also features photograph of 2-2-2 Diomed at same location.
Index to Volume 19. 766
Cold shift at Exeter. Bruce Oliver. rear cover
4932 Hatherton Hall outside shed during extremely cold winter: 19 January 1963.
2012-03-18